Wisconsin Gov. Tony Evers Handed Loss by State Supreme Court Overturning COVID Mask Mandate
The Wisconsin Supreme Court overturned the state's long-standing face-mask mandate in a Wednesday decision, which ruled the coronavirus mitigation order was illegitimate after Democratic Governor Tony Evers extended the directive multiple times. Its ruling contended that Evers violated a Wisconsin state statute that prohibits governors from reissuing emergency orders without approval from the legislature. The decision reverses Wisconsin's statewide mask requirements, effective immediately. Local mandates can remain active.
"The question in this case is not whether the Governor acted wisely; it is whether he acted lawfully. We conclude he did not," the court wrote in Wednesday's decision. Justices then referenced a specific Wisconsin law stipulating "that no state of emergency may last longer than 60 days unless it 'is extended by joint resolution of the legislature,' and that the legislature may cut short a state of emergency by joint resolution."
"The statute contemplates that the power to end and to refuse to extend a state of emergency resides with the legislature even when the underlying occurrence creating the emergency remains a threat," it continued, concluding that "the governor may not deploy his emergency powers by issuing new states of emergency for the same statutory occurrence."
The conservative-majority state judiciary issued its 4–3 decision as Wisconsin health officials report rising COVID-19 cases for the second consecutive week. Evers' previous endeavors to sustain a statewide stay-at-home order and, later, impose capacity restrictions for businesses and other indoor areas, were also thwarted by court decisions. The governor addressed Wednesday's state Supreme Court ruling in a statement that urged residents to continue wearing face coverings in public spaces, given the robust collection of data that recommends doing so as means to reduce COVID-19 transmission risks.
"Since the beginning of this pandemic, I've worked to keep Wisconsinites healthy and safe, and I've trusted the science and public health experts to guide our decision making," Evers' statement read. "Our fight against COVID-19 isn't over—while we work to get folks vaccinated as quickly as we can, we know wearing a mask saves lives, and we still need Wisconsinites to mask up so we can beat this virus and bounce back from this pandemic."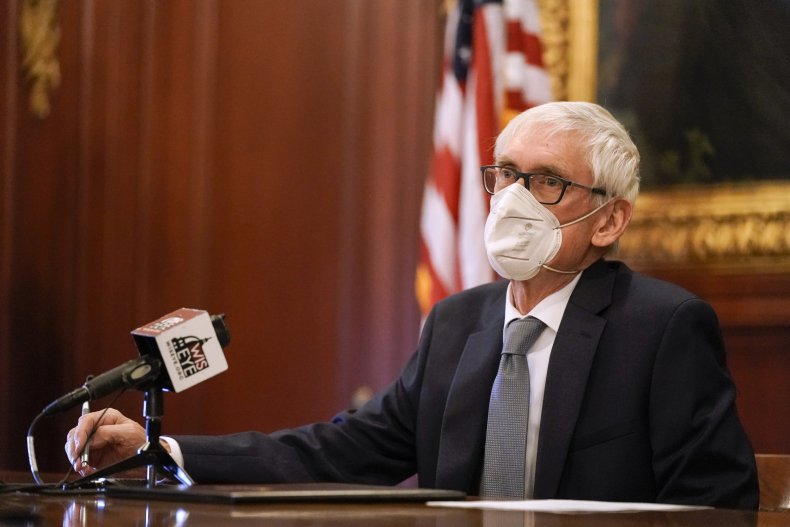 Evers initially implemented Wisconsin's statewide mask mandate last summer, as a majority of U.S. governors began to do the same in attempts to curb COVID-19 transmission. Although the original order expired in August, Evers extended its deadline continuously in light of the pandemic's ongoing threats.
Wisconsin's virus outbreak became one of the nation's most severe during the fall of 2020, when COVID-19 infections, hospitalizations and deaths climbed rapidly. In response to the state's recent uptick in cases, the Wisconsin Department of Health Services' Deputy Secretary Julie Willems Van Dijk said during a news conference this week that increasing numbers could indicate another surge still ahead.
Evers' office directed Newsweek to the governor's statement, responding to the Wisconsin Supreme Court's Wednesday decision, in response to a request for further comment.