Wisconsin Governor Says State is the 'Wild West' After Court Blocks Stay-at-Home Order Extension
Wisconsin Governor Tony Evers said the state was the "Wild West" on Wednesday night after the Wisconsin Supreme Court blocked an extension of his stay-at-home order.
The Democratic state leader told MSNBC that judges had created "chaos" in Wisconsin by voting 4-3 against the extension of state lockdown measures until May 26. Wisconsin Supreme Court judges ruled on Wednesday that his stay-at-home extension was "unlawful, invalid and unenforceable."
The governor warned that there was "nothing compelling anyone to do anything" in Wisconsin as the novel coronavirus continued to spread across the U.S.
Speaking to MSNBC last night, Gov. Evers said: "It was four members of the court who made a decision that wasn't based on statute, precedents, or the facts, unfortunately."
After touting the state's success in following stay-at-home measures, the Democratic state leader added: "In one fell swoop, four judges who didn't really care about what the statutes talk about have thrown our state into chaos.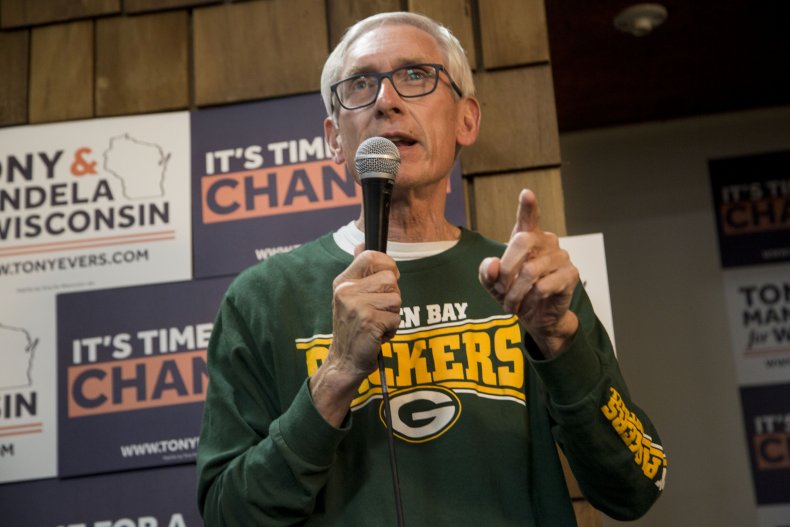 "That is such a sad thing for the state of Wisconsin. The people of Wisconsin have worked so hard to have this chaotic situation at this point in time."
Asked what would happen next in Wisconsin, Gov. Evers said it was "the Wild West" in the state as no restrictions now applied.
"At this point in time there's no orders," he said. "There's nothing compelling anyone to do anything other than having chaos here."
The governor added that people were not "idiots" in Wisconsin and would do "everything they can" to ensure their safety amid the coronavirus pandemic.
"But when you have no requirements any more, that's a problem," Evers added. "We're just leaving it open. We're going to have more cases, we're going to have more deaths. It's a sad occasion for the state, I can't tell you how disappointed I am."
He went on to claim his team had "no authority" after the ruling and could not take immediate measures to curb the spread of the disease in Wisconsin.
Newsweek has contacted Gov. Evers' office for further comment. This article will be updated with any response.
Wisconsin state health authorities and Evers had sought to extend the stay-at-home order first issued in March to the final week of May.
But Republican lawmakers challenged the move by filing a suit against Wisconsin Health Secretary Andrea Palm and other officials.
In a majority ruling, reported by the Milwaukee Journal Sentinel yesterday, Chief Justice Patience Roggensack said: "If a forest fire breaks out, there is no time for debate. Action is needed. The governor could declare an emergency and respond accordingly.
"But in the case of a pandemic, which lasts month after month, the governor cannot rely on emergency powers indefinitely."
The Wisconsin Supreme Court ruling was issued a day after a Marquette University Law School poll found that 69 percent of state voters felt the state was right to close schools and non-essential businesses, as well as restricting public gatherings.
It also revealed that a 64 percent majority approved of Gov. Evers response to the coronavirus pandemic, while only 32 percent disapproved.