Wisconsin Rep. Grothman Coughs Uncontrollably at Mask-Optional GOP Event
A Wisconsin congressman's speech at a Republican state convention paused suddenly this weekend after he broke into an uncontrollable cough.
Rep. Glenn Grothman (R-WI) was addressing an in-person crowd at a mask-optional Wisconsin GOP-led event in Green Bay on Saturday when he suffered a cough that briefly stopped his speech and forced him to loosen his shirt collar.
"It's time to talk about Donald John Trump," Rep. Grothman said loudly before the sharp cough took hold, as seen in a clip that was widely circulating on social media Sunday. A live-stream of the event showed him high-fiving a man who introduced him.
This weekend, Wisconsin health officials warned the state recorded a record number of new COVID-19 cases for the third day in a row and urged the public to wear face masks, maintain physical distancing and wash their hands to limit the spread.
Organizers of the GOP event had issued guidelines to attendees that urged anyone with symptoms of the infectious respiratory disease to avoid the state convention. They said free face masks and hand sanitizer would be made available throughout the event.
Alec J. Hanna, Rep. Grothman's campaign manager, told Newsweek: "Congressman Grothman's cough was due to a dry throat and a need for a drink of water.
"It has not persisted and he is exhibiting no other symptoms associated with COVID-19. He previously took a COVID-19 test, with a negative result.
"The Congressman wears masks and social distances in most crowded areas, but did not wear one on the stage, since he was yards away from the nearest person."
Will Kenneally, a news editor for PBS Wisconsin who attended the convention, tweeted that a total of 322 people had attended. He said "maybe a dozen" people could be seen in face coverings, although most party staffers appeared to be wearing masks.
Event guidelines were clear that those who gathered to hear representatives speak did so at their own risk, much like President Trump's recent rally in Tulsa.
"As with any public activity, there are risks assumed, and by attending the RPW State Convention you acknowledge and assume any potential risk and liability for your own health," the rules said. "If you are not feeling well and experiencing health concerns such as shortness of breath, fever, coughing, etc, please do not attend."
Rep. Grothman posted photos on Saturday from a farmer's market and the county sheriff's office—each time without a face covering or mask.
On Thursday, the congressman accused the World Health Organization (WHO) of not being transparent through its handling of the novel coronavirus pandemic.
"Are they siding with Chinese propaganda or was there a breakdown in their chain of command? Either way, they owe the American people answers," he tweeted.
According to Wisconsin Public Radio, there was little talk of COVID-19 by speakers at the state convention, who instead chose to focus on the Democratic Party, protests in the wake of the killing of George Floyd and calls to defund the police.
The station reported that after recovering on-stage, Rep. Grothman slammed democrats for backing the Black Lives Matter movement, which he described as "Marxist."
The World Health Organization lists a dry cough as one of the most common symptoms of COVID-19, which has infected more than 3.3 million people across America.
On Saturday, the Wisconsin Department of Health Services said it recorded 926 new cases of COVID-19 among the population, reaching 35,679 total positive infections. The officials confirmed seven additional deaths, bringing that total to 821.
It was another unfortunate record for the state. The Post-Crescent newspaper reported there were 845 new cases on Friday and 754 new cases on Thursday.
Wisconsin Department of Health Services tweeted Saturday: "We reported yesterday the highest increase in positive #COVID19_WI cases since the pandemic began. Today, that case count is even higher. Please take steps to avoid illness & #StopTheSpread."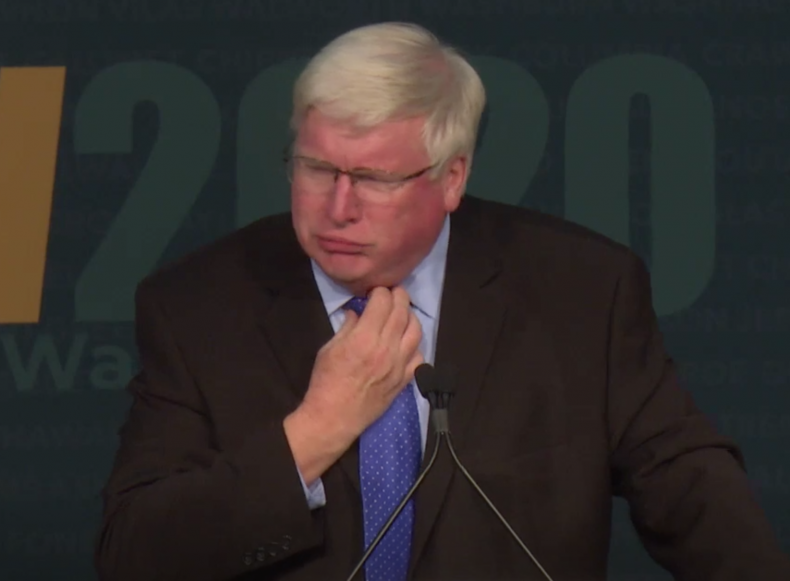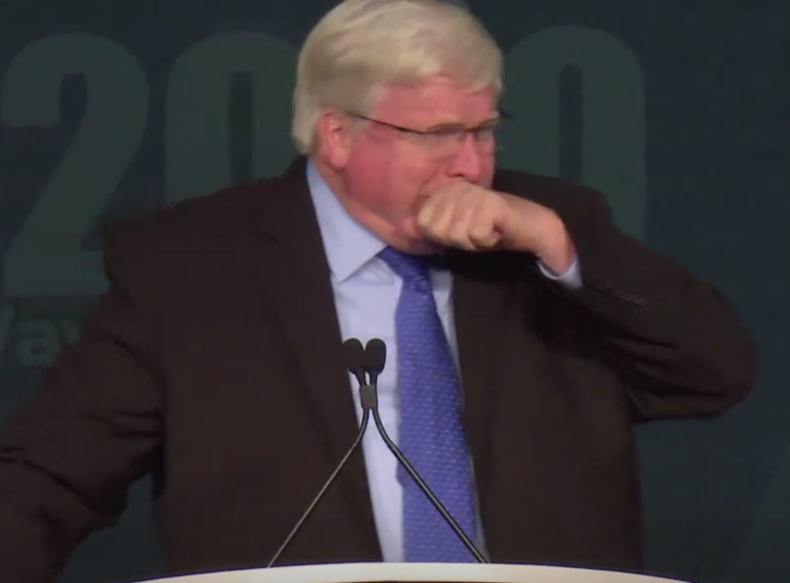 This article has been updated with comment from Rep. Glenn Grothman's team.