Wisconsin Health Department Forced to Add 'Critical' COVID Activity Level as Hospitals Reach 90 Percent Capacity
Wisconsin's health department added a new "critically high" category to describe coronavirus case activity in the state, as hospitals reached 90 percent capacity.
The Wisconsin Department of Health Services (DHS) on Wednesday added "critically high" to its Disease Activity Dashboard "to give Wisconsinites a better picture of the impact of COVID-19 in our state amidst a surge in activity," according to a news release.
The DHS reported 7,497 new positive coronavirus cases on Thursday, bringing the state's cumulative total to 293,388 cases. More than 2,500 people have now died as a result of the virus.
While virtually the entire U.S. is undergoing a surge in new cases and hospitalizations, Wisconsin has seen its situation unravel the quickest. At the beginning of September, Wisconsin was averaging about 700 cases a day. By this week, it was averaging more than 6,000, according to The New York Times.
"Far too many of our communities are in a dire situation," DHS Deputy Secretary Julie Willems Van Dijk said in the news release. "To put these new data in perspective, Wisconsin is now seeing more average cases per day than New York City did at the peak of its surge last spring."
The new "critically high" category measures case activity relative to an area's population. Its minimum cutoff of 1,000 cases per 100,000 residents over the previous two weeks is nearly three times higher than the old top category, labeled "very high" at 350 cases per 100,000 residents, local station WMTV reported.
But this week, every single one of Wisconsin's 72 counties has at least doubled the "very high" minimum, according to WMTV. There are only seven counties that don't currently meet the "critically high" designation, and six of them are on an upward trajectory of new cases, suggesting they could soon make the list, WMTV reported.
The statewide case rate sits at 1,310.6 cases per 100,000 residents, also in the "critically high" category. The figure has has increased 24 percent in the past two weeks, according to the DHS.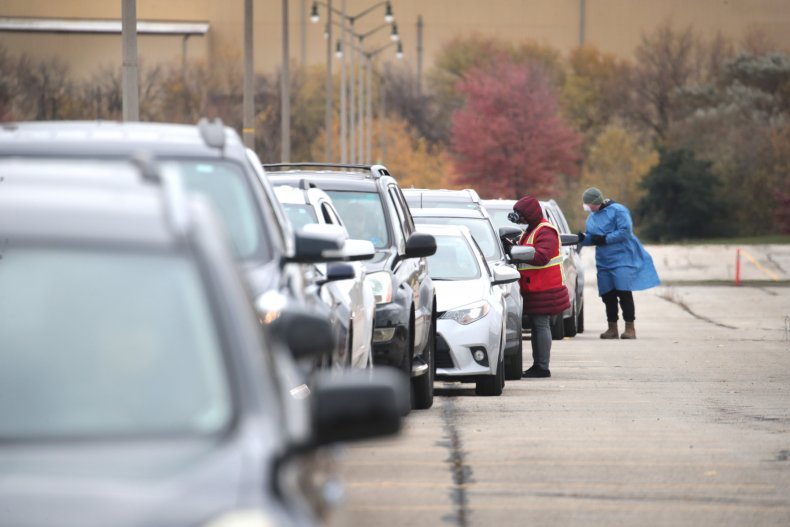 "Because of these critically high levels of disease, public health can no longer adequately contact trace, hospital beds are filled with patients with COVID-19, and too many Wisconsin families are losing loved ones to this virus," Willems Van Dihk said in the news release.
Around 90 percent of hospitals statewide are currently at capacity, according to the DHS. The state has a total of 11,093 hospital beds but only 1,136 remain immediately available. Health care officials have sounded the alarm, warning residents that doctors could soon be forced to make choices about which patients to prioritize.
"We're very close to a tipping point," DHS Chief Medical Officer Ryan Westergaard said during an event Wednesday hosted by Wisconsin Health News. "This could get much worse quickly and that tipping point is when we stop being able to save everyone who gets severely ill."
The Mayo Clinic Health System, which operates more than two dozen hospitals and clinics in northwestern Wisconsin, has no more beds available, system officials said Tuesday.
ProHealth Care's hospitals in Waukesha and Oconomowoc—two cities just west of Milwaukee—have been at capacity for the past two to three weeks, according to the Milwaukee Journal Sentinel.
Wisconsin's Democratic Governor Tony Evers issued an executive order Tuesday advising residents to "stay at home to save lives."
"Wisconsin, this is serious. This crisis is urgent. It took us 7.5 months to get to 100,000 cases, but it only took 36 days to add another 100,000," Evers said in a video message. "The way things are going, it will take us only 20 days to reach another 100,000 cases.
"I am concerned about what our current trajectory means for Wisconsin healthcare workers, families, and our economy if we don't get this virus under control."
But the new mandate isn't so much an order as it is a recommendation. Evers advised people to stay inside their homes except for essential trips like to pick up groceries or medications, maintain a distance of at least six feet from others, and wear a face covering.