Wisconsin Paper Slams Ron Johnson After Vote Against Gun Safety Bill
The Wisconsin State Journal editorial board slammed Senator Ron Johnson on Sunday for voting against the bipartisan gun safety bill that was crafted in response to the rise of mass shootings across the country.
After years of not making any progress, the Senate passed the gun legislation this week, with President Joe Biden signing it into law on Saturday.
The package included enhanced background checks for gun buyers younger than 21-years-old, ended the "boyfriend loophole," and provided funding for red flag laws, mental health, and school safety. Though it does not go as far as some Democrats wanted, it's the most significant gun policy reform bill passed in decades.
Fifteen Republican senators joined Democrats in passing the legislation, allowing it to earn enough votes to bypass the filibuster in the evenly divided chamber. Johnson, a Wisconsin Republican, was not one of the Republicans to vote for the bill even though he is up for reelection in November in a state narrowly carried by Biden in 2020.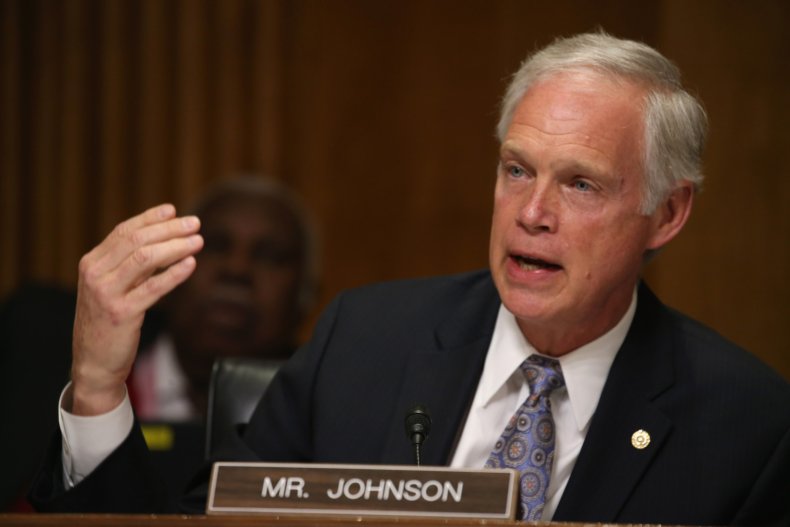 The Wisconsin State Journal, the state's second largest newspaper based out of Madison, criticized the senator in an editorial titled "Ron Johnson votes against public safety."
The editorial accused Johnson of being "dismissive and hatching excuses for voting 'no'" on the legislation. It also pointed out that the bill includes a national program to discuss best practices for securing schools, which Johnson has supported in the past.
"He has no credibility when it comes to good-government procedures. And by comparison, the gun safety law is honorable and transparent," the editorial wrote.
They rebuked his "disturbing" "anything-goes attitude toward guns," and criticized him for voting against other bipartisan legislation, including an infrastructure bill, as well as his rhetoric around the COVID-19 pandemic.
"He seems to think his only shot at winning reelection this fall—having broken his promise not to run again—is to fire up the thinning Trump base by opposing just about everything," wrote the editorial board.
The GOP senator explained his vote against the legislation in a statement released Thursday, dismissing the bill as "a classic act of Washington dysfunction." He wrote the bill was "negotiated by a 'gang' with no committee process and no ability to offer amendments" and included "billions in spending with a phantom pay for, and provisions that ignore constitutional rights."
The editorial comes as Johnson faces criticism from some Wisconsinites over his alleged involvement in the state's fake electoral scheme, an attempt to thwart the 2020 election results. During a hearing on Tuesday, the House select committee investigating January 6 revealed text messages between Sean Riley, a Johnson aide, and Chris Hodgson, an aide to then-Vice President Mike Pence—where Riley asks to give Pence an alternative slate of electors from Wisconsin and Michigan.
Representative Ron Kind, who represents Wisconsin's 3rd Congressional District, said Johnson was either "lying" or "incompetent" on Friday as the senator aims to distance himself from the fake electors plot.
Newsweek reached out to Johnson's office for comment.