Wisconsin Senator Ron Johnson wanted to hand-deliver "fake" electors to former Vice President Mike Pence on the morning of January 6, according to information revealed earlier today during the January 6 Committee hearing in Washington, D.C.
In a video over 8 minutes long and presented Tuesday afternoon, Casey Lucier, investigative counsel for the House committee, described multiple instances of how a plan to use "fake electors" to sway the outcome of the 2020 election was not encouraged by the White House Counsel's Office.
Lucier focused attention on a text message exchange between Sean Riley, an aide for Johnson, and Chris Hodgson, an aide for Pence. On January 6, moments before the joint session in Congress commenced to approve the electors and validate the election in Joe Biden's favor, Riley texted Hodgson with an urgent request.
"Johnson needs to hand something to VPOTUS please advise," Riley texted.
"What is it?" Hodgson responded.
"Alternate slate of electors from MI and WI because archivist didn't receive them," Johnson aide Riley said.
"Do not give that to him," Pence's aide responded.
One text message attributed to Wisconsin Republican Party Executive Director Mark Jefferson, and dated 9:02 p.m. on January 4, 2021, alluded to Trump campaign officials urging for fake electors to be flown into Washington, D.C. ahead of January 6.
"Freaking Trump idiots want someone to fly original elector papers to the Senate President," Jefferson said in his text.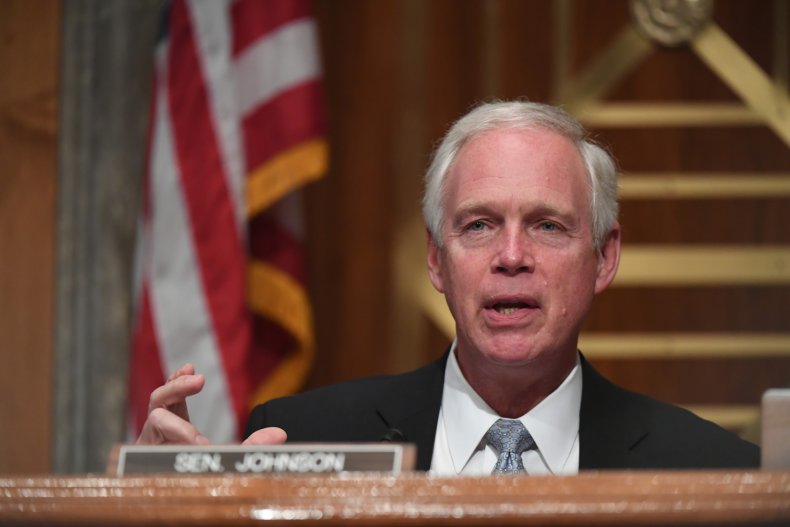 Alexa Henning, spokesperson for Johnson, tweeted in response to the text messages, saying that the senator "had no involvement in the creation of an alternate slate of electors and had no foreknowledge that it was going to be delivered to our office."
She described it as "a staff-to-staff exchange."
"The vice president's office said not to give it to him and we did not," she added. "There was no further action taken. End of story."
This past March, Johnson—who is running for his third Senate term in this November's election—was sued for alleged insurrection and conspiring against Biden by undermining the results of the 2020 election, a violation of the Disqualification Clause of the U.S. Constitution's 14th Amendment.
In August 2021, Johnson encouraged a statewide audit of the 2020 election results and admitted to having conversations with former Trump reelection campaign attorney and conspiracy theorist Sidney Powell.
Wisconsin Lieutenant Governor Mandela Barnes, who is running for Johnson's seat this fall, earlier today tweeted for Johnson to resign due to trying to "overturn our election and destroy our democratic process."
Johnson's office referred to the aforementioned tweets when asked for comment.
Claims against Johnson and the use of fake electors add to a list of potentially compromised behavior that ties the former president and those who worked closest to him, in association with overturning the 2020 election.
Cassidy Hutchinson, a former aide of then-White House Chief of Staff Mark Meadows, said under oath that Rudy Guiliani, Meadows and some members of Congress were reportedly in discussions around Thanksgiving 2020 to have "alternate electors" meet.
Others involved in the meetings, according to Hutchinson's testimony described in a federal court filing from April, included GOP Georgia Representatives Marjorie Taylor Greene and Jody Hice; Arizona's Paul Gosar and Debbie Lesko; Scott Perry of Pennsylvania; Louie Gohmert of Texas; Jim Jordan of Ohio; and Matt Gaetz of Florida.
Another former Meadows aide, Alyssa Farah Griffin, is "confident" that her former boss destroyed documents related to meetings regarding the 2020 election.
"The Select Committee received testimony that those close to President Trump began planning to organize fake electors for Trump in states that (President Joe) Biden won in the weeks after the election. [D]ocuments produced to the Select Committee show that the Trump campaign took steps to ensure that the physical copies of the fake electors' electoral votes from two states were delivered to Washington for January 6," Lucier said.
Those two states were Wisconsin and Michigan.