Republican Wisconsin Senator Ron Johnson has said that he supports an audit of his home state's 2020 election results.
He also mentioned that he has spoken with Sidney Powell, a former attorney with the re-election campaign of former President Donald Trump. She has pushed baseless conspiracy theories about fraud in the 2020 election.
Johnson made his comments while speaking with political reporter Lauren Windsor.
"I really do think there's too much concentration on the [voting] machines," he told Windsor. "We have paper ballots. We have the machine logs. We've got the machine totals. We should be focusing on that."
"And then we should be focusing on the Wisconsin Election Commission, the balloting in the park, the curing of the ballots, what Zuckerberg did, central counting in Milwaukee," he continued.
"I've also talked to the Sidney Powells and the Russ Ramslands," he added. "I've met with those guys." Ramsland is a failed congressional candidate who has also pushed voter fraud conspiracy theories.
Johnson's comments referenced several different concerns that state Republicans had with the last election. He and other state Republicans have questioned whether Wisconsin Election Commission officials mishandled mail-in ballots to benefit now-Democratic President Joe Biden.
He has also claimed that two "Democracy in the Park" events held in September and October 2020 constituted illegal ballot harvesting. State law doesn't specifically outlaw such events, according to PolitiFact.
Johnson also questioned ballot curing, the process by which election clerks fix or fill in missing voter information on ballots. A February 2021 survey found that nearly 75 percent of both Democratic and Republican Wisconsin voters wanted the state legislature to develop clearer standards of what errors election clerks are allowed to fix, WTMJ-TV reported.
Johnson's reference to Facebook founder Mark Zuckerberg refers to a $6.3 million grant that Zuckerberg's organization Center for Tech and Civic Life (CTCL) gave to Wisconsin's five largest cities to help run their elections during the pandemic.
State Republicans have implied that the grant allowed a private corporation to influence the election, but court decisions before the election allowed CTCL's grants to proceed.
Milwaukee's Central Count facility has been the subject of many conspiracy theories. A claim about facility officials tampering with a flash drive to help give the state's election to Biden was deemed "false" by USA Today.
As for Powell and Ramsland, both have peddled baseless conspiracy theories that voting machines contained a way for officials to rig votes in a candidates' favor.
After the 2020 election, Powell claimed that various Democratic and Republican candidates paid foreign governments to alter voting machines to switch Trump votes into Biden votes. She also said the machines allowed officials to switch enough votes to help other individual candidates to win their election races.
"We have no idea how many Republican or Democratic candidates in any state across the country paid to have the system rigged to work for them," Powell said, without presenting any evidence to back up her claims.
On November 21, Powell appeared on the conservative network Newsmax, where she claimed that she had evidence to prove that 7 million votes were fraudulently cast for Biden's benefit. By November 22, Trump's re-election campaign said that Powell no longer had a formal role as a campaign attorney.
Powell is also being sued by Dominion Voting Systems for her "defamatory" comments.
In a statement to Newsweek, Johnson said, "This supposed undercover recording by a Democrat political operative at a public event is consistent with what I've been saying publicly on the 2020 election, no need for hidden cameras and secret recordings, if the press were honest they would accurately report that.
"There were many irregularities that have yet to be fully explained, fully investigated, and solutions passed to restore confidence in future elections," his statement continued. "Ever since the Electoral College met, I acknowledged that former Vice President Joe Biden was the president-elect and repeatedly said I could not envision any scenario where Biden electors would be rejected."
Newsweek contacted Johnson's office for comment.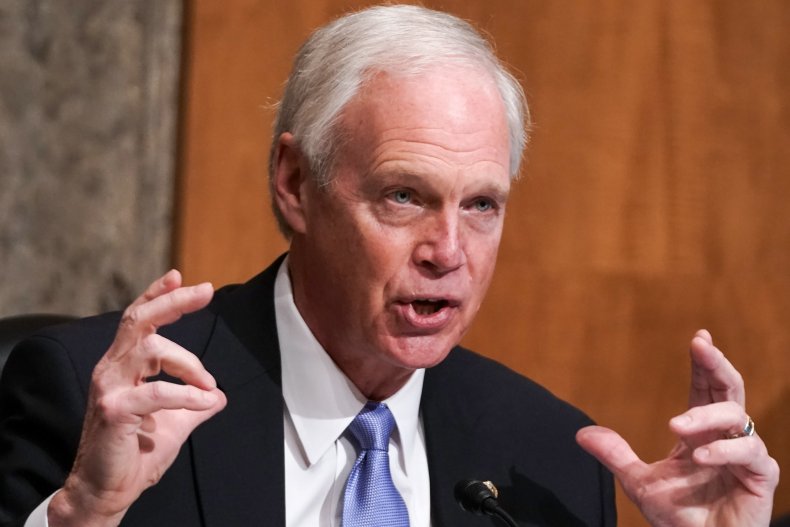 Update (8/31/2021, 6:57 p.m.): This article has been updated to include a statement from Johnson.