Trump Lawyer Sidney Powell Says She Has 'a Lot of Evidence' of Voter Fraud and Witness Protection May Be Necessary
During an interview on The Howie Carr Show on Friday, Trump lawyer Sidney Powell said that she has "a lot of extremely solid evidence" to support claims of voter, and that it may require putting individuals into witness protection.
"We've got a number of smoking guns and we may have to get witness protection for them," Powell said. "We have a lot of extremely solid evidence. It's beyond impressive, and absolutely terrifying."
Powell told host Carr that she believes President-elect Joe Biden received as many as 10 million fraudulent votes, and that up to 7 million votes were switched from President Donald Trump to Biden via rigged election software. She also added that several million votes were cast by dead people.
"My peer estimate at this time is roughly 7 million [stolen votes] but it might be more, we're also getting some data that reflects that millions – not just a few hundreds or a thousand – but some millions of dead people voted," she told Carr.
The Trump lawyer said that the campaign is moving to file cases in federal court to present their evidence as early as next week. The campaign has so far failed to gain success with lawsuits alleging voter fraud in state courts. As of Thursday, the president's legal team has won just one case and lost 29.
Powell has issued numerous unsubstantiated claims that the election was stolen this way, resulting in intense media scrutiny from Democrats and Republicans alike.
During a press conference on Thursday, Powell made several claims without evidence alleging corruption "at the highest levels of government," prompting newspaper pundits to accuse her of going "buckwild."
At the conference, Powell falsely stated: "One of [the election machine software's] most characteristic features is its ability to flip votes. It can set and run an algorithm that probably ran all over the country to take a certain percentage of votes from President Trump and flip them to President Biden."
An Associated Press fact check concluded that the claim was false and called them "fictional tales," and Powell offered no evidence to the contrary.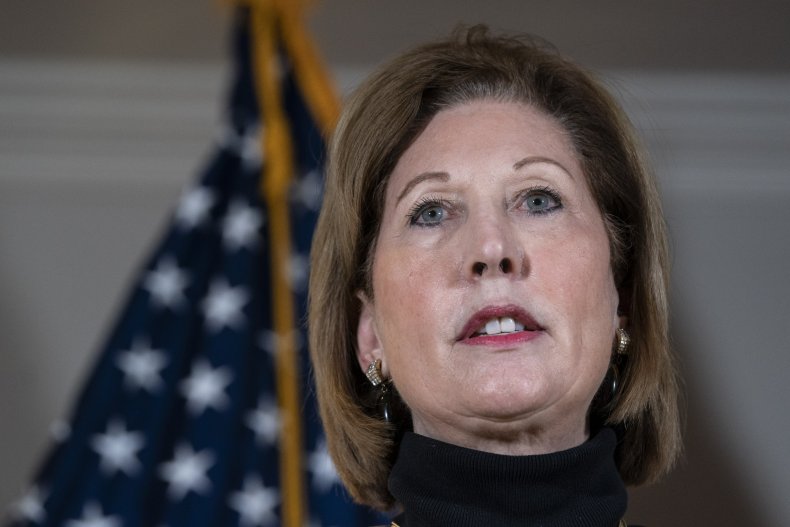 Fox News host Tucker Carlson also criticized the lawyer during his primetime show on Thursday, stating that she failed to provide any evidence to the network or other members of Trump's campaign.
"When we checked with others around the Trump campaign, people in positions of authority, they also told us Powell had never given them any evidence to prove anything she claimed today at the press conference," he said.
"Powell did say that electronic voting is dangerous, and she's right, but she never demonstrated that a single actual vote was moved illegitimately by software from one candidate to another. Not one," he continued, adding that he invited the lawyer onto his show but she declined the offer.
In response, Powell snapped back at Carlson and said that "evidence is pouring in."
"Evidence continues to pour in, but a 5-minute television hit is not my focus now. Collecting evidence and preparing the case are my top priorities," she said.
During Friday's interview, Powell told Carr that the team is working to get evidence and court cases ready as fast as they can.
"We'll get it ready as fast as we can and in the meantime we will be producing additional evidence to help the public understand these depths of this international, frankly, criminal conduct," she said.
Newsweek reached out to Powell for additional comment, but did not hear back in time for publication.