Wisconsin reported more coronavirus deaths on Tuesday than New Zealand, Singapore and Iceland have reported through the entire pandemic.
The state suffered a record-high 92 COVID-19 deaths over the past 24 hours. According to the Wisconsin Department of Health Services (DHS), the seven-day average of new deaths reported increased by 880 percent in the past two months.
While the majority of the U.S. is undergoing a surge in new cases and hospitalizations, Wisconsin has seen its situation unravel the quickest, according to The New York Times. At the beginning of September, Wisconsin was averaging about 700 cases a day. This week the state was averaging more than 6,800.
Wisconsin's reported deaths exceeded the sum of those in New Zealand, Singapore and Iceland combined.
New Zealand, Singapore and Iceland have seen a low death toll throughout the pandemic and reported 25, 28 and 25, respectively in 2020, according to data from Johns Hopkins University.
Adding the number of deaths from New Zealand, Singapore and Iceland total to 78, which is 14 less than that of Wisconsin on November 17.
The state's population is 5.86 million according to the U.S. Census Bureau, while the populations of New Zealand, Singapore and Iceland are 4.82 million, 5.85 million and 364,100, respectively.
"Far too many of our communities are in a dire situation," DHS Deputy Secretary Julie Willems Van Dijk said in a November 11 news release. "To put these new data in perspective, Wisconsin is now seeing more average cases per day than New York City did at the peak of its surge last spring."
A DHS spokesperson told Newsweek on November 17 in an emailed statement that it continues to urge Wisconsin residents to follow health and safety guideline, including staying home and only going out for essential trips, wearing face coverings, washing your hands thoroughly and maintaining at least six feet distance between yourself and others when outside your household.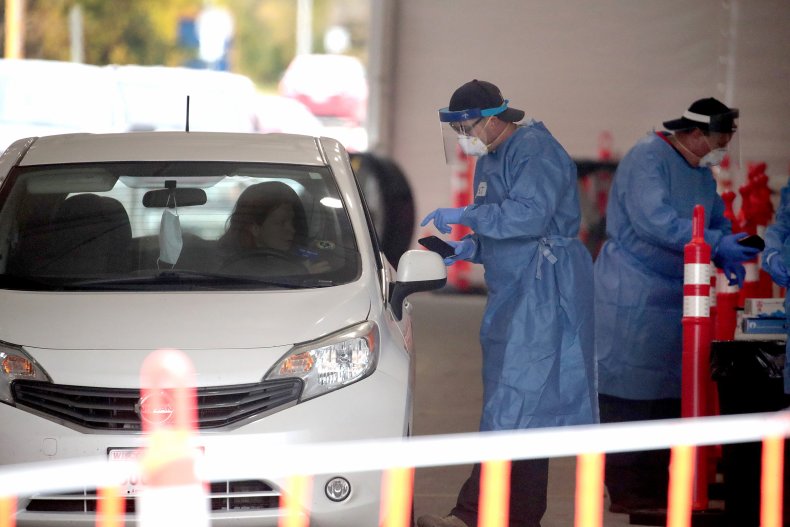 Wisconsin's Democratic Governor Tony Evers issued an executive order on November 11 advising residents to "stay at home to save lives."
The new mandate advised people to stay inside their homes—except for essential trips, like picking up groceries or medications—maintain a distance of at least six feet from others and wear a face covering.
Other local health departments in Wisconsin provided further guidance. The Madison and Dane County Public Health Department issued an emergency order on November 17 which prohibits indoor gatherings of any size, while outdoor gatherings are permitted with 10 people or less with physical distancing.
As cases rise around the country, states, including Washington, Iowa, North Dakota and Michigan, have imposed new restrictions ahead of the holidays, with the goal of limiting the spread of the virus.