Wisconsin Supreme Court Election Is Most Important Race of 2023—Here's Why
Two radically different contenders, Janet Protasiewicz and Dan Kelly, have emerged to fill a vacant seat on the Wisconsin Supreme Court.
Protasiewicz is considered a liberal while Kelly is considered a conservative.
The election could have wide-reaching ramifications for the state, particularly on abortion access and voting rights.
It could also have an impact on the 2024 Presidential race, as Wisconsin is a swing state.
Two radically different contenders have emerged to fill a vacant seat on the Wisconsin Supreme Court, in an election that could have wide-reaching ramifications for the state and have a bearing on the 2024 presidential race.
In a primary held on Tuesday, Janet Protasiewicz and Dan Kelly topped the poll in a four-candidate field.
Protasiewicz, a circuit judge in Milwaukee County, took 46.4 percent of the primary vote while Kelly, who served on the state Supreme Court from 2016 to 2020, achieved 24.2 percent in second place.
Although Supreme Court races in the state are officially nonpartisan, Protasiewicz is considered a liberal candidate and Kelly a conservative.
The primary result suggests the court—which has maintained a 4-3 conservative majority since 2008—could become more liberal just as it is being asked to rule on abortion access and voting rights.
The election will be held on April 4, giving the candidates just under six weeks to persuade voters in the battleground state.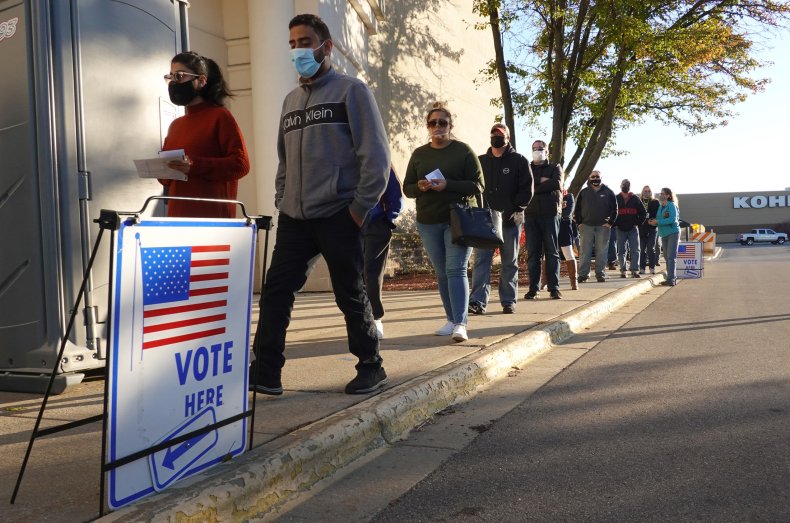 Abortion a Key Issue
Wisconsin was one of 13 states to impose a full ban on abortion following the U.S. Supreme Court ruling that overturned Roe v Wade.
If elected, Protasiewicz would form part of a four-member majority able to repeal Wisconsin's 1849 law prohibiting abortion in nearly all circumstances.
In his victory remarks on Tuesday, Kelly said: "If we do not resist this assault on our Constitution and our liberties, we will lose the Rule of Law, and will find ourselves saddled with the Rule of Janet. We must not allow this to come to pass."
The 19th-century legislation has not been used to prosecute anyone since the Roe v Wade ruling last June, but Josh Kaul, the state's Democratic attorney general, has filed a lawsuit arguing that it conflicts with more recent laws that criminalize abortion past fetal viability—usually around 24 weeks into a pregnancy.
According to Wisconsin Public Radio, Kaul's lawsuit is with a circuit court but lawyers believe it is likely to be passed to the state's Supreme Court because of the public interest in the issue.
Protasiewicz has made abortion access and women's rights a centerpiece of her campaign. On Wednesday she tweeted: "Reproductive rights are at stake."
Kelly is expected to maintain the status quo on abortion, the New York Times has reported.
Newsweek has contacted Kelly's campaign for comment.
Legislative Maps
Another contentious issue is legislative borders within the state, which were redrawn by Wisconsin's Republican-majority legislature and approved by the conservative Supreme Court in 2021, despite other maps being submitted for consideration.
Protasiewicz, among others, has suggested the maps were flawed and amounted to gerrymandering. The U.S. Supreme Court threw out the maps, citing a technical fault in the process of creating them, but the state's highest court later reconfirmed them.
"We're saving our democracy in the state of Wisconsin," Protasiewicz said after the primary vote.
In an apparent dig at his opponent, Kelly said Wisconsin voters were "going to be passionate about supporting their Constitution and protecting it from being overturned by someone who is trying to put her thumb on the scales of justice."
He had previously said: "When a map gets challenged in court, the responsibility of the court is to fix the legal defects, not the political defects. Our courts are not built to decide political issues, just legal issues."
A spokesperson from Protasiewicz's campaign told Newsweek she "has always upheld our laws in a fair and impartial manner."
They argued Kelly was "misleading voters" and was "too extreme and too partisan to be a fair justice."
The 2024 Presidential Race
In 2020, Donald Trump mounted a legal challenge to have more than 200,000 votes in two Wisconsin counties invalidated as part of his campaign's bid to overturn the result of the presidential election.
The state Supreme Court found that his lawsuit was "wholly without merit," but the ruling was close at 4-3. Justice Brian Hagedorn, a conservative, sided with his liberal colleagues in the case.
The state's 10 Electoral College votes on their own would not have changed the outcome, but it would have been an important victory for Trump's legal team.
Wisconsin is a swing state and, along with Michigan and Pennsylvania, has a long history as a bellwether of the overall results. In the event, recounts in the two counties Trump contested ended with a net increase of 87 votes for Joe Biden.
Protasiewicz has acknowledged that the results of the 2024 presidential election "could likely come into our Supreme Court chamber," as they had done in 2020.
Update 02/23/23, 8:00 a.m. ET: This article was updated to include comment from Janet Protasiewicz's campaign spokesperson.