Wisconsin Supreme Court Justice Calls Out 'Tyrannical' Colleagues Who Overturned Stay-At-Home Order
A Wisconsin Supreme Court Justice has branded a decision from his colleagues to overturn a coronavirus stay-at-home order "tyrannical."
Conservative Justice Brian Hagedorn dissented to the state-wide emergency order, which was knocked down in a 4-3 ruling, being rejected by the court.
The directive, named Emergency Order 28, was declared "unlawful, invalid, and unenforceable" and said to have "exceeded the statutory authority" of the state.
Those motioning to overturn the order argued that "in the case of a pandemic, which lasts month after month, the Governor cannot rely on emergency powers indefinitely."
Despite those wanting to reject the measures stating the rule was "under the controlling precedent of this court," Hagedorn argued that the people of Wisconsin did not empower the court "to step in and impose our wisdom on "proper governance during this pandemic" adding "they left that to the legislative and executive branches."
He wrote: "The rule of law, and therefore the true liberty of the people, is threatened no less by a tyrannical judiciary than by a tyrannical executive or legislature.
"Today's decision may or may not be good policy, but it is not grounded in the law."
Hagedorn also questioned the guidance on what the decision means practically.
"In striking down most of Order 28, this court has strayed from its charge and turned this case into something quite different than the case brought to us. To make matters worse, it has failed to provide almost any guidance for what the relevant laws mean, and how our state is to govern through this crisis moving forward," he wrote.
Justices Ann Walsh Bradley and Rebecca Frank Dallet joined in his dissent, he added.
In rebuke of his comments, Justice Rebecca Grassl Bradley stated his dissent "contains no constitutional analysis whatsoever, affirmatively rejects the constitution, and subjugates liberty."
The stay-home order had originally been set to expire in April, though Governor Tony Evers and Wisconsin Department of Health and Human Services Secretary Andrea Palm pushed this to May 26.
Republican lawmakers filed against this alleging that because Palm was an Evers appointee, not an elected official, the extension was an administrative rule and required the approval of Wisconsin's legislation.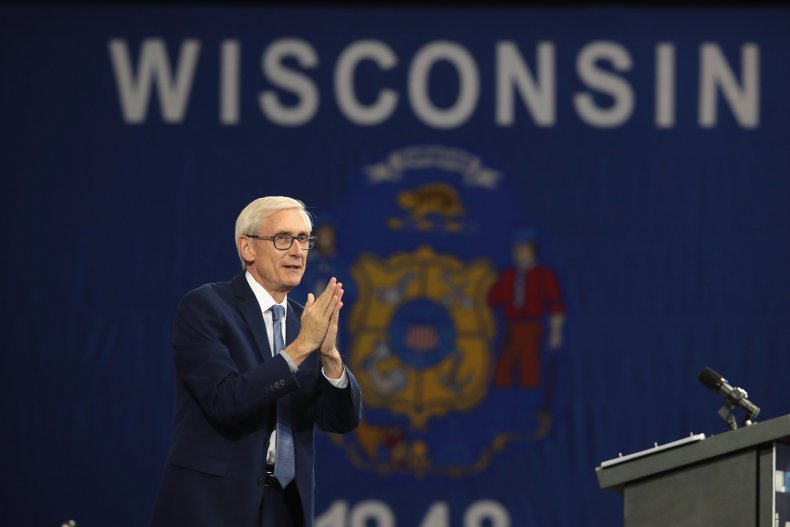 Evers has said the four justices who struck down the order made a decision "that wasn't based on statute, precedents or the facts unfortunately."
The state governor, speaking to MSNBC News, said the state had been making "good progress" under the orders but said this has "thrown our state into chaos."
He said "we're going to have more cases, we're going to have more deaths" due to the measures being lifted, which he described as a "sad" situation.
In a statement, he said: "Up until now, Wisconsin was in a pretty good place in our battle against COVID-19. We had reached almost all our gating criteria. We had opened up 14,000 small businesses across the state, putting 90,000 folks back to work, and that was because of the good work of Wisconsinites across our state who banded together, stayed home, and stayed safe.
"Despite that good work, Republican legislators have convinced 4 justices to throw our state into chaos.
"We cannot let today's ruling undo all the work we have done and all the sacrifices Wisconsinites have made over these past few months."
He called on people to "continue doing their part" by "continuing to stay safer at home, practice social distancing, and limit travel."
A stay-at-home order for Wisconsin was issued in March, closing schools and non-essential businesses. Originally this was meant to end on April 24 but was extended to May 26.
Those scrapping the ruling called on parties to work in "good faith to quickly establish a rule that best addresses COVID-19 and its devastating effects on Wisconsin."
Newsweek has contacted the Wisconsin State Courts' Office to ask for any further statements from the justice's involved, Evers and the Republican Party of Wisconsin for comment.
Wisconsin has seen more than 10,000 diagnoses of coronavirus. While 421 people have died in the state after contracting COVID-19.
Across the U.S., New York is the worst-hit state.
The below chart from Statista shows the states with the highest numbers of cases as of May 13.