Wisconsin's Tony Evers Open to Raising Bail Amounts for Violent Offenders After Waukesha
Wisconsin Governor Tony Evers said that he might be open to revamping the state's bail system to raise the amount violent offenders would have to pay for their release as they await trial. His potential support comes after the deadly Waukesha Christmas parade crash late last month, allegedly caused by a man released on a $1,000 cash bail days before the city's traditional holiday event.
Darrell Brooks is accused of driving his SUV into the parade on November 21, killing six and injuring dozens of other people. Several weeks prior, Brooks was arrested for allegedly running over the mother of his children, according to court records.
The office of Milwaukee County District Attorney John Chisholm requested Brooks pay $1,000 for his bail, and he was released two days before the parade. Chisholm says the request was an oversight. A complaint has been filed against his office, and the governor says it's being investigated.
The day after the incident, Evers ordered that all U.S. and state flags be flown at half-staff to honor the victims.
"Kathy and I are praying for Waukesha tonight and all the kids, families, and community members affected by this senseless act. I'm grateful for the first responders and folks who acted quickly to help, and we are in contact with local partners as we await more information," Evers, a Democrat, said in a statement.
In a year-end interview with WISC-TV published Monday, Evers said that he would potentially back making changes to the bail system that would boost the payments violent offenders would have to pay for their release. He added that all stakeholders would have to be involved in any discussions on the matter and said that everyone should "take a breath" after the deadly incident.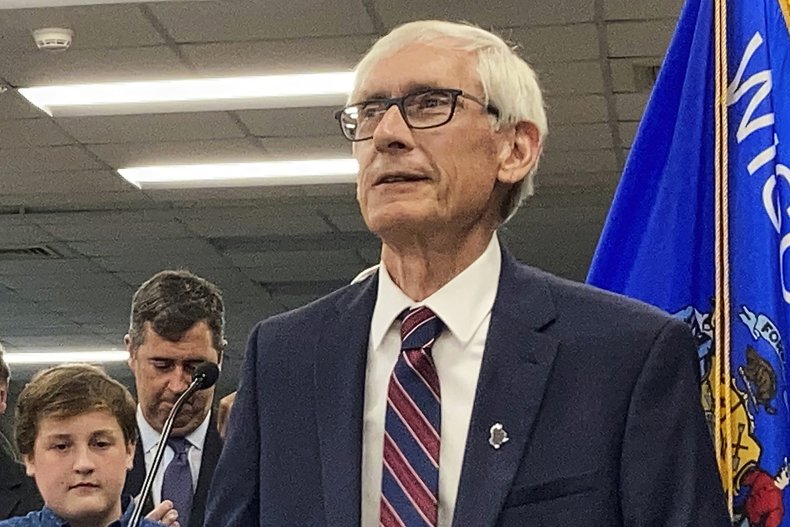 In another year-end interview the Wisconsin State Journal published Monday, Evers said the state needs more federal manpower to staff hospitals that are struggling to deal with an influx of COVID-19 patients. He said opening an emergency field hospital remains an option, but that he wants to focus on bolstering staffing levels at existing hospitals first.
The governor also told WISC-TV that he wants to use his political clout to remove Wisconsin's abortion ban from the books. The law would take effect if the U.S. Supreme Court were to overturn Roe v. Wade, the landmark 1973 decision that established a national right to abortion.
Evers could essentially only advocate for removing the ban from statute since Republicans control the Legislature.
The Associated Press contributed to this report.