Witchcraft and pagan religious practices increased in the U.S. over the past few decades, with Millennials turning to alternatives ranging from astrology and tarot cards and away from Christianity and traditionally dominant Abrahamic religions.
The number of witches and Americans practicing Wicca religious rituals increased dramatically since the 1990s, with several recent studies indicating there may be at least 1.5 million witches across the country. A Trinity College study conducted in 1990 estimated only about 8,000 Wiccans in the U.S., but the increase has been led by a rejection of mainstream Christianity among young Americans as well as a rise in occultism.
With 1.5 million potential practicing witches across the U.S., witchcraft has more followers than the 1.4 million mainline members of the Presbyterian church.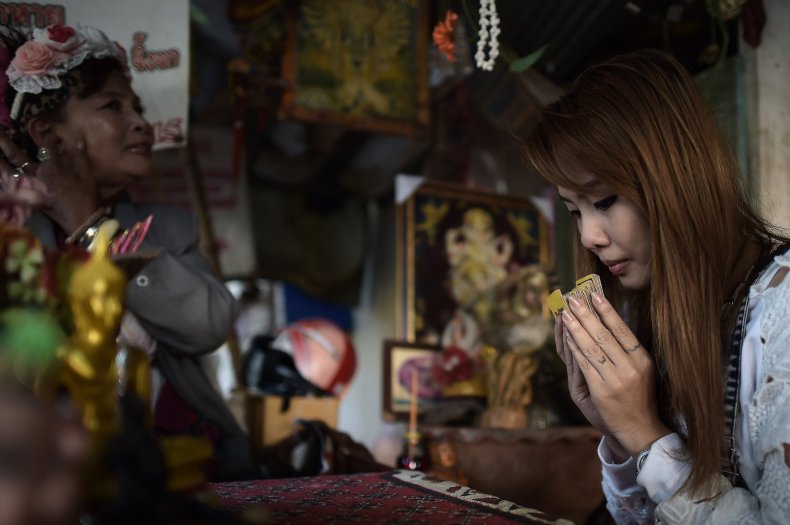 Data collected by the Pew Research Center and Trinity College in Connecticut show witchcraft and pre-Christian traditions have been revitalized by young adults, Quartz noted. Millennials are seeking more freedom in their spirituality and interest in astrology and tarot card readings have spiked in recent years.
Millennials, celebrities, and even critics of Supreme Court Justice Brett Kavanaugh have embraced the "witch aesthetic" over more repressive Christian beliefs, Quartz reported.
"From 1990 to 2008, Trinity College in Connecticut ran three large, detailed religion surveys," said Quartz. "Those have shown that Wicca grew tremendously over this period. From an estimated 8,000 Wiccans in 1990, they found there were about 340,000 practitioners in 2008."
The Trinity College data also revealed there were about 340,000 Pagans in the country in 2008. The Pew Research Center, which has long pointed out the ongoing decline in U.S. Protestant and Catholic membership, released a June survey which found adults under 40 are far less likely to say religion is "very important" in their lives.
"It makes sense that witchcraft and the occult would rise as society becomes increasingly postmodern. The rejection of Christianity has left a void that people, as inherently spiritual beings, will seek to fill," author Julie Roys said in comments emailed to The Christian Post last month.
"Plus, Wicca has effectively repackaged witchcraft for millennial consumption," Roys continued. "No longer is witchcraft and paganism satanic and demonic, it's a 'pre-Christian tradition' that promotes 'free thought' and 'understanding of earth and nature."
A recent spate of witchcraft-related stories have emerged over the past few months in the political sphere. During the congressional confirmation hearings of Judge Brett Kavanaugh last month, a Brooklyn bookstore placed a "hex" on the controversial conservative. That coven was joined by singer Lana Del Rey in declaring they'd already placed several hexes on President Donald Trump.
Despite the rise in practicing witches, the U.S. is still dominated by Christianity, which composes 70 percent of the country's religious population, the Pew Research Center noted earlier this year. A little more than 22 percent of Americans list themselves as "unaffiliated" with any religion.
Throughout history, a rise in fear has been matched with a rise in adherence to belief systems--whether that comes in the form of mainstream religion, or other alternatives.