Woman, 20, Who Lost Legs After Catching COVID 'Grateful' As $130,000 Raised
An aspiring model from Florida forced to have her legs amputated after developing a condition as a result of COVID that caused pressure to build restricting blood flow is "surprised and grateful" at the outpouring of goodwill she has received on the internet.
Claire Bridges, 20, was born with a congenital heart condition and developed a life-threatening complication after testing positive for COVID, despite being vaccinated.
Newsweek previously reported that on January 16, Bridges was admitted to Tampa General Hospital with severe leg pain. She was then diagnosed with COVID myocarditis, rhabdomyolysis, mild pneumonia, cyanotic, and acidosis. A few hours after being admitted, her heart stopped.
A few hours after successful CPR, Bridges again went into cardiac arrest and was once more revived by medical staff.
Following her admission in January, her family, writing on a Go Fund Me page set up to assist with Bridges' medical expenses, said: "Monday morning she was placed on a Tandem Heart and additional life support. Monday evening she was placed on continuous dialysis because her kidneys were failing.
"Tuesday morning she had to go back to the operating room to undergo a Fasciotomy, because the pressure was building in her legs and not allowing blood flow. Unfortunately, the damage to her legs is too severe and irreversible, so she is going to lose both her legs."
This Wednesday, her father, Wayne Bridges, told Newsweek that the process to amputate his daughter's legs had begun and was planned in three stages. He said: "The first amputation surgery was last Tuesday. She had a revision amputation yesterday and today is what we hope is the final revision surgery.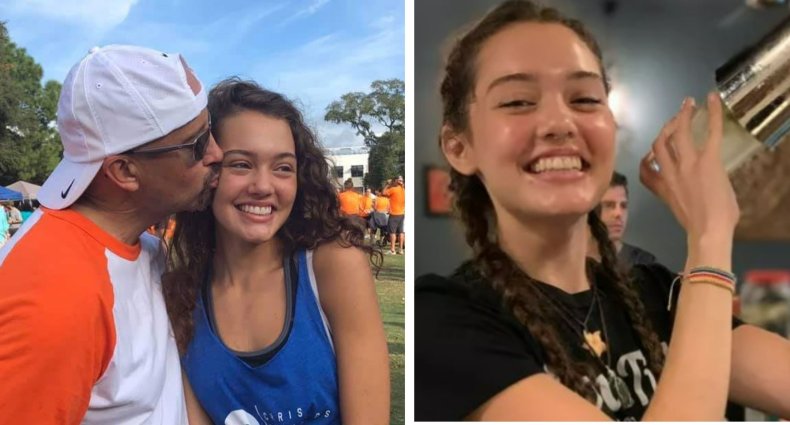 "She is off life support except for an external pacemaker and dialysis."
Commenting on his daughter's mood, Bridges told Newsweek: "Like anyone facing such a dramatic change in their life and lifestyle she has her ups and downs. Claire remains grateful and appreciative for her family, friends, nurses, and medical staff at Tampa General."
Two Go Fund Me appeals have been set up to benefit Claire Bridges. One named "Help for Claire's medical and ongoing expenses", organized by her father, aims to cover her medical costs. Thus far this appeal has raised a total of over $34,000 of a $50,000 target.
Another Go Fund Me page for Claire Bridges has been set up by her roommate and colleague, Heather Valdes, at Grassroots Kava House, where Claire works as a bartender. That fundraiser has collected over $97,000 of a $150,000 goal.
Wayne Bridges told Newsweek about his daughter's response to the goodwill shown to her on the internet. He said: "She was surprised and very grateful. The family is very touched and thankful for such an incredible outpouring of love and prayers from the community and beyond.
The aspiring model's father told Newsweek that she has been through a lot and will be recovering for months, adding that he and the family are aware that Claire will require a lot of time in rehabilitation recovering from surgery.
Correction 2/10/21, 09:51 a.m ET: This article has been updated after it wrongly stated Claire Bridges had a blood clot.