Woman Accidentally Attaching Picture of Dog To Work Email Delights Internet
Few things strike a chord on the internet quite like the sight of a cat or dog.
There's something undeniably heartening about seeing a four-legged friend of the feline or canine persuasion on the internet. There's something undeniably scientific behind that warm, snuggly feeling they elicit too.
In 2011, researchers at Caltech conducted a study in which 41 participants were shown a variety of photos while a specific part of the brain, the amygdala, a part of the brain known for processing emotional reactions, was closely monitored.
What they found was that the test subjects responded preferentially to images of animals, rather than buildings or people. Cats and dogs make us feel good too, with the bond developed between pet and owner second only to that of a loved one and, in some cases, even better.
Author Emma Berquist's relationship with her border terrier mix Monkee is closer than most—and with good reason.
Rescued from a shelter in El Segundo, Los Angeles, Monkee was with Berquist when she was stabbed six times by a teenager during a random attack in a park while walking her dog in Wellington, New Zealand on December 6, 2019.
Thankfully, none of her organs were damaged in the attack, while a 16-year-old male was arrested in connection with the stabbing later that same month.
"Monkee was so brave when that happened, she stayed by my side the entire time," Berquist told Newsweek. "She's incredibly protective and loving, although only with the people she decides are part of her family."
Fast forward a few years and Berquist and Monkee remain as close as ever.
So close, in fact, the author ended up accidentally sending a picture of her pet pooch to a work associate in a blunder that ended up going viral. In the picture, Monkee can be seen stretched out and enjoying the sun.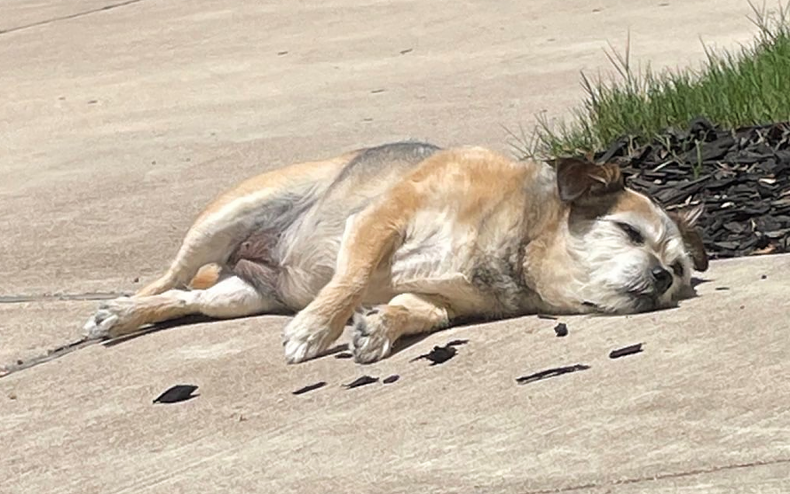 "I was sending an email from my phone and I was trying to attach a screenshot of a confirmation," Berquist said. "I accidentally also selected the photo next to it, which was a picture of Monkee I had taken the day before."
A fan of running after balls but not always bringing them back, Monkee's other interests include squeaky toys and cuddling up in warm laundry. On that particular day and in that particular photo, however, she was indulging her other great passion.
"She was doing one of her favorite things, which is lying motionless in the hot sun," Berquist said. "She also enjoys lying motionless in the grass, lying motionless on the kitchen floor, and eating."
Having captured the image for posterity, Berquist was initially alarmed when she realized she had sent the picture on to a colleague. She need not have been concerned though. "Luckily the recipient was very understanding and found the whole thing funny," she said.
That reaction spurred her on to share the story on Twitter, where the picture and a caption explaining how she "accidentally attached this picture of my dog to a professional email" proved popular, to say the least.
At the time of writing, the picture of Monkee catching some rays has been retweeted over 7,000 times, earning over 248,000 likes in the process.
One fan wrote: "I'd be more than thrilled if work-related emails came with pet pictures! Let this be the birth of a new age in business communication!!" with another asking: "So you got the promotion, right? I mean, even if that wasn't the point of the email, you deserve a promotion on the basis of this picture alone."
A third suggested: "Maybe all business communication should be done through the medium of dog images" while a fourth declared: "I wouldn't want to do business with anyone who didn't appreciate that picture. Good way of finding out who you are dealing with."
Others, meanwhile, shared similar experiences of ill-advised email attachments, print-outs and pranks involving several pet and animal pictures.
Berquist said she has been "surprised" at how big a response the tweet has got.
"I just fired it off thinking it was sort of amusing and pretty typical of a Monday," she said. "I think it resonated because we've all done something like that at work, and I think it helps that my dog is particularly cute."