A plane at Buffalo Niagara International Airport in New York had to return to its gate just before taking off after a woman allegedly opened the cabin door and caused the aircraft evacuation slide to inflate.
CBS affiliate station WIVB reported that Cynthia McKnight was arrested. Buffalo Bills offensive tackle Spencer Brown, who was reportedly on the flight when the incident took place, claimed on Twitter that she pulled the emergency inflatable slide to "escape" the plane.
"Sitting on a plane," Brown's tweet read. "A lady is pissed. Lady pulls the emergency inflatable slide to escape the plane. Lady is running wild through the tarmac currently. Cops have arrived. Flight ruined. Memories made. Noice."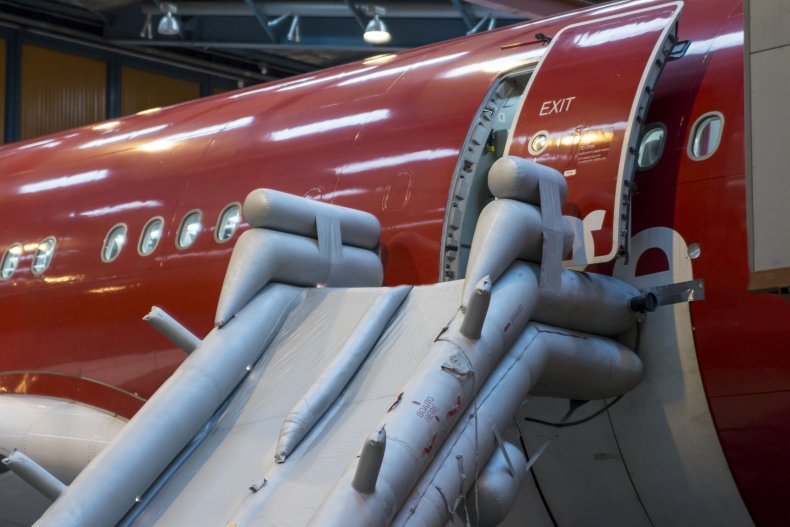 In a separate tweet in the thread, Brown shared a photo that showed the inflated slide.
A piece published by Simply Flying stated that these slides are used for passengers to evacuate a plane in case of an emergency. The slide is typically stored inside an aircraft door, below the door sill or by emergency exit windows.
"A lever on the interior door links the slide to a door," the piece stated. "When the aircraft is in flight, this lever is in the 'armed' mode, and if the door is opened, then the slide will deploy."
Simply Flying reported that there have been incidents of slides accidentally deploying, which led to major flight delays.
"Cynthia McKnight faces a number of charges including disorderly conduct, harassment, trespass and criminal mischief," Niagara Frontier Transportation Authority Director of Public Affairs Helen Tederous told the outlet. "According to detectives, McKnight actually opened the cabin door of the plane."
Although the pilot was preparing to take off, the plan needed to return to the gate as a result of the incident.
Newsweek reached out to the Niagara Frontier Transportation Authority for comment.
There have been other instances where passengers have been arrested because of an incident that took place during a flight.
A man allegedly tried to open the emergency exit door mid-flight. Michael Brandon Demarre was also accused of threatening to interfere and interfering with a flight crew and attendants, and he faces federal charges.
Another man was arrested after he reportedly trespassed into an airport and took off his clothes before he tried to board a plane.
Javier Martinez was accused of climbing a security fence and trying to get on board the plane. At one point, he climbed onto the wing of the plane.
Newsweek also previously reported that a woman, identified as Vickie Meyers, was arrested after she allegedly ran onto the tarmac to try to stop a plane that was taking off without her.