McDonald's and Uber Eats have launched investigations after a customer claimed to receive her order with a label saying it contained "only ketamine."
Emily Somers of Leeds, England, took to Twitter with a photo of her alarming package. Affixed to the burger box was a handwritten label that read, "Only Ketamin," with the final "e" missing.
Somers tagged McDonald's U.K. with the caption, "Sorry please explain????"
The woman explained to LADbible that she ordered a McPlant burger on June 19, the day after celebrating her 21st birthday. She was not expecting her hangover snack to come with a potential drug threat.
Somers's boyfriend first spotted the label. Together, they picked the burger apart and inspected it for any tampering.
"The fact it goes through the kitchen and then someone delivers it, that puts a bit of worry on your mind," she told the outlet.
She believed the label had more to do with someone's sense of humor than real drug lacing but said she was still "apprehensive about eating it."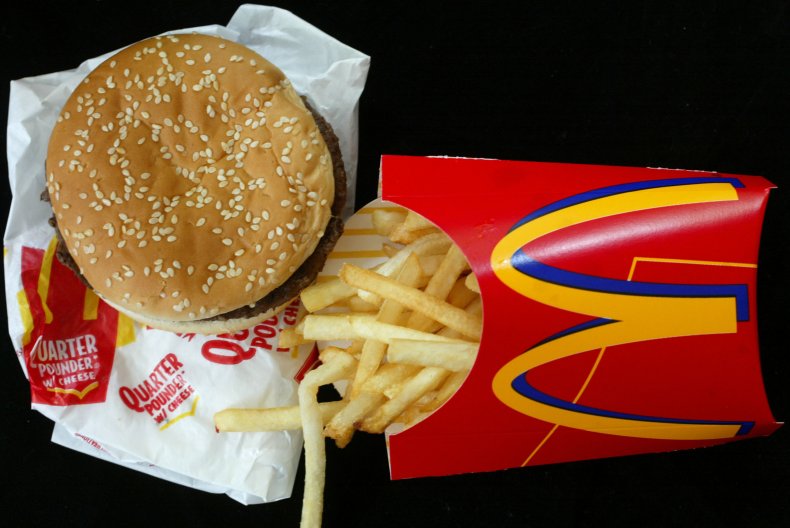 Somers had ordered her burger with "only ketchup" and suspected that the original label read "Only Ket," but a mischievous employee added the following letters, which appeared to be inscribed in slightly different handwriting.
Following her complaint, McDonald's issued her a voucher for £7.50 ($9.17 USD).
McDonald's U.K. told Newsweek in a statement, "We have fully investigated this incident and have found nothing to suggest the box left the restaurant in this way. We are, of course, disappointed the customer did not have the experience they expected and apologize for any offense caused."
An Uber Eats spokesperson said, "We want everyone who uses the Uber Eats platform to have the best possible experience. This is a concerning report, and we are in contact with McDonald's to understand what happened."
Although Somers ended up eating her meal, she feared that other customers might not have taken the alarm as well.
"I thought what if it was a mum ordering it for a child," she told LadBIBLE. "You can't [write] that. It's inappropriate."
In April, another Uber Eats customer claimed to receive a burger with a bite taken out of it.
Meanwhile, a medical worker went viral in February for alleging that she was harassed by the Uber Eats driver who delivered her McDonald's breakfast.
And last year, an Uber Eats delivery worker was reportedly fired after footage surfaced of him siphoning off part of a customer's order with his bare hands.
A 2021 survey by Real Research found that 40 percent of McDonald's customers internationally said they were satisfied with the food they received, with less than 30 percent satisfied with staff service. An overwhelming majority of 94 percent said that McDonald's should improve its product quality.
Newsweek reached out to Somers for comment.
Update 6/30/2022, 9:30 ET: This story was updated with a comment from an Uber Eats spokesperson.
About the writer
Shira Li Bartov is a Newsweek reporter based in New York. Her focus is on trending news, human interest and legal stories. She has covered labor and civil rights lawsuits extensively. Shira joined Newsweek in 2022 from Inside Edition. She is a graduate of Brown University. You can get in touch with Shira by emailing s.bartov@newsweek.com. Languages: English, German, Hebrew and Mandarin.