A food order delivered to a Uber Eats customer was allegedly not exactly what the customer expected.
Reddit user "whatsqwerty" posted Tuesday on the social platform's "Well That Sucks" subreddit, where it has been upvoted over 18,500 times.
The poster, who is named Alex, told Newsweek that he made his Uber Eats order between 6-6:30 a.m. Tuesday from a Dairy Queen restaurant in Bellingham, Washington.
"We got the food. Bags looked fine," Alex said. "I had one item. Went to open my burger and there was a bite out of it."
He said when he initially saw the bite missing from his burger, he couldn't help but laugh because "it was so weird and unbelievable." But then he became a little angry.
"We don't know if it was the driver or someone at the restaurant," he said. "It could have been someone who made or packaged the food too. But it was a very surreal 'Is this really happening' moment.
"With COVID and everything it really felt personal," he added. "I hope that food coming from restaurants is safe [and] not possibly intentionally laced with COVID."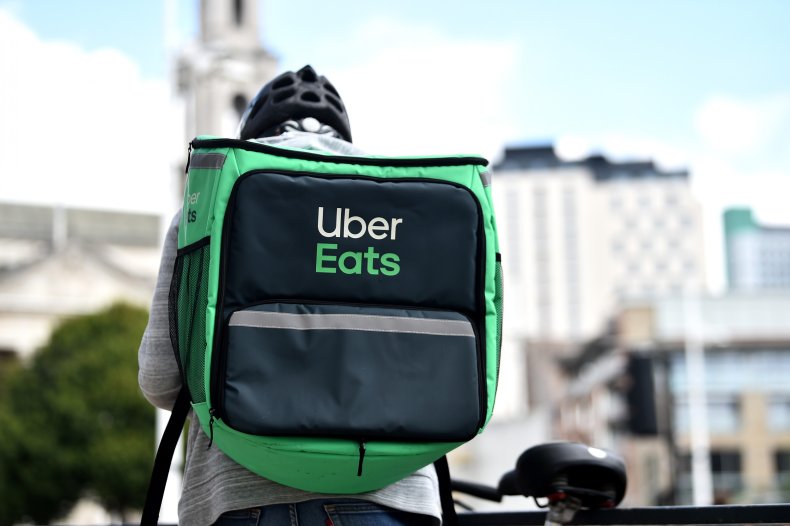 When he asked if he reached out to Uber Eats for a potential refund or some other type of compensation, Alex said he did but that the food delivery service had been "unresponsive."
Uber Eats responded to Newsweek, originally saying they were looking up Alex's information to confirm whether he is in fact a registered user. They provided further correspondence, saying they found Alex's complaint and were further investigating the situation.
They reportedly gave him a full refund for his troubles.
"What's been reported by the eater is repulsive and doesn't meet the quality of service we hold ourselves to," the Uber Eats spokesperson said.
The spokesperson added that restaurants are encouraged to seal packages in tamper-evident packaging ahead of delivery, and that delivery drivers should never open such packaging. A specialized Uber Eats team investigates these types of incidents.
It remains unclear whether an Uber Eats employee or Dairy Queen is responsible for the situation.
"Dairy Queen takes the quality and safety of its food very seriously, whether fans are dining in restaurant or ordering for take-out or delivery," a Dairy Queen spokesperson told Newsweek. "This restaurant is independently owned and operated and we are working with the franchisee to investigate this situation."
The Uber Eats website said they issue refunds to customers missing items from their orders; customers who receive items but it's not as they ordered them; and customers who receive incorrect orders, such as a full order not being delivered or receiving someone else's order entirely.
"When items are missing, we'll refund the customer the sales price of the item (including tax/VAT) at the time of the order," the website said. "If an entire order is incorrect, the customer is refunded for the sales price of the entire order (including tax/VAT) and the delivery fee."
Alex said the burger was intended to be his dinner, but he of course discarded the item. He told Newsweek that he desires a refund, in addition to an acknowledgment of the situation accompanied by an apology.
"I hope people respect each other and do the right thing," he said. "I try to myself and that's the only way things are going to get better in this world."
One Redditor from the United Kingdom asked Alex if there was a seal on the box of the hamburger that was delivered. Alex said that although there was a seal, it wouldn't be difficult to open the seal and make it look like it was never opened. He said it wasn't "suspicious" when he first received the item.
Some Redditors were skeptical about Alex's accusation, saying he may have fabricated the entire story just for some Reddit "karma."
"I'm not saying it's impossible for this to happen, but it definitely seems extremely unlikely," one Redditor said. "They had to know whoever got it would complain. If the driver really did do it then they're probably banking on the restaurant taking the blame. If the restaurant employee did it then they're hoping [U]ber will blame the driver."
Updated 04/13/2022, 1:24 p.m. ET: This story has been updated with comments from a Dairy Queen spokesperson.
Updated 04/13/2022, 2:16 p.m. ET: This story has been updated with additional comments from an Uber Eats spokesperson.