A viral TikTok video has resurrected the debate about how much money food delivery app customers should tip before or after receiving their meals—if any at all.
The video was posted Saturday and has been viewed 3 million times. It was published by Steven Liang, who goes by the handle @mrpanda1688, and includes footage of numerous brown paper bags stacked on top of each other on the floor because DoorDash drivers—as well as drivers of competitors—allegedly didn't want to pick them up because they weren't tipped on the orders.
DoorDash is viewed by most as a service akin to "normal" pizza delivery or similar, where individuals cut the customer's physical trip to pick up food in exchange for a fee. Ridester reported that DoorDash drivers make an average of $11 per hour, which is below minimum wage in certain places depending on location and doesn't take into account gas or insurance costs deducted from overall earnings.
"These been sitting here for 4 hours because no dashers would take non tip orders," reads the overlay text of the video. "[N]o tip no trip, the workers told me no dashers/Uber eats/grubhub went to get the order."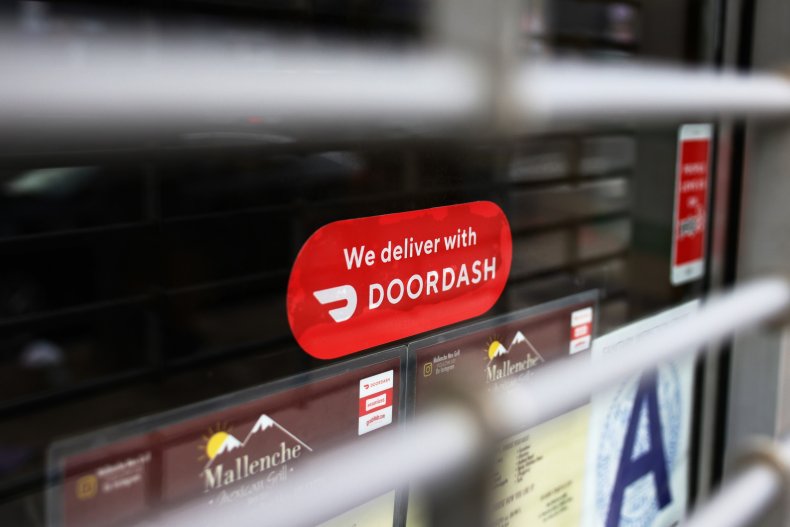 DoorDash's website features a pay model formula "designed to make earnings fair and transparent for every delivery." The formula combines base pay with promotions and tips—the latter of which drivers purportedly receive 100 percent of customer tips on top of base pay and promotions.
Base pay is explained as the "base contribution for each order," ranging from $2 to potentially over $10 depending on the estimated time, distance and desirability of the order.
"Deliveries that require Dashers to travel a longer distance, that are expected to take more time, and that are less popular with Dashers will have a higher base pay," DoorDash says. "Base pay will not change based on the customer tip amount."
Promotions provide added incentives for drivers to earn more, such as during "peak pay" hours when more people are ordering food overall, or "challenges" that allow drivers to earn extra money by completing a certain number of deliveries within a particular timespan.
When base pay, promotions and tips are combined, drivers receive their "total earnings" which always includes base pay. It is noted that promotions and tips vary by delivery.
In 2020 DoorDash paid a $2.5 million settlement with the Washington, D.C., attorney general's office. The lawsuit filed in November 2019 "alleged that from 2017 until 2019, DoorDash misled consumers to believe that their tips would increase worker pay, when, in fact, tips were used to subsidize DoorDash's payments to its workers." The company reportedly revised its tip policy following the settlement.
A DoorDash spokesperson told Newsweek in an email that the company has built other aspects to help employees earn, including hotspots where Dashers can quickly see busy areas to earn more on their time; DasherDirect to improve banking and fast access through instant no-fee deposits and benefits; and perks like Dasher-only discount programs with national partners.
"We're proud that so many Dashers are able to earn when, where, and for however long they want by connecting customers with local businesses," the spokesperson said. "Nationally, on average, Dashers earn over $25 per hour they're on a delivery, including 100% of tips, and work fewer than four hours a week.
"Dashers are always shown a guaranteed minimum amount they will earn for completing a delivery before they even accept the delivery, as well as the location and name of the restaurant, and estimated total mileage for the delivery so that they can make the best decision for themselves while dashing," they continued. "We're always eager to hear feedback from any Dasher, customer, or merchant as we work to continue providing value to our community."
A Grubhub guide to tipping encourages consumers to tip 20 percent for meals that arrive on time and are as ordered, while also encouraging bigger tips for drivers who deliver large orders, have to drive or travel in inclement weather, or have to climb a few flights of stairs.
"Tipping is never required, but you can add a tip as an extra way to thank your delivery person for their efforts," Uber Eats says on its website. "100% of any tip you add goes to the delivery person."
TikTok users are typically split on how much to tip and when to tip. One argument against tipping drivers beforehand through the app is that even a courteous tip does not always guarantee that the order arrives on time, or at all. And if it does arrive the order could contain cold food or the wrong meal altogether. One delivery driver was arrested on the way to deliver food, but the police officer completed the delivery.
"Tipping culture is out of control," replied TikToker Emmanuel Bagirov. "Only in America are we tipping 20% on a service BEFORE you get it, as well as paying 200% in fees. Ridiculous."
"These apps need to pay drivers more and stop charging consumers so much," another user said.
"We need to stop normalizing tipping before the service is completed," another added.
But as one user said, if a person can tip $5 on a $15 in-restaurant meal, they can tip a driver who is saving that trip altogether. Another user claimed to be a DoorDash driver and said he refuses to pick up no-tip orders.
"Y'all are tipping for a luxury—someone driving to pick up your food and bring it to you- if there's something wrong after contact support," one user said.
Another user called customers "bold" for not tipping individuals who are handling their food.
For one TikToker, they have ditched not only DoorDash but every food delivery app.
"[S]topped using all delivery apps," the user said. "[E]ven after tipping $10-12 on a 3 mile trip I was getting canceled orders, items missing, cold food. Pick up is best."
Update: 04/12/22 3:41 p.m.: This article was updated with comment from DoorDash.