Some minimum wage workers are spending nearly an hour's worth of pay just to get to and from work amid surging gas prices.
In states where the minimum wage is set to the federal rate of $7.25 an hour, and where the cost of fuel is rising, workers are spending almost a whole hour of pay on their commute—which on average requires just over a gallon of gas.
Using estimates of the average car sold in the U.S. and of the average distance Americans travel to work, a Newsweek analysis found that it costs minimum wage workers more than $5 just to get to their jobs.
Gas prices have soared to record highs last week after the U.S. and other NATO allies banned Russian energy imports in response to the invasion of Ukraine.
While the U.S. barely uses Russian oil, Russia is one of the world's biggest oil suppliers and oil is priced through a global market, meaning those sanctions have trickle effects onto American drivers, including those who need to drive to get to work.
According to U.S. Census Bureau, more than three-quarters of Americans drive to work.
"If you are making less than a living wage, you are already making decisions about how to pay for rent and how to stretch your dollars because you don't have enough for rent and for food and for all the other necessities by the time of your next paycheck," Adam Shah, the director of national policy at Jobs With Justice, previously told Newsweek. "The issue of having to choose between medicine and gasoline and rent become even worse as inflation spikes."
According to ABC News, the average American drives 16 miles to work each way. Using the average car, which gets around 25 miles per gallon and has a 12-gallon tank, the average commute requires 1.28 gallons of gas.
In some states, the cost of gas is cushioned by either higher minimum wages or gas prices that are relatively more stable.
California, where minimum wage workers have one of the highest rates at $15 an hour, is seeing the highest cost of gas in the country. On Monday, a gallon of gas costs on average $5.744 in the Golden State—nearly 1.5 times the national average, according to the American Automobile Association. Some places in California, however, are seeing prices near $8 per gallon.
However, comparing the state's minimum wage to the price of gas means that a minimum wage worker would spend 57 percent of a day's wage on a 12-gallon tank.
Likewise, in New Mexico, where minimum wage is slightly higher than the federal standard at $11.50 an hour and where gas prices are lower than the national average at $4.184 a gallon, a tank of gas costs workers about 55 percent of a day's pay.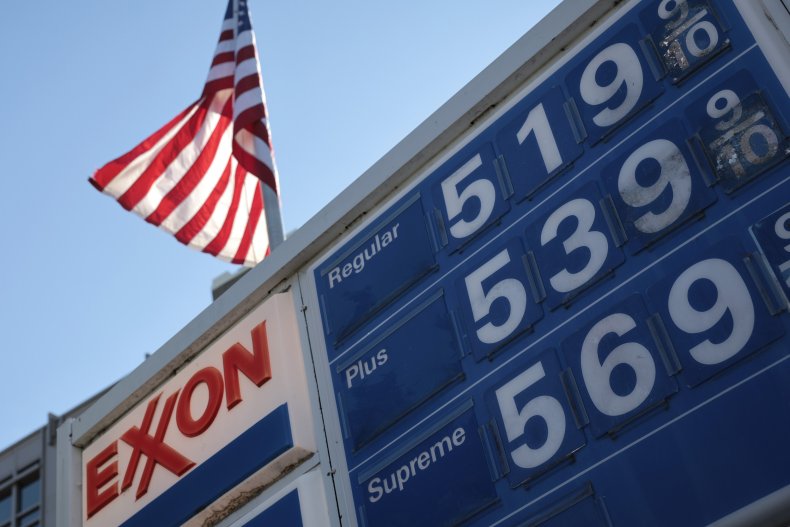 In states with low minimum wage and high gas prices, on the other hand, minimum wage workers are significantly impacted, spending 40 percent more on gas than Americans living in states with higher wages and steadier gas prices.
For example, while Idaho is on the west side of the country and Pennsylvania is on the east, both states follow the federal minimum wage.
While gas is quickly rising in the two states, those costs are not being accommodated by the federal rate which has remained unchanged for more than a decade, despite inflation.
As of Monday, Pennsylvanians are paying $4.425 for a gallon of tank, while Idahoers are spending $4.326 for the same amount of fuel.
Making only $58 in an eight-hour workday, minimum wage workers in these states are spending upwards of 90 percent of a day's earning on a tank of gas.
"The federal minimum wage has been frozen for years. It was already scandalously low when the COVID driven price increases hit, and of course it has not responded at all to these increases in the cost of living," Damon Silvers, the American Federation of Labor and Congress of Industrial Organizations's senior strategic advisor and special counsel to the President, previously told Newsweek.
"Progressives, both inside and outside government, need to know that this is a critical moment where workers are really hurting," Shah said. "They need to actually pass the things that they that they promised to and not let the excuse of a rigged system that stand in their way."