Grubhub used "deceptive trade practices" at the expense of consumers and businesses in the midst of the COVID-19 pandemic, a new lawsuit claims.
The suit, filed March 21 by Washington, D.C. Attorney General Karl Racine against Grubhub Holdings Inc. and Grubhub Inc., alleged that the popular food delivery and software company hiked up prices and charged hidden fees to negatively affect Washington, D.C. residents who used the service. It also claimed that Grubhub exploited local restaurants attempting to stay afloat during COVID-related lockdowns, in addition to violating consumer protection laws.
In July 2021 the State of Massachusetts filed a similar claim against Grubhub, alleging that restaurants were charged restaurants fees that exceeded 15 percent of an order's menu price.
A Florida-based pizzeria also made allegations against Grubhub, creating numerous TikTok videos claiming that its business was added to their platform without permission. No litigation occurred as a result.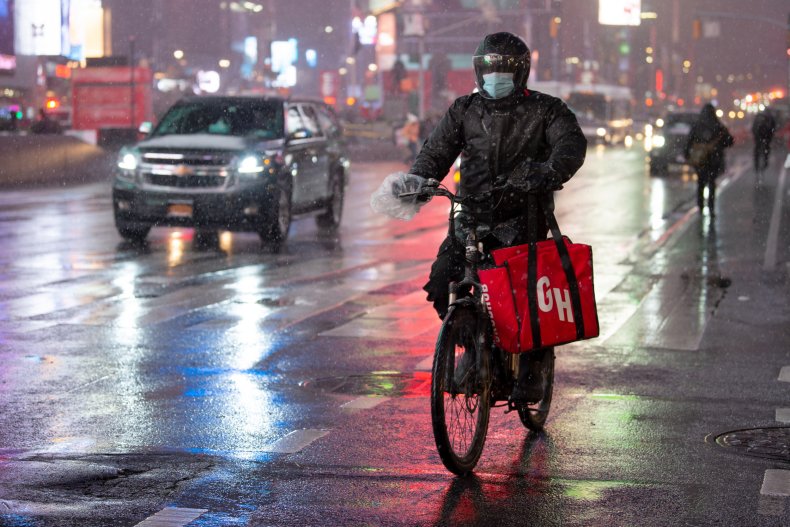 The intent of the D.C. suit is to force Grubhub to end its allegedly unlawful practices while increasing transparency regarding where to order food and how to help local businesses.
"Grubhub misled District residents and took advantage of local restaurants to boost its own profits, even as District consumers and small businesses struggled during the COVID-19 pandemic," Racine said in a statement. "Grubhub charged hidden fees and used bait-and-switch advertising tactics—which are illegal. On top of that, the company deceived users with a promotion that claimed to support local restaurants during the heart of the pandemic."
Racine went on to state that Grubhub "cut into struggling restaurants' profit margins while padding Grubhub's bottom line," adding that consumers "don't mind" paying for delivery fees but alleging that Grubhub was not honest about said fees originally.
Andrew Kline, general counsel to the Restaurant Association of Metropolitan Washington, said he supported Racine's lawsuit because while "third-party delivery services can be important partners of restaurants, they should not exploit either the public nor the businesses they serve with misleading statements and unfair trade practices."
The lawsuit claimed that Grubhub made $1.8 billion in revenue in 2020, but a Grubhub spokesperson wrote to Newsweek that "this frivolous lawsuit" and its revenue total is inaccurate. The company had a net loss of $155.9 million in 2020, they said.
"The logistics of delivery [dispatching and paying drivers, our delivery and driver technology, etc.] have substantial costs," the spokesperson said. "Grubhub also supported our restaurant partners with hundreds of millions of dollars in 2020 through increased marketing support, reduced commissions, and bonuses and personal protective equipment for drivers."
The lawsuit included a litany of allegations against Grubhub, including that the company listed over 1,000 D.C. restaurants on its software platform "that in fact had no contractual relationship with Grubhub, without those restaurants' consent, and without adequately disclosing to consumers its lack of relationship with those restaurants."
Grubhub's retort was that it does not list restaurants on its website or app in D.C. where no agreement exists, in line with District law.
The suit also alleged that Grubhub advertised higher prices on its website and app compared to what consumers are charged on those restaurants' own websites or in-store menus—and that such "discrepancies" were not sufficiently disclosed.
The Grubhub spokesperson said the company included a disclosure in its terms of use and, moving forward, will include a disclosure in the check-out flow before an order is placed that "prices may be lower in-store."
It is also alleged that fees, described in the suit as "a bait-and-switch scheme" for Grubhub to misrepresent costs to consumers, were not properly disclosed "until the end of the ordering process at the checkout page after consumers have already invested their time in searching for a restaurant and selecting menu items that they want to order."
Such fees mentioned included service fees and small-order fees.
But Grubhub argued there was no misrepresentation at all, saying that all diners agree to the company's terms of use—which includes a disclosure on potential fees related to goods and services—before ever using the platform.
"All fees are disclosed in the order/checkout flow, in the order confirmation receipts and in marketing materials," the Grubhub spokesperson said. "Going forward, Grubhub will individually list each applicable fee on the checkout page and provide diners with a description of the fee. No fee would be combined with any other fee."
Remaining allegations in the suit included Grubhub customers still paying service fees after they received "unlimited free delivery" as Grubhub+ subscribers; routing telephone numbers and charging partner restaurants a separate commission; Grubhub created websites, or "microsites," made to look like the restaurants' own official websites; and advertisements for the platform's "Supper for Support" promotion during the COVID-19 pandemic actually negatively impacted restaurants that "were required to foot the full cost" of the discount in addition to having to cover Grubhub commissions on the full non-discounted price of the food total.
Grubhub claimed it discloses the existence of additional fees for Grubhub+ orders in its app, terms of use, and in other ads like email footnote disclosures; that the lawsuit noted that Grubhub resolved the telephone routing practice; that it created websites and registered domains on restaurants' behalf as another source of orders "and to increase their online brand presence"—at no charge to restaurants for website creation or maintenance; and that the "Supper for Support" promotion, although no longer in existence, did "many things to support residents and restaurants in D.C. and across the country throughout the pandemic" and that terms were "clearly disclosed to restaurants."
"We work hard to support D.C. restaurants and diners, and we continually review and enhance our operations to better serve them and meet their expectations," the spokesperson said. "During the past year, we've sought to engage in a constructive dialogue with the D.C. Attorney General's office to help them understand our business and to see if there were any areas for improvement.
"We are disappointed they have moved forward with this lawsuit because our practices have always complied with D.C. law, and in any event, many of the practices at issue have been discontinued," they continued. "We will aggressively defend our business in court and look forward to continuing to serve D.C. restaurants and diners."