A police officer has been hailed a hero for completing a DoorDash delivery after the driver was arrested en route to the drop-off.
Ring doorbell footage captured the moment the cop, thought to be in Sioux Falls, South Dakota, walks up to the front door carrying a soda and two bags of food.
The customer is noticeably shocked as they open their door, as the cop explains: "I know I'm not who you were expecting, but your driver got arrested for some things he didn't take care of."
The officer continued, while holding what looks like Arby's: "So I figured I'd complete the DoorDash for you."
The woman bursts out laughing as she thanks him, while the cop returns to his patrol car. But after she closes the door, the camera picks up her hysterics as she returns inside.
According to the timestamp on the camera, the unusual delivery took place around 1.30 p.m. on Wednesday.
The clip was shared to Facebook group Tea Storm Chasers, who claim to be a non-profit organization who monitor police scanner calls.
They captioned the clip, which has been viewed more than 300,000 times: "After a DoorDash Driver got arrested this afternoon, 'for stuff he didn't take care of,' a Sioux Falls Police Department officer went above and beyond and completed the Door Dash."
They shared an update later that day, writing: "The SFPD Officer is Sam Buhr. The Door Dash Driver was arrested, during a traffic stop, for warrants. The Sergeant we spoke with didn't have the information on what the warrants were."
The information was also shared by a local news site, Espnsiouxfalls.com.
The clip was later posted to Reddit's HumansBeingBros forum by user SoDakZak, where it was upvoted more than 76,000 times, and can be seen here.
Hundreds commented on the clip, with Oxfordcommaordeath saying: "Taking the 'serve' part of their motto to an extra level!"
Sonia13m reckoned: "That girl has a story to tell for years now."
Life_Piece_394 joked: "The real crime here is she doordashed Arby's."
Mznh commented: "The officer was good to drop off the food for the driver lol."
Jerrythecutie said: "Now THAT is how you protect and serve!"
While on the Facebook page, Brandie Solway raved: "While hilarious... it was also pretty nice of that cop. Heroes do small acts of kindness each day."
Christi Wilcox asked: "So does the officer get the delivery tip?"
While Clinton Joseph Shown added: "Door Dash owes this officer a free meal!!"
A spokesperson for SFPD told Newsweek: "On Tuesday afternoon, Officer Sam Buhr stopped a vehicle for a traffic violation near 1st Street and Minnesota Avenue. The driver was arrested for a warrant.
"The driver was in the process of delivering food for Door Dash. Officer Buhr completed the delivery, bringing the food to the customer. While delivering food is not a normal part of police work, helping people is.
"Sioux Falls police officers regularly go above and beyond the normal job and this is just one example of that. Little things like this happen on a regular basis and while most don't receive the attention, we realize those little things can make a big difference."
A DoorDash spokesperson told Newsweek: "The safety of our community is extremely important and we take reports of this nature very seriously. We're actively looking into this to take all appropriate actions and are grateful to the law enforcement officer for stepping in and ensuring this customer received their order."
Newsweek reached out to Tea Storm Chasers for comment.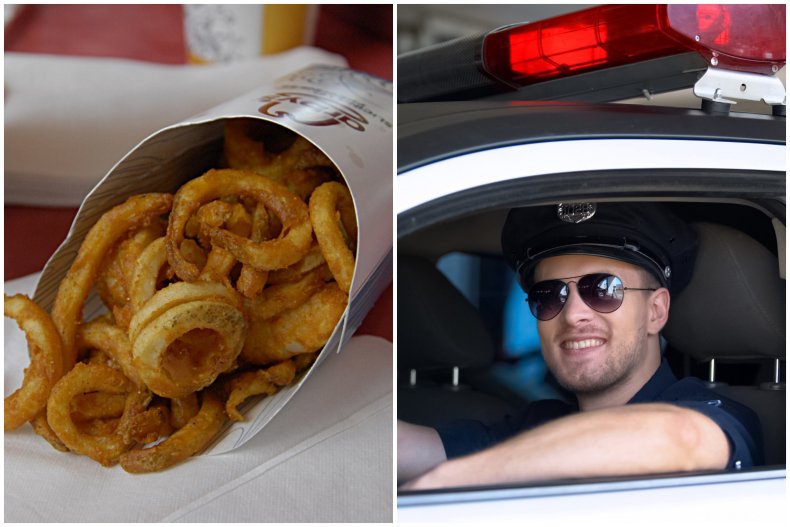 Update 1/26/22, 9:35 a.m. ET: This article was updated with comment from DoorDash. 11:23 a.m. ET: This article was updated with comment from SFPD.