Woman Alleges She Miscarried Due To Labor Intensive Job: 'Lawsuit Time'
A woman went viral after sharing several viral TikToks about her high-risk pregnancy and miscarriage she said was due to lacking accommodations at her workplace.
The woman named Skye, or @insanely.skye on TikTok, initially shared her story last Saturday where it received more than 285,000 views and 700 comments, many from viewers recommending she research reasonable accommodation laws in her state and pursue legal action.
"At my job I stand and walk 9 hours a day," the on-screen text read.
She explained that her gynecologist wrote a note to her job explaining she requires a stool because she is a high-risk pregnancy.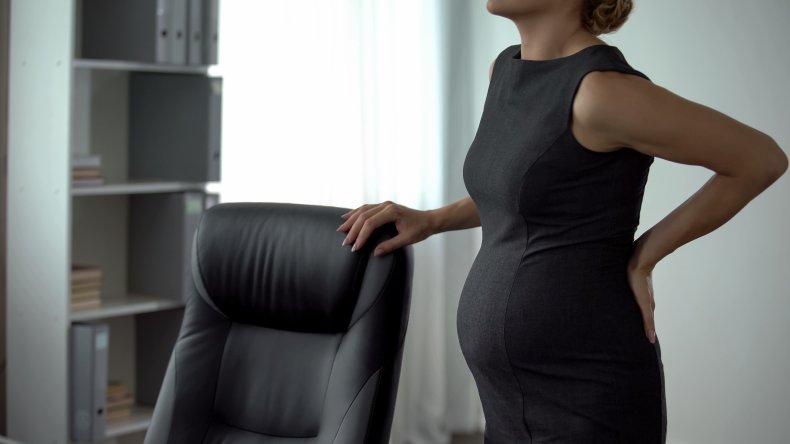 "They said no so I hide in the stockroom when they don't know," she said in the video. "I'm in so much pain from not getting accommodations cuz 'then everyone will want to sit.'"
While accommodations vary depending on the state, it is illegal in the U.S. to not provide workplace accommodation, since many pregnancy-related impairments are covered under the Americans with Disabilities Act of 1990.
In another video posted Tuesday, Skye said she was told earlier that day that she miscarried. The video garnered more than 130,000 views and hundreds of users commented that she should sue for damages.
"We went to our ultrasound this morning and the baby hasn't grown. The heart stopped beating," the on-screen text read.
She explained that she might require a D&C, a procedure performed after some miscarriages that occur after 10 weeks.
"I blame my job. I blame the lack of accommodations," the on-screen text read. "I blame the stress and the physical labor. I just I can't take it anymore I loved them so much I can't keep losing [sic] them."
Under the Pregnancy Discrimination Act (PDA), employers are required to provide reasonable accommodations for pregnant employees including work restrictions.
Reasonable accommodations include providing less labor-intensive work and alternative assignments, such as a job that would not require the individual to stand.
It is also illegal under PDA to discriminate based on an employee's pregnancy in any aspect of employment. This includes firing, pay, promotions, layoffs, or forced leave.
Thousands of viewers amassed in the comments of both videos, the majority offering support and advice to Skye.
"Sue for damages," one user suggested. "Make as much noise as possible. Get justice for your little baby."
"Call the labor board that's illegal," another commenter wrote.
"Get it all in writing. That's a reasonable accommodation and if anything happens you will need documentation," another person wrote.
Newsweek reached out to @insanely.skye for comment.