A woman on Tuesday accused New York Governor Andrew Cuomo of kissing her on the cheek without her consent, saying she felt "appalled" to later learn that he used an image of the interaction in an attempt to defend himself against sexual harassment allegations.
Speaking with attorney Gloria Allred at a press conference, 61-year-old Susan Iannucci said a photo of Cuomo kissing her was one of several images in a slideshow montage meant to show that the governor "never touched anyone inappropriately."
The slideshow was shown last week during a pretaped statement in which Cuomo denied any wrongdoing after New York Attorney General Letitia James released a scathing report that concluded the governor, who resigned Tuesday, had sexually harassed 11 women. By using the photo and video montage, Cuomo tried to demonstrate that he touches and kisses the faces of men, women, and children as a "warm" and innocent gesture.
But on Tuesday Iannucci said the image of her captured a nonconsensual interaction in which the governor approached her, grabbed her and then kissed her on the cheek.
"He looked me in the eye, grabbed my arm and pulled me toward him and kissed me on the cheek without asking if I was OK with such a personal greeting. I was taken by surprise and embarrassed, and because of this I smiled nervously," Iannucci said.
Iannucci said the interaction occurred in White Plains, New York, in 2018. She said was mortified to find out that someone took a photo of the image and later shared it on social media. Now, Iannucci said, seeing the image being used as part of Cuomo's defense made her feel "humiliated and embarrassed."
"I am being put in a position where I feel like I'm being used by Governor Cuomo to push a narrative that his habit of invading people's personal space is justified. I am appalled to be in a position where I feel like I am being used in this manner," Iannucci said Tuesday while holding back tears.
"I do not condone his actions toward any of the women who have come forward, and I do not appreciate being made to look as if do. I believe the governor's actions toward myself and others to be wrong, despite how he has chosen to utilize my image," she added.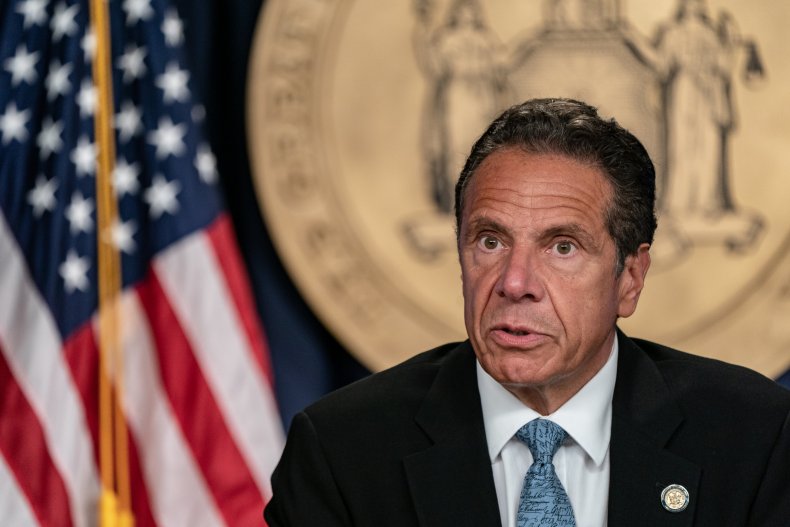 Cuomo strongly denied the sexual harassment allegations and said the controversy was politically motivated and untruthful.
However, facing possible impeachment, the governor announced his resignation, which will be effective in 14 days. Cuomo said he made the decision to step down to "let government get back to government."
"This is one of the most challenging times for government in a generation," Cuomo said. "Government really needs to function today. Government needs to perform. It is a matter of life and death, government operations, and wasting energy on distractions is the last thing that state government should be doing. And I cannot be the cause of that."
The state's lieutenant governor, Kathy Hochul, will take office and serve out the remainder of Cuomo's term, which ends in 2023. Hochul, a Buffalo Democrat, will be New York's first female governor.
"It definitely was the right thing for him to do politically. This is the legal reckoning, and it's also a political reckoning. It's long overdue for the governor to resign," Allred said during the press conference, which came after Cuomo said he was stepping down.
"It is no longer OK to grab women or touch them in any part of their body," Allred added. "I'm glad he resigned."
Newsweek contacted Cuomo's office for additional comment but did not hear back before publication.