Woman Applauded for Revealing 'Disgusting' Family Secret
A woman is being praised online for revealing a life-changing secret to her teenage niece—despite uproar from the rest of the family.
Posting to Reddit's AmItheA**hole forum on Thursday, user u/Original-Leading-324 explained that her sister and brother-in-law had been lying to her niece about her biological mother's identity for most of her life.
At 18 years old, the girl had no idea that her real mother had passed away when she was 2, and that the woman she believed to be her mother is actually her aunt. As an added twist, both the biological mom and the adopted mom are u/Original-Leading-324's sisters.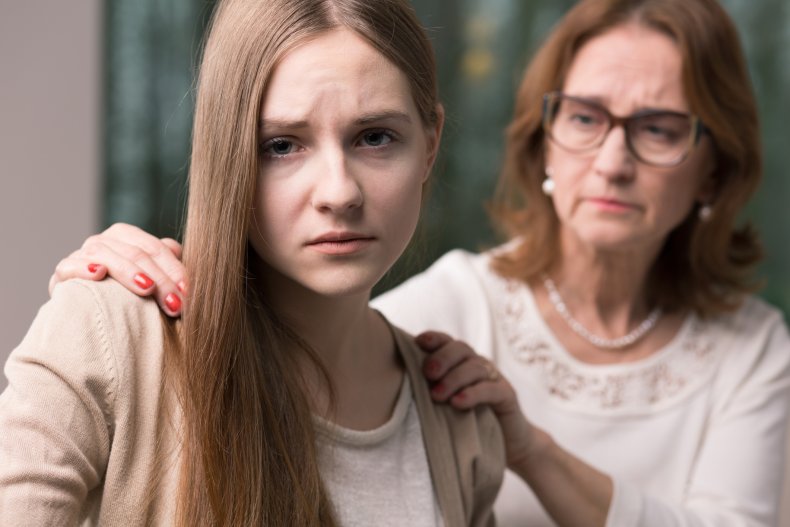 She explained: "I (35f) had two older sisters growing up 'Jane' and 'Kim.' Kim got sick and died but not before giving birth to my niece 'Laura.'
"It had been a year after Kim's passing when Jane and Laura's dad 'Tom' (42m) confessed to dating and were now engaged. Everyone was surprised but no one was [as] vocally disgusted as me."
After the woman's sister Kim passed away, her niece's dad Tom married her other sister, Jane. Rather than trying to keep Kim's memory alive, the pair decided to rid any evidence that Kim existed from their lives.
She continued: "They decided it would be better if Laura thought Jane was her mother in every sense of the word after the adoption was finalized.
"Tom got rid of any items that would suggest he and Kim were ever in a relationship and made his family swear to never tell Laura the truth.
"Jane expected everyone on our side of the family to do the same, but I refused and as such I was denied access to Laura.
"They even had Laura's name legally changed to something that Jane liked as Kim picked out Laura's first name."
After the woman refused to get on board with lying to the niece, her sister and brother-in-law cut her out of their lives. However, Laura recently reached out to u/Original-Leading-324 through social media, as she is interested in working in the same field.
She said: "Growing up Laura had known of me but we never really interacted. The last time I saw her in person she was 7 and I started to tear up at how much she looked like Kim.
"Eventually Laura asked why I wasn't around. I tried to keep it vague but Laura knew that there was more to the story as I didn't seem like the person I was described to be."
The woman couldn't keep the secret any longer and told her niece the truth, before sharing videos Kim had recorded for her daughter before she died. Kim has also written several letters alongside the videos, but Laura's dad had since destroyed them all.
She explained: "After Laura watched some of the videos she confronted my parents who confirmed everything. Laura has moved out and [is] currently not speaking to anyone and no one knows where she is right now.
"Everyone is angry at me. [Am I the A**hole?]"
A 2020 study by Iternal—a legacy platform that allows people can record their life stories online—found that 14 million British people had uncovered a family secret. Common revelations included discovering an affair (4 million people), finding out about a "second" family or a relative they never knew existed (3 million people) and realizing their family is richer than expected (2.3 million people).
Redditors unanimously agreed that the Original-Leading-324 was in the right.
Kashmir2020Alex said: "She deserved the truth!!!!! They erased her mom and thought nothing of it!! You did a very brave thing!"
Coco_Dirichlet commented: "That was disgusting and cruel. They went out of their way to change her name and erase her memories."
Rose-color-socks believed the sister and brother-in-law had "brought it on themselves."
"Had they not been so selfish, this wouldn't be happening," she said.
While theMarianasTrench described the pair as "next level evil."
"This made me tear up. Poor Laura and poor Kim," she wrote. "I'm disgusted."
Other users were surprised that the secret had stayed hidden for as long as it did.
"How did those dopes figure that this type of family secret would hold for any real amount of time?" asked kimtpring.
"If her daughter participated in any of the DNA family search programs, something unusual would pop up. Play stupid games, get stupid prizes."
NeedleworkerBasic871 agreed, writing: "Secrets have a way of getting out, especially when so many knew about it. Bound to happen."
Although Original-Leading-324's sister and brother-in-law claimed the affair didn't start while Kim was alive, Redditors weren't convinced.
"Those two were sleeping together when the other sister was living that's for sure," commented JewinverseGyaru.
"That is absolutely disgusting behavior I don't think that they just fell in love," said JazzyRey_0123.
"I don't know what sickness your sister had but my feeling says it was around that time that they [started] the affair or maybe before it."
It turns out many families have a skeleton in their closets. A recent Reddit thread asked users to share "family secrets that [were] finally spilled." From secret love children overseas to affairs with in-laws, the responses range from the awkward to the bizarre.
Another unfortunate man also went viral recently after discovering his teenage twins were not his biological children, while a DNA testing kit led to an unlucky man discovering he and his wife are related.