Woman Arrested at McDonald's After Pulling Into Drive-Thru for Food During Car Chase
A woman in Worcester, Massachusetts,was reportedly arrested following an intense police chase after she stopped for food at a local McDonald's drive-thru.
According to a press release from the Worcester Police Department, a woman identified as 38-year-old Johanna Gardell was caught by officers pursuing her for allegedly stealing a company car in Worcester, which is located about 42 miles outside of Boston.
"Officers spoke with a male who reported that a female stranger climbed into his vehicle and drove away," the police department said. "The company owner had GPS in the vehicle and told police the vehicle was showing up in the area of Pelham St."
When officers caught up with Gardell and the stolen vehicle, she reportedly drove away as an officer approached the car.
"The officer got back into his cruiser and followed her at a low rate of speed, but she did not stop," the Worcester Police Department reported. "Ms. Gardell began to increase her speed on Main St. and drove through red lights. The officer deactivated his lights and sirens and stopped following her for safety reasons."
Gardell allegedly drove against traffic at one point, and other officers in the area responded to the situation in an attempt to stop her. At one point in the chase, she reportedly hit a police car and officer with the stolen vehicle she was driving.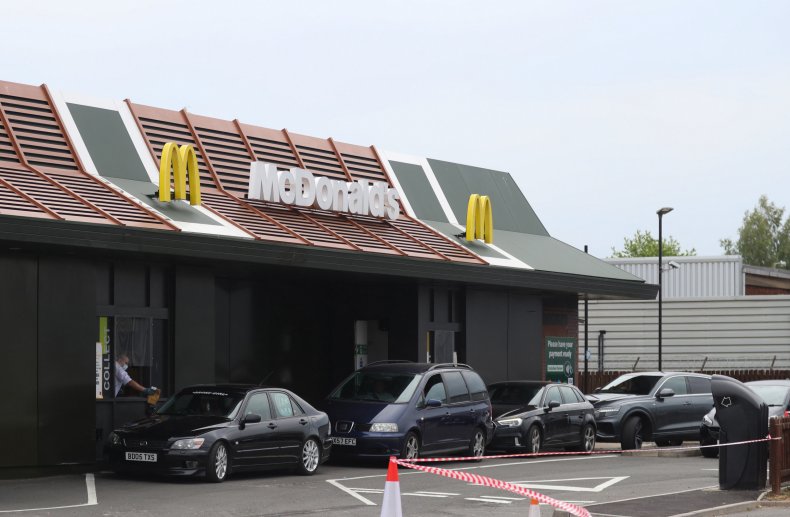 "She backed up the vehicle at a high rate of speed and struck a cruiser behind her, and knocked down and dragged one of the detail officers," the department said. "Officers pursued the stolen vehicle at a low rate of speed before the pursuit was called off for safety reasons."
The chase reportedly came to an unconventional end, when Gardell entered a McDonald's drive-thru in the area "in an attempt to order food." Although she hit another vehicle and tried to escape, the car became stuck in a pile of mulch on the McDonald's property.
"Officers approached the vehicle and were able to pull her out of it, while she fought and struggled," the police statement noted.
The Worcester Police Department also reported that Gardell has been arrested and is now facing more than a dozen charges, including failure to stop for police, assault and battery by means of a dangerous weapon—motor vehicle—and use of motor vehicle without authority.
The department also noted that the officer struck in the ordeal is expected to make a full recovery, as his injuries are not life-threatening.
Newsweek reached out to the Worcester Police Department and McDonald's for additional comment on the situation, but did not hear back in time for publication.
This marks the latest in a slew of strange fast food-oriented crimes. In late June, a mother reported to Maine police that her child's Happy Meal allegedly contained Suboxone, a prescription drug used to treat opioid dependency. At another McDonald's in Iowa, a man reportedly threatened to blow up the restaurant because he was told they did not have the dipping sauce he requested for his chicken nuggets.