Woman Backed for Not Wanting Fiancé's Mother Acting as Son's Grandma
Commenters supported a woman who told her future mother-in-law that she wasn't forcing her young son to have a relationship with her since he already has one with his late father's mom.
The anonymous woman, known as u/Exciting_Piece1734, posted about her situation in Reddit's popular "Am I The A**hole" (AITA) forum where it received more than 13,000 upvotes and 2,100 comments.
Conflict with In-Laws
A recent study published in the Evolutionary Psychological Science journal found that men and women reported having more conflict with their in-laws than their biological parents.
The study found that nearly half of respondents said they have experienced more conflict with their mothers-in-law than their biological mothers. Mothers also reported more conflict with their daughters-in-law than their biological daughters.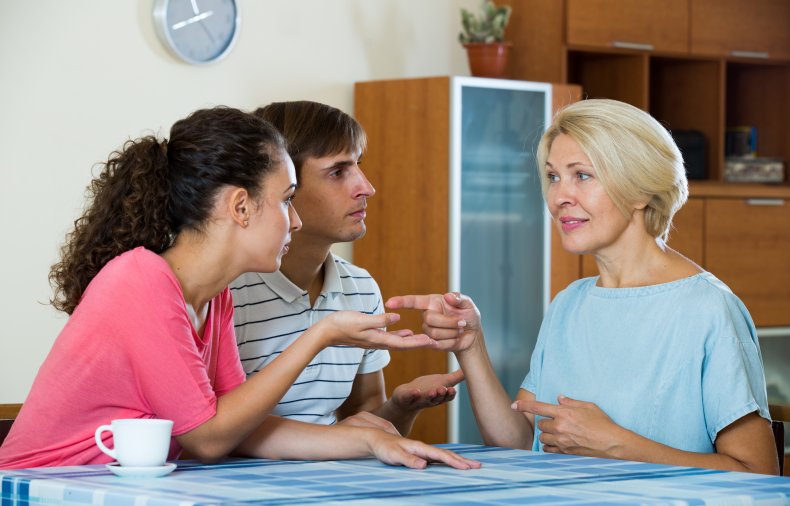 Most conflicts between individuals and their in-laws revolved around finances and child care, according to the study.
"AITA?"
In the post titled "AITA for keeping my former MIL in my (and my son's) life?" the 37-year-old woman said her husband Oliver died eight years ago when he was 31 years old.
She said that after Oliver's death, his mother and her parents supported her, including helping out financially while she looked for a job or watching her 10-year-old son. The woman also said her mother-in-law prepares meals she knows she and her son like and never expects anything in return.
"She is a genuinely good person and I'm happy she is in our lives," the post read. "She's a widow too and Oliver was an only child, so we are her only family and we see her on a regular basis and we really enjoy each other's company."
About four years ago, the woman met a man named Pete, 40, at work and they started dating. Two months ago, she and Pete got engaged and he suggested that her son meet his mother Carla, 66.
Since she knew they would spend time together after the wedding, she thought it would be a good idea.
"Carla and my son have met three times this past two months, all of them at Pete's house for dinner, Pete and I was there too," the post read. "Last time was last night and it all went down."
The woman explained that since they first met, Carla was "pushy" and trying to "force a bond" with her son by giving him presents or asking him to give her a kiss goodbye regardless if he looked uncomfortable.
"So yesterday I politely asked her to stop doing that," the post read. "She told me that I was being very rude to her and that maybe I should help by 'teaching' my son to treat her as a grandmother."
"Re-thinking Our Relationship"
The woman responded that she doesn't have to teach her son to do anything he didn't want to do, including seeing her as a grandparent, but she scoffed, saying that couldn't happen if they had a relationship with her "dead husband's mother."
She added that they should stop seeing her since "having three grandmas would only confuse my kid."
Before leaving the house with her son, the woman replied that she would not end their relationship with Oliver's mother because she is her son's biological grandma and because they want her in their lives.
Later in the evening, Pete called the woman to tell her she was "really rude" to Carla and that she should apologize, adding that Carla just wants a "grandma-like relationship" with her son.
"I told him I would like that too, but I'm not shutting Oliver's mum out," the post read. "Then he says that I'm being very unreasonable and that my relationship with my former MIL is unhealthy and that I'm blinded by my emotions. I'm actually re-thinking our whole relationship and engagement. AITA?"
In the comments section of the post, the woman said she officially broke off her engagement with Pete.
Redditor Reactions
More than 2,100 users commented on the post, many supporting the woman's decision and criticizing her fiancé and his mother.
"Your fiance's mother is wildly inappropriate. First of all, you don't force a child to 'bond' with someone," one user commented. "It either comes naturally or it doesn't. Second, you'd be a giant [a**hole] if you cut ties with your child's bio grandmother simply because you are getting remarried. Unless your former MIL did something wrong, you have no reason to cut ties. In fact, I'd go as far as to say it might be damaging to your child."
"I think deep down you know it, based on this statement alone: 'I'm actually re-thinking our whole relationship and engagement,'" another commented. "Have there been any other red flags in this relationship? If this situation is the first, then maybe you and Pete can work things out. But I think it's extremely unlikely."
"It's not possible to have too many grandmas. And love is not born, it is earned," another commented. "Maybe your son will warm up to Carla someday, and maybe not. I do know that the harder she tries, the less likely it is to happen."
"A SO or a friend who asks that you drop a person that has been a significant help in your life is questionable," another commented. "You and your son deserve better. My guess is that this is the beginning of control and it gets worse from here, especially after dating 4 years."
Newsweek reached out to u/Exciting_Piece1734 for comment.
Other Viral Stories
In another viral Reddit post, a man was praised for defending his wife after she cursed out his mother.
One woman was bashed after booking her son a two-week "paternity vacation" after his wife delivered their baby and another woman was slammed for spending more money on her granddaughter than her grandson.