Woman Brings Microphone Onto Plane to Rant About COVID in TikTok Video Viewed 1M Times
A woman brought a microphone onto an airplane to go on a tirade about the COVID-19 pandemic in a viral TikTok video that had been viewed more than 1 million times by Sunday afternoon.
The video was posted Saturday by TikTok user Jawny, a self-described singer-songwriter, who wrote, "I bought in flight wifi just to post this."
The video starts with the unidentified woman standing in the aisle of the plane, arguing with a flight attendant, who she complained would not let her use her microphone.
"I brought my microphone. I'm going to use it," she says, while the flight attendant asks her to take a seat.
She goes on to explain to the entire plane what she believes to be the origins of the COVID-19 pandemic, to the dismay of the other passengers.
"The pandemic started all because humans had lost a little bit of faith," she says.
As she speaks, flight attendants and other passengers try to get her to take her seat, but she refuses. One passenger can be heard yelling, "Ma'am, you want the attention."
The flight attendant appears to say she would need to be cuffed if she did not cooperate, to which she yells, "You're going to cuff me?"
"I don't need to be cuffed," she said. "I'm completely harmless. Also, I think you're all enjoying this because, like I said, I'm not terrible to look at."
As a flight attendant pulls her away from the aisle, she yells, "The reason the pandemic started is because nobody here has anymore faith because you're all stuck to your stupid devices and you don't even know what reality is anymore."
She then grabs her bag and appears to be taken to the back of the plane, while saying, "My dog has better sense than any of you."
TikTok users took to the comments to share their thoughts on the situation.
"That no fly list gonna be so long it'll look like a CVS receipt," wrote @jatpover30fantoms.
"I feel so so bad for flight attendants right now," wrote @its_me_nicki_and_ari. "I've heard nothing but horror stories lately."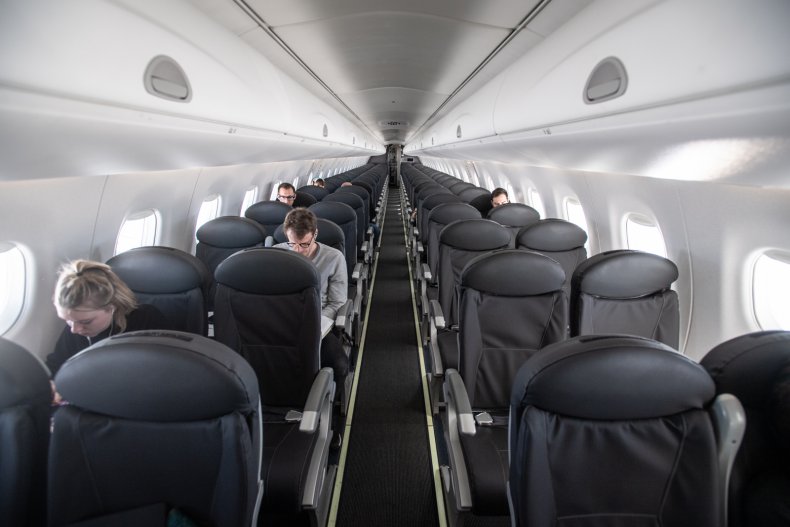 Reports of unruly passengers on airplanes have skyrocketed since the start of the pandemic. Many of the reports are related to the virus, specifically masks—though in this instance, the woman wore her mask throughout. There had been 4,724 unruly passenger reports in 2021 by October 12—3,433 have been mask-related, according to the Federal Aviation Administration (FAA).
There have been 882 total investigations. That number previously peaked in 2004 at 310 investigations, according to the FAA.
As cases of unruly passengers have risen, so have viral videos showcasing the outbursts.
In September, a 61-year-old man was arrested after berating a flight crew on an American Airlines flight. Viral video of the incident showed him growling like a dog while putting on his mask and yelling "Joe Biden."
Earlier in October, a separate video went viral showing a man throwing a tantrum on a United Airlines plane, yelling, "Take me off, I don't give a f***. I didn't even want to go to Cali." He went on to threaten someone who appeared to be a flight attendant.
When reached by Newsweek Sunday, Jawny declined to comment.