A Woman Called Trump Handsome During His Town Hall and the Internet Lost It
An apparent admirer of President Donald Trump praised him for being "handsome" during Thursday night's town hall event on NBC, prompting strong reactions from some on social media.
A woman that moderator Savannah Guthrie identified as Paulette Dale, who was said to have voted for former Secretary of State Hillary Clinton in 2016 and "leans slightly" towards Democratic nominee Joe Biden in the current election, appeared to flirt with the president just before asking him a question.
"Good evening Mr. President, I have to say you have a great smile," Dale, a registered Republican, said as Trump thanked her with a wide grin. "You're so handsome when you smile."
The comment quickly provoked colorful reactions, ranging from mockery and disgust to approval and agreement on Twitter.
"President Trump looked very handsome tonight!!!" Andrea Catsimatidis, chair of the Manhattan Republican Party, tweeted in agreement. "Joe Biden looks old..."
"Best moment tonight! 'Mr. President you are so handsome when you smile'!!!! This women stole the show!" tweeted GOP strategist Diana London. "Trump blushes and smiles bigger than I have ever seen! Love our President!"
"Trump's Dragon Energy winning over this 'leaning Biden' voter before he even answers her question!" @FogCityMidge, a self-described "Pro Trump Patriot," tweeted.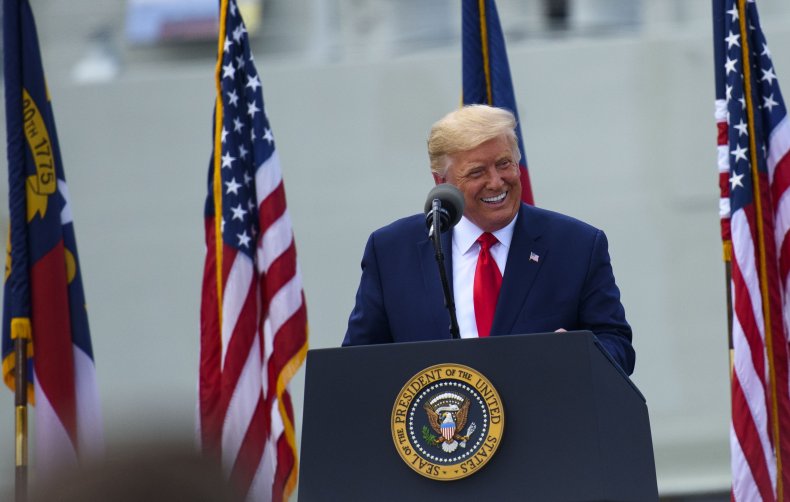 Some strongly disagreed with the suggestion that the 74-year-old president is a specimen of physical beauty, while others expressed bewilderment that the flirtation happened or suspicion that Dale was genuinely leaning towards Biden.
"Omg. Did that just happen?" former NBC host Katie Couric tweeted.
"Omg the woman who just called Trump handsome," tweeted attorney and author Rabia Chaudry. "Ma'am you need new glasses."
"LOVE this lady! She's leaning #Biden but knows EXACTLY how to manipulate this egomaniac!" tweeted writer Andy Ostroy. " Did you see how he smiled when she said he's so handsome? Too funny..."
"Woman who claims she's leaning Biden to Trump: 'I have to say you have a great smile! You're so handsome when you smile!'" author Jeff Sharlet tweeted. "I wonder if Trumpers are misidentifying themselves to try to stack the questions. She lobbed him a DACA softball which won applause."
Overall reaction to the event was largely focused on Guthrie's performance as moderator, which received both praise and scorn. The competing town halls occurred at the time previously reserved for the second presidential debate, which was cancelled after Trump refused to participate when the debate was moved to a virtual format over concerns about his COVID-19 diagnosis.
Trump and Biden both plan to participate in their final debate, which will not be in a town hall format, scheduled to take place at Belmont University in Nashville, Tennessee on October 22.
Newsweek reached out to the Trump campaign for comment.