Woman Cheered for Dig at Boyfriend's Cousin After 'Gold Digger' Insult
A woman who was labeled a "gold digger" is being praised for her comeback to her boyfriend's cousin at a recent family gathering.
The Reddit post recounting the situation, titled, "AITA for what I said to my bf's cousin when he said I'm a gold digger," has been upvoted 8,000 times with 600 comments since it was shared on June 30. Redditor @throwawaybfscousin shared the post to the subreddit "Am I The A**hole," and it's been gaining attention ever since.
The original poster, who said she is a 23-year-old female, is dating a man named Kyle who is 31, and he comes from a "very wealthy family." The woman admitted she went "no contact" with her own family a couple of years ago, so she didn't have a lot of financial assistance over the last few years. She's "still struggling with money," but she has a decent job, and she's hoping things will improve soon.
At the moment, Kyle helps the woman "a lot," and she really appreciates it. When her boyfriend introduced her to his family, some of them were very nice, especially Kyle's parents. However, some don't like the woman and thought she is a "gold digger."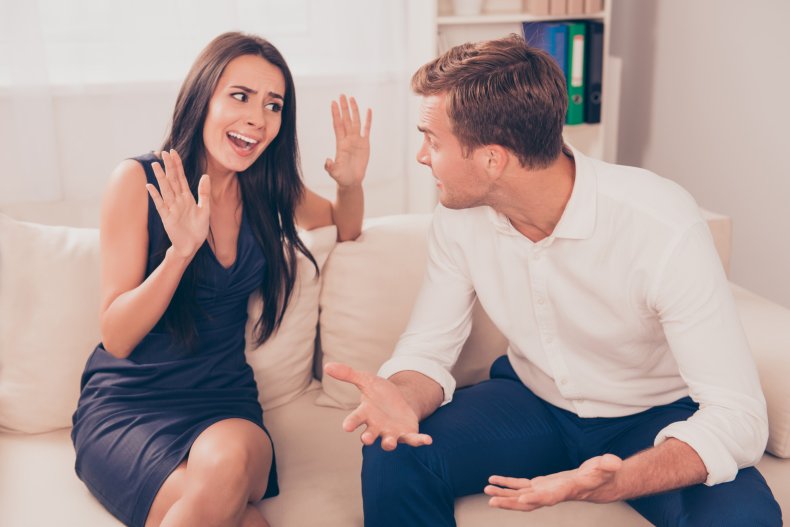 Money plays a key role in relationships whether couples like it or not, and disagreements about money aren't new for many couples. The Harris Poll conducted research for the American Institute of CPAs found that seven in 10 respondents who are married or cohabitating with a partner have had a disagreement over finances in the last year. In addition, 36 percent of the time it's about needs versus wants.
Financial fidelity is also very important in a relationship according to research. Around 55 percent of people aged 18 to 34 would most likely end a relationship over "financial infidelity." However, only 22 percent of those 66 and over would do the same.
Despite finances being such an important topic when it comes to healthy relationships, only 56 percent admit to being quite "comfortable" discussing with their partner the topic of finances.
The OP continued: "One of them is his cousin, Matt (M33). He has been making rude comments about us from the first day that we met. Last night I was invited to one of their family gatherings. Matt was also there. he made some comments about how Kyle only got a younger girlfriend because he is rich, and I'm after his money."
Usually, the woman doesn't answer as she doesn't want to cause any drama, but this time she couldn't "stop" herself, so she told him: "Of course you would think like this. With a personality like yours, I don't think any of your girlfriends ever wanted you for anything other than money."
Half of Kyle's family now "hates" her and is calling her an a**hole. Although she said Kyle and his parents are on her side, she received "rude messages" from some of Matt's siblings and his parents calling her an a**hole as well.
In a comment to another Redditor, the OP added more clarity on the situation with her boyfriend: "I never ask him for money. He gives it to me as a gift for [birthdays], Valentine's, etc. Genuine question: If someone gave you a car for your birthday would you return it? Because I sure as hell won't."
She also added to another user that she loves her boyfriend, and that she isn't with him for his money.
"Do I enjoy living more comfortably because of my boyfriend? Yes," she said. "Would I still date him if he wasn't rich? Also yes."
The OP also clarified that Kyle "always defends me, but this time I answered quickly. He didn't have the time to say anything."
Numerous comments weighed in on the situation, and most people believed the OP wasn't the one at fault. One such Redditor wondered why the woman should "have to put up with Matt's insults and rudeness and not reply. I also find it so bizarre that his family [is] messaging you over this. Seems like a few of them are TA's here."
Another user admitted they "don't understand" how a person "has the audacity to insult" someone and doesn't "expect a return back. Why would his family take his side instead of correcting him?"
A Redditor voted NTA as their verdict, adding that Matt "insulted" her and "he also insulted Kyle implying he would not get a gf without money. Since your bf and his parents are on your side, you are good."
Some people praised the woman for her dig at her partner's cousin. "NTA. Good for you girl!" a Redditor chimed in. "You go! Kyle and his parents [are] on your side. All good. Just ignore the others."
One user thought the OP is "hilarious," and they didn't stop there. "You literally made me laugh out loud," they said. "Kudos on having a line ready or thinking fast on your feet."
Others called out Matt for his comments to the OP. "D**n, nice comeback, dude's just rich and spoiled so he thinks he can diss but can't take one," a Redditor said.
However, some mentioned the age difference between the OP and her boyfriend or that he gives her money. "You're dating a man eight years your senior who is funding your lifestyle. You may not be a gold digger, but you definitely seem like one," a user wrote.
Newsweek reached out to Redditor @throwawaybfscousin for comment.
This isn't the only viral moment involving relationships. A woman was bashed for showing up at her ex's house while eight months pregnant. A woman found support for dumping a man after nine years when his kids wouldn't accept her. In addition, a new homeowner was cheered for not giving half of the house she inherited to her boyfriend.