Woman Claimed Chili's Doesn't Pay Promised Signing Bonuses in Viral Video
Commenters on a recent viral video were furious after one TikTok user claimed Chili's failed to pay numerous employees the signing bonuses they were initially promised.
In a TikTok captioned, "The more you try to hide it, the more comes out," user @alexservestea (a former Chili's employee) displayed numerous direct messages she received from Chili's employees, and called out the restaurant chain for trying to erase any online evidence of wrongdoing.
Posted three days ago, the viral video has been viewed 12.1K times and has received more than 2,400 likes.
Including a short clip of an "employee appreciation" video published by the Chili's official TikTok account, @alexservestea claimed that the restaurant chain was "working overtime to protect their image."
Then, the TikToker shared a series of screenshotted messages (with the sender's identities blurred out) alleging that Chili's failed to pay signing bonuses of $100 and $300.
"Chili's does not honor their signing bonuses for their cooks," one message read. "I got hired under the assumption that I would get $100 when I started and $300 after 90 days."
"I have been there almost a year and called corporate multiple times and still never got my $300," the message continued.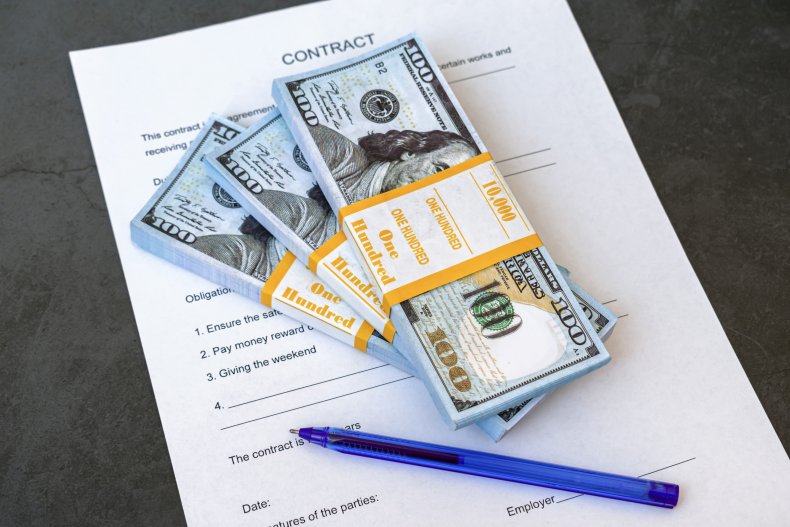 In 2021, Americans quit, or changed jobs at never-before-seen rates.
Last year, an average of more than 3.95 million workers quit their jobs per month, according to the Society of Human Resource Management.
3.95 million monthly quits is the highest rate the United States has ever seen, topping 2019's monthly average of 3.5 million.
Propelling the "Great Resignation," or, as LinkedIn CEO Ryan Roslansky called it, the "Great Reshuffle," American workers have quickly jumped from job to job, citing poor work-life balances and toxic work cultures as chief reasons for leaving previous employers.
To quickly fill vacated positions and capitalize on a newfound willingness to switch jobs, employers have offered signing bonuses at similarly unprecedented rates.
"Advertisements offering a sign-on bonus have increased across all sectors by a whopping 454 [percent]," GlobalData reported. "From 10,312 positions in August 2020 to 57,123 in August 2021."
Significant signing bonuses have pushed many jobless workers to accept positions at new companies during the last year, however, some employees have reported never receiving those bonuses. At Chili's, 58 percent of 12 employees reported never receiving bonuses, according to data collected by Comparably, an online resource dedicated to making compensation data public.
Responding to the viral TikTok posted by @alexservestea, many commenters questioned why Chili's had not paid employees the signing bonuses they were initially offered, and called out the restaurant chain for its digital employee appreciation campaign.
"[Companies] need to stop saying it's 'appreciation day,'" one TikTok user commented. "How about you appreciate your team every day?"
"How much do they spend producing and promoting these videos when they can just PAY THEIR SERVERS AND COOKS?!?," user @variantsorceress asked.
"Calling a random day 'employee appreciation day' is a LOT cheaper than paying your employees [what] you promise," another commenter added.
In the viral TikTok, @alexservestea relayed a similar message to many commenters, and said that receives direct messages from disgruntled Chili's employees on a daily basis.
"I find it funny that, this morning, you post a video being, like, 'We love our employees so much,'" the TikToker said. "Yet every single day I keep getting messages about how much you don't care about your employees."
"But you are trying to public image because I'm sitting here dragging it," she added.
A spokesperson for Brinks International, Chili's parent company, told Newsweek via email, "We have not heard of any issues with Team Members not being paid their bonuses. However, if a Team Member wasn't paid a bonus they were eligible to receive, we strongly encourage them to reach out to their Manager who would be sure to take care of them."