Woman Claims Jeweler Said Kay Jewelers Ring Is Fake, Sparking Online Debate
A TikToker claims a jeweler allegedly told her that a promise ring her ex bought her from Kay Jewelers was fake, sparking a debate online about the situation's plausibility.
The TikTok, captioned "Was I bamboozled," has been viewed 2.1 million times and liked over 140,000 times since it was shared on February 7. The short 11-second clip posted by user @justpearlythings, or Pearl Davis, started with the TikToker holding the promise ring that appeared to be made of diamonds along with a diamond bracelet.
"I went to sell the promise ring my ex bought me, and the jeweler told me it was fake," the words are said and overlayed on the screen as well. "I went with him to Kay when I got it, so I'm confused, someone explain."
The video showed the woman holding the pieces of jewelry in her hand as she appeared to be sitting in a car, and she even got a close-up shot of the ring before the video cut off.
According to a 2016 Buzzfeed report, some women have claimed Kay Jewelers swapped out their diamonds for different ones. One woman said her diamond was swapped out for a moissanite stone while another claimed her ring was swapped for different diamonds altogether. In a comment, the TikToker claimed her ex spent $1,500 for both the ring and the bracelet.
In an updated video, the TikToker revealed that although everyone in the comments was talking "mad s**t about Kay," a woman reached out to the TikToker that worked there, saying she found the purchase after the user gave her their information.
It turned out the bracelet and ring are real diamonds. The bracelet is 1/4 total carat weight with round cut diamonds, and it was purchased for $524.99, according to the message shared of the TikToker's correspondence with the salesperson.
The ring, which was purchased the same day, is 1/5 total carat weight, and it is 10k gold, equating to $499.99 in cost. The salesperson said she believed the person who tested the diamond didn't use the tester correctly, and the TikToker also learned she can trade out the diamond for something else instead.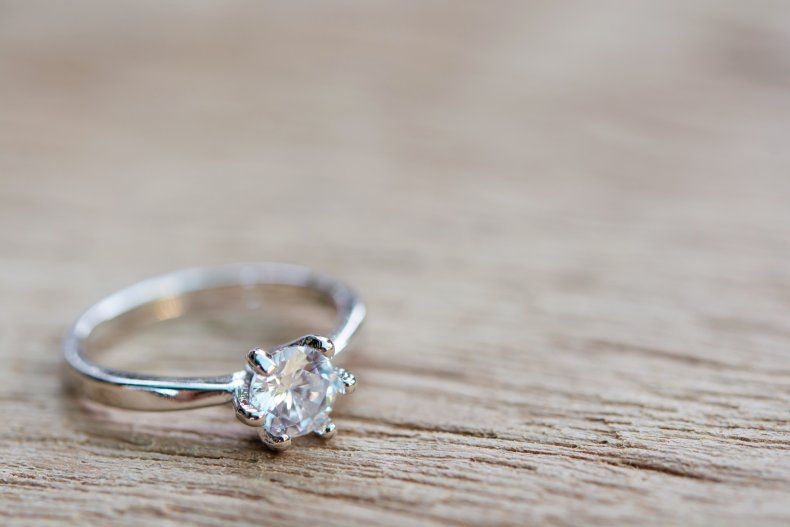 Some TikTokers revealed they have experienced similar predicaments before, while others debated about how real the ring was to begin with.
One viewer had a scenario to explain the mishap. "Probably because he had it fitted for a gemstone first, then probably was going to put in a diamond after the marriage," they said.
Another TikToker claimed the same thing the creator of the video experienced happened to them, as they were there at Kay when their ex bought their ring. "Went to sell it, and was told it was worth maybe $50," they revealed.
A TikToker claimed they used to work somewhere that purchased gold and silver. "So many people would come in with stuff from Kay. Always junk, and they'd be so shook."
Another viewer said that they too went through the same situation when trying to sell jewelry they had. "It's because they're man-made diamonds," they added.
However, a TikTok user thinks pawn shops take rings like the one in the video "based on how much gold is in it, so it's probably sterling silver with diamonds."
While some brought up the previous allegations against Kay. "They change out stones when you take it in to size or clean it," someone said.
Newsweek reached out to @justpearlythings and Signet Jewelers, the parent company of Kay Jewelers, for comment but did not hear back in time for publication.
Updated 02/23/2022, at 5:46 p.m. ET: This story has been updated with additional information and background.