Woman Criticizes Black Baby Doll's 'Exaggerated' Features, Sparking Debate
A TikTok video posted last month has gone viral after a woman shared "exaggerated" features found on a Black baby doll in Australia.
TikToker @jeanchronicles posted the video on February 12 which has now been viewed over 3 million times.
"Buying Black dolls for my daughter in Australia be like," @jeanchronicles wrote in text overlaid onto footage of the doll.
In the video, she shows three different dolls which she labels "Black,""Brown" and "White."
"It's the exaggerated nose, forehead and mouth for me," she captioned the video.
Clinical psychologist Nanika Coor spoke with children's clothes retailer, Maisonette, about the importance of representation in toys. Maisonette also sells dolls made by Miniland, the doll-maker responsible for the dolls in the video.
She said when children of color do not see themselves represented in toys and media, they don't feel valued.
"They start to ask themselves why they aren't there or think they need to assimilate into white society, to change themselves to belong," she told the company. "And white children are getting that same message—that kids of color don't belong in their worlds."
@jeanchronicles, who has lived in Australia for almost five years, told Newsweek in an email that her intention behind posting the video was to shine a light on representation in toys.
"I am a Black mom raising a black child and also part of a black moms group where this conversation about the video initially started," she said. "My intention behind that video was to show how we are often overlooked in terms of representation even when it comes to the toys our children play with. I am trying to raise awareness for more and better representation for our children. It's not just about us being represented but it's equally important how we are presented!"
The video opened up a conversation about racial representation though many commenters shared some contrasting, and sometimes combative, viewpoints.
"Yall acting like they dont hve[sic] those features why?? But if they gave them "white" features yall wld[sic] call it white washing lmao," one commenter wrote.
"[T]here's literally nothing wrong with this," wrote another.
Another commenter added, "It's cool for kids who have these features to see themselves...but you gotta wonder who decided to do that."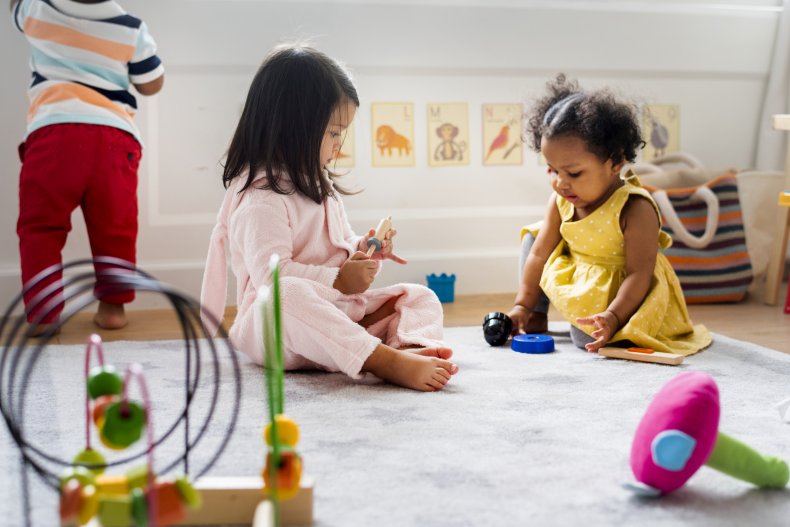 Others noted that the dolls might have been intended to represent aboriginal people — the indigenous people of Australia.
On the website, though, Miniland, labels the dolls as "African," as @jeanchronicles notes in the comment section.
According to the company's website, Miniland also offers dolls labeled "Asian," "Hispanic," "Latino" and "Caucasian" as well as dolls meant to depict children with Down Syndrome.
In a statement provided to Newsweek, Miniland said in the last few years they have been working "directly with various groups, such as the Australian Aboriginal and Torres Strait Islander Communities, to create realistic dolls in their image."
The statement added that the dolls are all designed and modeled after real children the designers have met and "been inspired by."
"Just as we've realistically created other ethnicities in our doll range, our African and African-American dolls are a direct representation of their communities' spirit and allow children both from these backgrounds and from other ethnicities to play with dolls that reflect this heritage and culture - often for the very first time," the statement continues.
"Physical features vary in size and shape within each ethnic group we create, allowing for more children to find dolls that they feel a connection to and can see themselves in."
@jeanchronicles added a set of pinned comments below the video this week explaining that she had "steered clear" of the comments but wanted to address some things.
"There is nothing WRONG with the features but these are adult features on a newborn!"
"If that was the intention shouldn't all the dolls have been made with features they grow into??"
@jeanchronicles told Newsweek that though Australia "does try," they still have a long way to go when it comes to representation.
"My daughter goes to play centres /church/school and often does not have any toys that look like her and I worry about what kind of message that sends to a young child," she said.