Woman 'Crying' After Being Reunited With Cat Who Vanished 5 Years Ago
A cat owner was amazed to be reunited with her cat five years after he went missing in Pennsylvania.
Sambia Shivers-Barclay, from Silver Spring, Maryland, was making the journey to spend the holidays with family in Michigan in December 2017 when her cat Barack escaped during a snack stop.
"We stopped to get snacks and we had Barack in the car," Shivers-Barclay told Newsweek. "My daughter was petting him so the crate was open and we didn't think about it. As we opened the car door to get out, he ran out of the crate and jumped out of the car."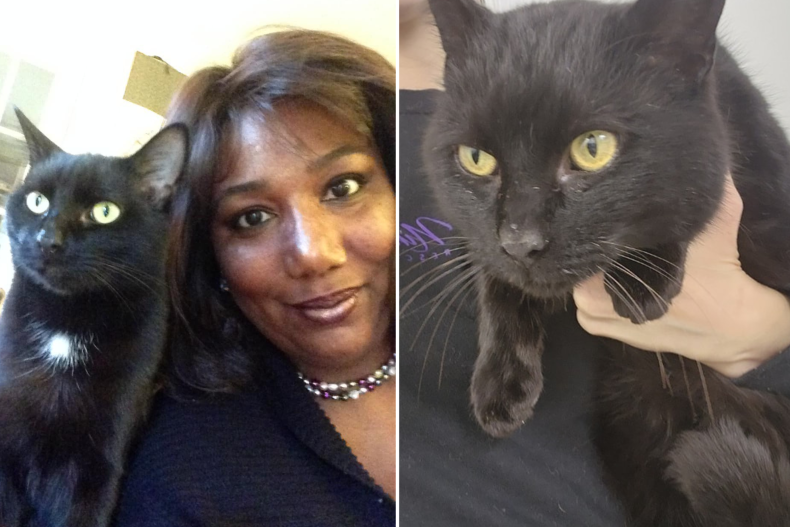 At first, the owner wasn't too worried as Barack usually comes when called. But something had apparently spooked him and he had run into some nearby woods.
"I just thought, this is not happening," said Shivers-Barclay. "We stayed for hours looking for him and it was getting darker so I knew we had to go because we had seven hours more to drive."
When the family arrived in Michigan, Shivers-Barclay was inconsolable. "I cried the entire Christmas," she said. "The day after Christmas I apologized to my parents and said I've got to go, to get back to Pennsylvania and see if I can find Barack."
When she got back to Pennsylvania, Shivers-Barclay checked into a hotel just as a huge snowstorm arrived. Waking up to several feet of snow, she knew they had to leave and get home.
"I left his crate," she said. "So at least if he smelled himself he would go to it. I asked the people at the gas station to check the crate and let me know if they saw him."
For the next few months, she did the journey from Maryland to Pennsylvania most weekends, asking people about Barack and trying to find her lost cat.
At one point, she even received a call that he had been found and immediately jumped into the car.
"I held the cat, peeled back the tail and it was a girl," she said. "The husband starts screaming, 'Oh my god you've had this woman drive eight hours and you didn't even check to see if it was a girl.'
"She was crying, I was crying—we're all crying. I said I've got to go and asked what they were going to do with the cat," she explained.
The family already had seven cats and weren't sure, so Shivers-Barclay agreed to take the girl cat on—aptly naming her Michelle.
"She looked identical to Barack," she said. "I got her home and took her to the vet to be checked out and be microchipped and they told me she had FeLV."
FeLV refers to the feline leukemia virus, a retrovirus that infects cats and weakens the immune system. It is the second-leading cause of death in cats after trauma and often causes anemia or lymphoma. Some 85 percent of cats infected with feline leukemia virus will die within three years of diagnosis, but regular veterinary check-ups and good preventative health care can keep cats feeling well for as long as possible, according to the Pets Health Center.
"The vet told me she wasn't going to live," said Shivers-Barclay. "But I said ok, she's going to live her life out with me and I'll give her the best life she can have."
Michelle lived for a further three years, and when she died, Shivers-Barclay admits she had started to give up hope of finding Barack.
"I started fostering cats," she said. "I fostered eight through the pandemic and ended up adopting my last two fosters."
But nobody could predict what happened next. Just two weeks ago, and over five years after Barack went missing, the owner received a call.
"They said, 'would you happen to have a cat named Barack?' I said I had a cat, but he's been gone for five years," she said. "That's when they said no, he's right here."
Three weeks earlier, Barack had turned up at a farm 40 minutes away from where he first went missing. When they took him to be checked over at the vet, they scanned him for a microchip and were amazed to find that he was registered to Shivers-Barclay.
Right away, the owner jumped in the car and started the nine-and-a-half hour round trip to collect her cat from the Ninth Life rescue center in Greensburg, Pennsylvania.
"I don't know his story other than that she showed up three weeks ago at the farm, covered in fleas and ticks," said Shivers-Barclay.
Now home and reunited with his family, Barack is clearly pleased to be back.
"He's really overly affectionate," said his owner. "If I'm around him, he immediately leaps into my arms and he likes to snuggle under my neck. He has shown me 100 percent that he remembers me."
After the incredible reunion, Shivers-Barclay wanted to stress the importance of microchipping your pet and keeping the details up to date.
"You never know when disaster might strike," she said. "You never know when you might be unexpectedly separated from your animal. If your pet is chipped, that increases the likelihood of them being able to find you and you being able to find them. It works."