Internet Sides With Woman Demanding Own Room on Bachelorette Trip
The internet has sided with a woman who demanded her own room at a bachelorette party trip after she asked if she was "being pathetic" with the request.
User SuziSecondLaw shared her worries on popular discussion site Mumsnet where she said: "I'm going to a hen do in a month's time, it's for three nights but I'm just going for one (still paid in full though!). Nothing has been mentioned about sleeping arrangements, but I know that there are only three rooms with a single bed, the rest are double or twin, so most will be sharing.
"Bride to be is my oldest friend, but I'm an introvert... I know most of the rest of the hens and am friendly with a couple. I'm very anxious in general and don't cope well in social situations."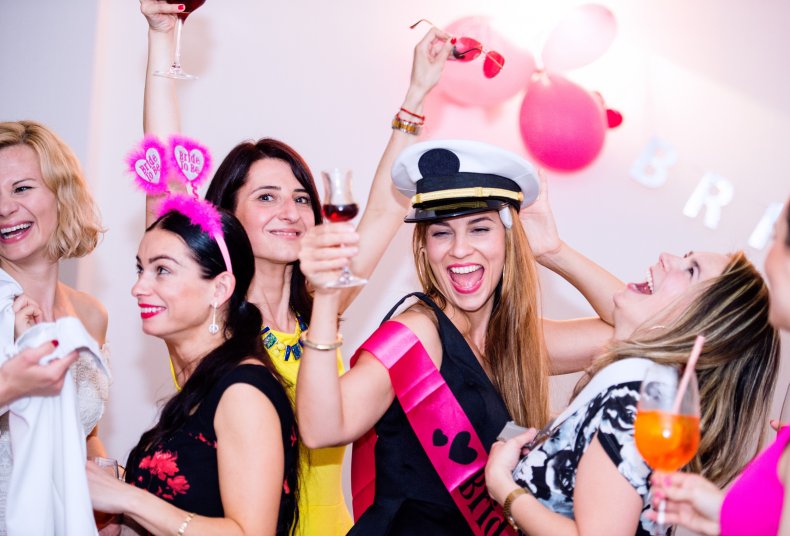 Bachelorette parties are a big deal. In a survey by wedding planning site The Knot, it was revealed that 78 percent of brides-to-be were planning a party of some sort, with the average number of attendants being 10 people.
They're not coming cheap either—The Knot reports that the average cost for a one-day bachelorette party is $150, with that figure jumping up to $450 for three days. Nearly 40 percent of those who had to fly to a destination for the special event reported spending around $1,000.
The Mumsnet used explained her concern and wrote: "I'm so scared of having to share a room, I know it's completely ridiculous but the thought makes me incredibly anxious. Regardless of who with really.
"We're all meeting up on Friday to discuss final plans. Is there any polite way of asking for a single room to myself? I don't want to make a scene or draw attention to myself. But I'm genuinely considering making something up and not going because I'm scared of turning up and being allocated a shared room. Any advice? Am I being really pathetic?"
But Mumsnet users overwhelmingly sided with the woman—telling her she was right to make the request in order to feel comfortable.
"Of course you're not being pathetic," wrote one commenter. "Just say you really struggle sharing and would like a single room."
Another Mumsnet user suggested: "Tell them you snore like a drill or talk in your sleep."
"You're paying for three nights but only staying for one. They should let you sleep wherever you like," pointed out another commenter.
But one commenter did not appreciate the woman's concern, writing: "As someone who has organized many bachelorettes and is out of patience with other people's social anxiety, fussy eating or whatever, you sound high-maintenance."
"Sorry that you're out of patience with social anxiety," said the poster. "Trust me, nobody is more fed up of it than I am. It's not a choice."
According to the Anxiety and Depression Association of America (ADAA), she isn't alone. Anxiety disorders are one of the most common mental illnesses in the U.S., affecting 40 million adults aged 18 and older. Despite being highly treatable, ADAA report that only around 36 percent of people with anxiety disorders receive treatment.
"Tell the truth. Any normal person will understand and be sympathetic," said another commenter. "Don't fall into the trap of hiding your anxiety and being embarrassed—mental health problems are better dealt with out in the open."
If you have a similar dilemma, let us know via life@newsweek.com. We can ask experts for advice, and your story could be featured on Newsweek.