Woman Dies After Using Parsley to Induce Miscarriage, First Death Since Argentina Senate Rejected Abortion Bill
A woman has died in Argentina after attempting to induce a miscarriage at home using parsley. Her death is believed to be the first as a result of an illegal termination since the country's Senate rejected a bill to legalize abortion at up to 14 weeks.
The woman—a mother of two named only as Elizabeth—was taken to a hospital in Buenos Aires on Sunday suffering from septic shock and infection. Though her uterus was removed, medical staffers were unable to save her, Argentine newspaper Clarín reported.
According to estimates, more than 354,000 illegal abortions occur each year in Argentina, resulting in more than 70,000 hospitalizations, the Telesur television network said. Backers of the defeated Pregnancy Voluntary Interruption (IVE) bill hoped the legislation would help reduce the number of associated deaths. The law would have allowed girls as young as 13 to end a pregnancy for any reason within the first 14 weeks and within five days of the mother's request.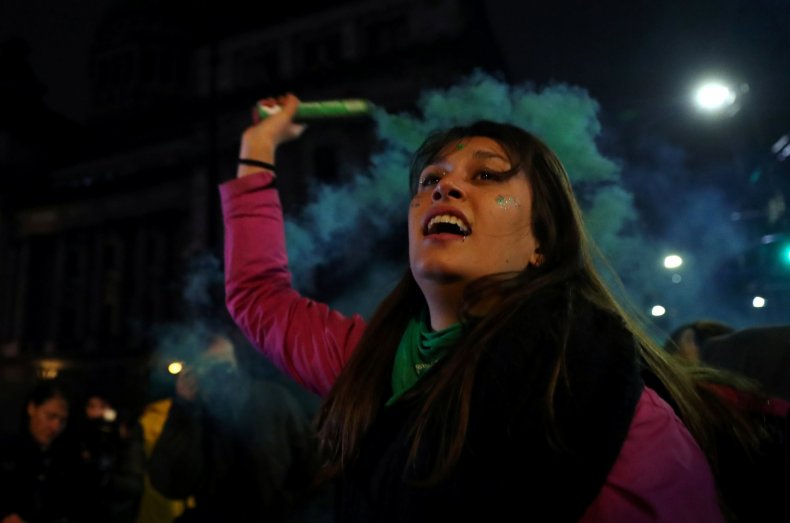 On Thursday, Elizabeth's relatives gathered outside the Buenos Aires government house to protest. They were joined by feminist campaigners as web users spread the #ElSenadoEsResponsable hashtag, which translates as The Senate Is Responsible.
The Network of Health Professionals for the Right to Decide, a group of abortion-rights medical workers, announced Elizabeth's death in a statement. They asked, "How many women and pregnant people will need to die [before lawmakers agree] that abortion must be legal, safe and free in Argentina?"
Senator Eduardo Aguilar wrote on Twitter: "There might not be a law, but abortions will continue, and if it's without a law, the woman's life is at risk."
The IVE bill failed earlier this month. After a 15-hour debate in the Senate, 38 lawmakers voted against it, versus 31 in favor. Public opinion polls indicated the bill had the support of the majority of Argentines, but this was not enough to sway enough senators.
The country's lower house had already approved the new law, and President Mauricio Macri said he would sign it if it passed the Senate. The Catholic Church, headed by Pope Francis, an Argentine, is believed to have put pressure on politicians to vote down the legislation at the penultimate hurdle.
The news of the outcome was met with angry demonstrations by the women's rights activists gathered outside the Congress Palace in Buenos Aires. Riot police skirted fires set by the protesters and used tear gas to disperse the crowd.
Though the IVE was defeated, senators have left the door open for alternative legislation, and Macri is considering decriminalization of abortion, according to The Washington Post. Argentine women are currently permitted abortions in cases of rape, when a mother is mentally disabled or if the pregnancy threatens her health. Abortion for any other reason is punishable by up to four years in prison, and health workers who perform them can be jailed for up to six years.