Woman Who Is Doja Cat's Doppelgänger Wows Internet—And Singer Agrees
A woman has caught viral attention online after revealing that her friend's likeness to a celebrity means she gets entry to clubs in Los Angeles.
The viral TikTok video by user saundraliz was shared on March 26 and has received more than 12.5 million views. The video shows shots of the TikToker's best friend with a text overlay that reads: "Us getting into every club in LA 'cuz everyone thinks my bestie looks like Doja Cat."
Viewers of the viral video—which features the TikToker's best friend who uses the handle llaylariggins on TikTok—were amazed at the lookalike.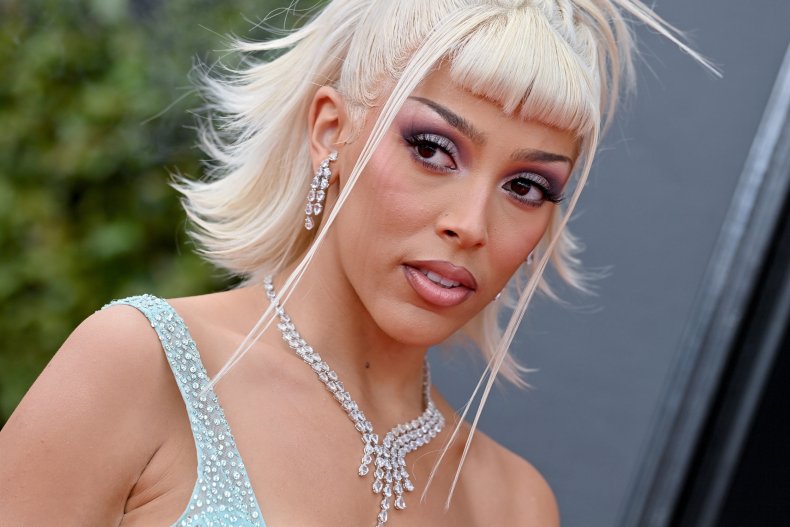 "Doja stray cat," joked one user. Another viewer wrote: "I'm scared it's the same person."
"Bro... If Doja ever quits or goes missing this is her new replacement," said another TikToker.
The viral video of the Doja Cat doppelgänger even caught the attention of the real deal, with Doja Cat commenting: "My career is in your hands."
A doppelgänger (which literally means double-walker), is a biologically unrelated double of a living person.
University of Adelaide School of Medicine PhD student, Teghan Lucas studied the phenomenon of the doppelgänger in 2015. Using a database containing the face and body measurements of nearly 4,000 people to search for duplicate faces, she found that when seven facial metric traits were used she was unable to find any two faces that matched. This suggested that the likelihood of finding your exact facial match, or doppelgänger, is less than one in a trillion.
But while looking scientifically identical to another person might be highly unlikely, resemblance is much more common. In 2015, a group of friends founded the Twin Strangers Project in an effort to find people who looked just like them.
With a current total of 9.5 million people in their database, they theorized that everyone has seven people in the world that look like them. Through the site, people from around the world have found their unrelated doppelgängers, with some even reporting meeting more than one.
Our appearance is a result of our genetic make-up, or DNA, meaning that if you are related to someone you are more likely to look alike because you will share more DNA. But even people who don't look alike are thought to share about 99.5 percent of the same genetic sequence and scientists believe that people who look identical almost certainly share more DNA than two strangers that do not look alike.
"She could be Doja's stunt man if Doja acted," said one viewer.
In 2021, another woman found her doppelgänger online and left millions of viewers in awe.
Newsweek has reached out to saundraliz and llaylariggins for comment.