Watch as Two Dogs Dumped With Heartbreaking Note Find New Home Together
A TikTok video explaining how one user found her "soul dogs Storm and Summit" has been viewed more than 1.6 million times.
In the clip, Kayla explains: "On 03/17/2021 around 2am my friend and I came across 2 dogs abandoned in a dog park."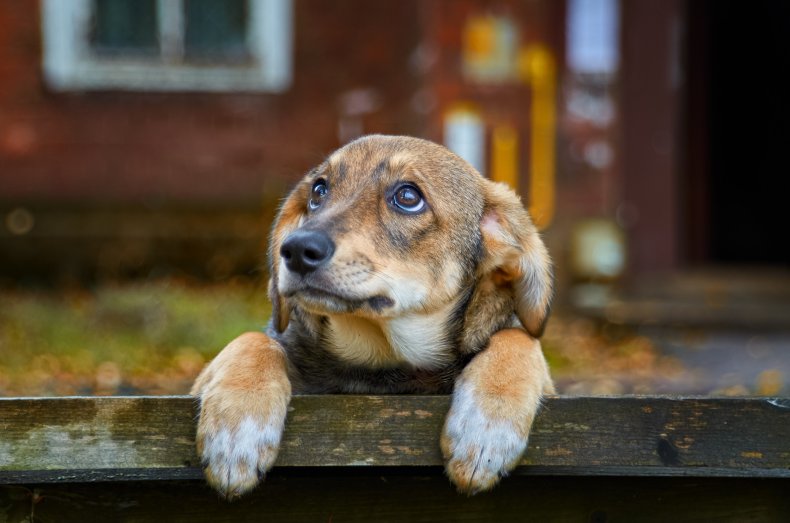 The video, posted to the page @stormandsummit, shows that the two large animals, which resemble German shepherds, were left in the dog park, with bowls of food and a note that read, "We are potty trained. We need a bigger home. We are loving and caring all animals and all ages. Plz take us home. Sparky and Jacob."
The charity End Pet Homelessness estimates that there are 1.3 million stray dogs in the U.S., while Dosomething.org reports that around 2.7 million dogs and cats are killed every year because shelters are too full and there aren't enough adoptive homes.
In the video, Kayla explains that when she found the two dogs, "they were so scared and cold. It broke my heart." So she took them home and "let them sleep in my bedroom and set up blankets on the ground for them. However, as soon as I got into bed they jumped up to join me."
The video then shows the pair in Kayla's bed, licking her face and showing her affection. Kayla reveals at the end of the video that she chose to keep the dogs.
Some prospective pet-owners might be apprehensive at adopting a dog, rather than buying a puppy. A 2021 survey by Access to Veterinary Care Coalition found that 28 percent of pet owners in the U.S. experienced barriers to veterinary care, with finances being the most-common reason, a situation that has been exacerbated by the recent cost of living crisis.
However, the Humane Society argues that adoption is a great option because not only will you save a life, but also a rescue dog will cost you less as often they are already vaccinated, neutered or spayed, and microchipped. Adoption helps to reduce the demand for illegal and harmful puppy mills.
Users on TikTok were delighted with the video's happy ending. Gloria Casella565 wrote, "it's so great that you not only took them, but kept them together. God bless you."
TikToker Babyyhaze commented: "I hope the original owners see this and find comfort in knowing those dogs found a wonderful forever home. Thank you for taking them home."
Pernille Alkjær Ravn posted: "Those dogs were clearly loved. They must have been struggling for them to leave them like that, so thankful they found a new loving home with you."
Newsweek has reached out to @stormandsummit for comment.
Do you have funny and adorable videos or pictures of your pet you want to share? Send them to life@newsweek.com with some details about your best friend and they could appear in our Pet of the Week lineup.