Woman Finds Hidden Attic in Her Home, Leading to Trove of Old Love Letters
A secret door discovered in a Virginia home recently led to an even bigger treasure trove of surprises.
Anna Prillaman was doing some early spring cleaning when she found a hidden panel leading to the attic of her nearly 70-year-old home in Henrico County, CBS 6 News reported. The self-described 1980s child was overcome by the thought that she might find something extremely valuable in the attic, whether it was gold coins or a treasure map.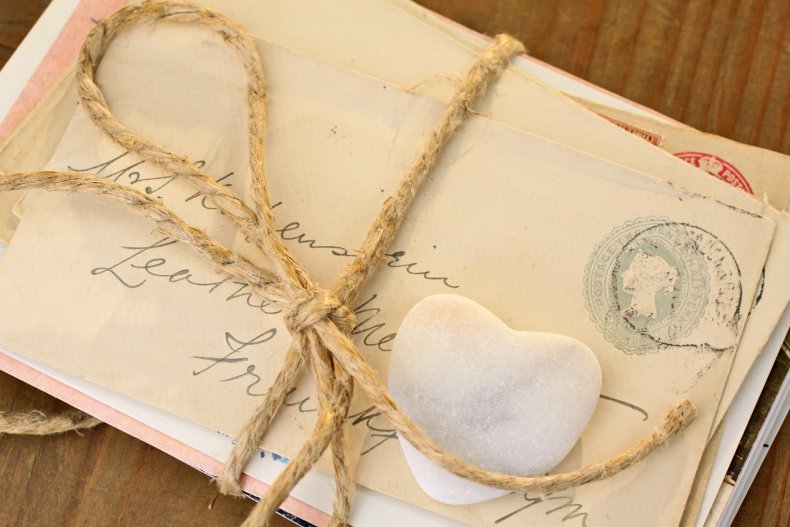 While she didn't find anything to make her a millionaire overnight, the latched door led her to another time in history: She found two boxes of handwritten love letters, all addressed to a woman named Betty Sue, of Richmond, Virginia.
The "dozens" of letters, all written by a man named Vance, had a distinct style of yesteryear.
"There are no 'SMHs" or OMGs or LOLs.' It's full sentences," Prillaman told CBS 6. "Grammatically correct sentences. Isn't that funny how that works?"
The letters were indicative of a budding romance, dating to the couple's teenage years at one John Marshall High School.
An excerpt of one of the letters read:
"Hi Honey. How is my Baby getting along? When we're not together I know just the right words that I would use in telling you everything. But when we're together all I can think of is 'I love you.' Vance."
The romantic correspondence between Vance and Betty was estimated to be about 70 years old, or as old as the home. Prillaman said she felt a kind of obligation to keep the letters rather than discard them; she wanted to find someone who could possibly be connected to the two individuals.
"I think the reason it felt intrusive is that a letter written is between two people and two people only," she said. "I thought I'm not sure I need to be the third party that puts my head and my eyes on that because it wasn't meant for me to read."
She, like countless others in today's day and age, decided to do some internet sleuthing. She created posts on social media, drawing interest from others in the community who were anxious to hear if anyone was associated with Vance and Betty Sue.
Prillaman eventually found a man named Dalton Long, who lived in Portland, Oregon. She said that barely 30 minutes after she sent him her cell number, she received a call.
She found out that Long, a 30-year-old videographer, was the couple's grandson. He reportedly said they were married 50 years, although he never was privy to the love letters.
"To me they were 'B' and Pop," Long reportedly said. "But to the rest of the world they were Betty McGhee Long and Vance Herschel Long. ... To add words to that time in their life is going to be incredible."
He will reportedly receive the letters soon.
Forgotten love letters are perhaps more common than most think.
Just ask Chris Beale, who told 7 News in Australia that he was separated from his then- girlfriend, Francesca, about 30 years ago and vowed to write to her daily while they were apart.
He had placed a stack of love letters inside his safety deposit box at the National Australia Bank in Sydney. But after he and Francesca wed, had children and moved to Florida, he forgot about them.
Only recently did Beale receive a call from the bank manager, even though his account had been discontinued decades earlier. When a deposit box was mentioned, he said the memories all came back to him.
Following the correct responses to various security questions, about 30 handwritten letters were eventually mailed from Sydney to the Beales' doorstep in Florida.
"When I first told Francesca of the letters, she was so thrilled," Beale told 7 News. "We spent hours reading the letters and laughing. I would read one and she would read another. We are now searching for where she kept her responses so we can piece together the whole puzzle."