Woman Wakes Up To Find Neighbor's Dog Sleeping in Her Bed: 'She Loves You'
A woman awoke to find a surprise guest sleeping alongside her: her next door neighbor's dog.
Robin Smith is no stranger to sleeping with canines and regularly shares naps and night-time snoozes with her two pet dogs Yogi and Doe-Jee.
However, when she woke up on Saturday, she discovered a third furry friend by the name of Marbles nestling under her covers.
Co-sleeping with a pet pooch remains a thorny issue. The detractors will point to the potential allergy risks, differing sleep cycles and the fact dogs make for light sleepers as reasons to avoid cuddling up to a canine.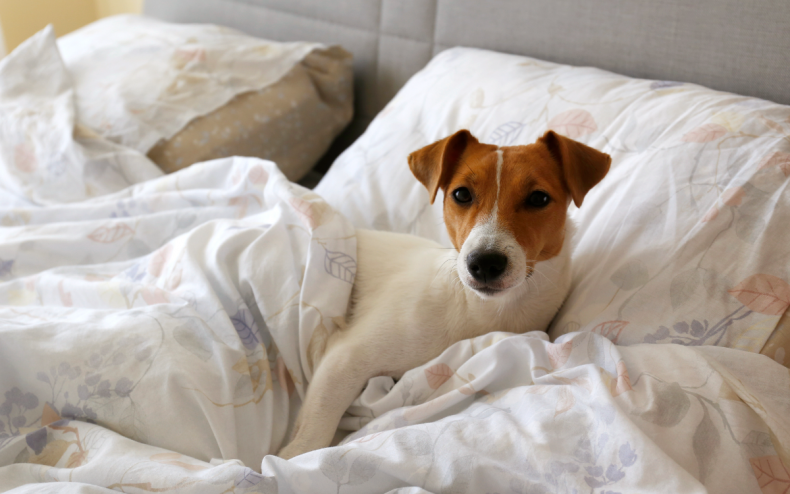 However, a 2017 study conducted by researchers from the Appleton Institute at Central Queensland University in Australia concluded that the benefits far outweigh the risks, with pets shown to provide boosts for physical and mental health. They also found it to be an effective way of easing anxiety while boosting safety and security, with co-sleepers resting easier knowing they have their dog nearby and ready to alert them to any potential dangers. On top of that, dogs make for excellent bed warmers on cold nights.
The concept of sleeping with a dog is not a modern one, with the Central Queensland University highlighting a number of traditional cultures that viewed sharing their bed with an animal as beneficial. In Aboriginal Australia, for example, it was common for people to sleep beside their dogs for both warmth and protection from evil spirits.
But while sleeping with your own pet pooch is one thing, sharing your bed with someone else's dog is something altogether different.
Smith took to TikTok to share footage from the immediate aftermath of her waking up at 7:30 a.m. to find her familiar bedfellows, Yogi and Doe-Jee, snuggled in alongside their four-legged furry neighbor Marbles.
"This is not my dog," she can be heard explaining on the clip, which has racked up over 270,000 views. Marbles, to her credit, senses it might be time to make a swift exit and can be seen on the video slowly making her way off the bed.
Not that Smith begrudged her a snuggle though, with the Canada-based dog owner explaining to one follower on social media that Marbles' owners "have a 10 month old baby" and, at 14, their dog may have popped over for a little "peach and quiet."
In any case, the footage has proven popular with dog fans, many of whom appeared jealous at the super-cute sight that greeted Smith that morning.
"Why does this never happen to me?" handbags_at_dawn lamented, with catrn in agreement, commenting; "I want to wake up with extra puppies."
"People just out here living my dream life," freshcrushco said, while rainebeau_goth was similarly enthused, declaring: "That sounds like the best way to wake up."
For others, it was clear that Marbles had an affection for Smith and her two pups. "Aw, she wants to be where she's loved and it's cozy," Susan Rossouw Eichmann wrote, with Luna Rainbow adding: "It's so sweet that she feels safe with you."
Jpeg.mua was emotional, writing: "Why am I close to tears over miss marbles coming for a sleepover?" while Kristy Parhar said: "She wanted a sleep over."
MissMeghanChristina was similarly effusive: "Awwwww she loves you," she said. "She chose you. You're a good human and she knows it."
Soulquest0, meanwhile, claimed Marbles "looked embarrassed" when the camera was turned on her, but Smith was quick to dispel the idea that the elderly dog beat a hasty retreat home after being found dog-napping on her bed.
According to Smith, she actually "went and had a snoot full of kibble and came back and went back to sleep."
Newsweek has contacted Smith for comment.