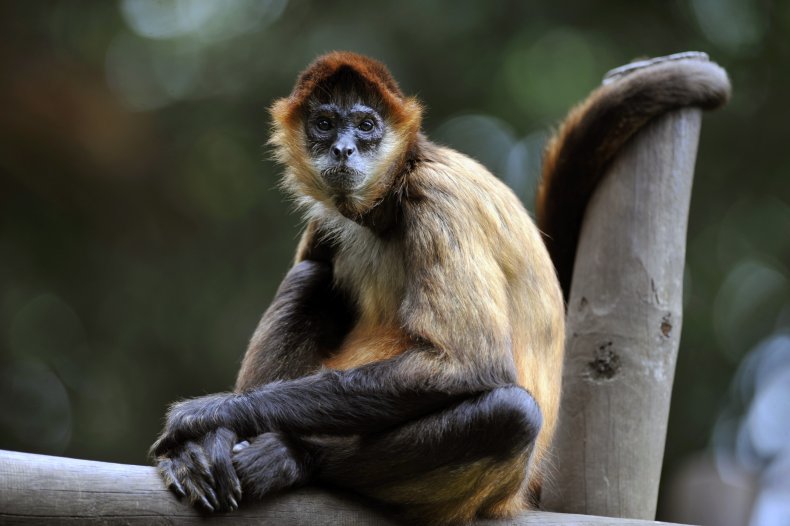 Officers with the U.S. Customs and Border Protection (CBP) made an "unusual" discovery in Progreso, Texas, late last week: four spider monkeys concealed in a duffel bag.
According to a Tuesday CBP news release, officers and agriculture specialists at the Progreso International Bridge uncovered the primates after inspecting a 20-year-old woman who was crossing the border. She was driving a 2017 Jeep Patriot and identified as a U.S. citizen.
"While conducting their inspections, our officers will often encounter a myriad of prohibited agriculture products," said Walter Weaver, port director for the Port of Progreso, in a statement. "Sometimes these encounters yield hidden exotic animals, such as in this case."
Spider monkeys are considered "New World" monkeys, as they are one of five primate families found across Mexico, Central America and South America. Within the spider monkey genus, there are seven individual species—all of which are listed as either vulnerable, endangered, or critically endangered species.
Officials removed the four undocumented primates from the bag and placed them in an "animal container."
After safely obtaining the monkeys, CBP officers contacted the U.S. Fish and Wildlife Service (USFWS) for further information. The agency confirmed that the primates were, indeed, spider monkeys. It emphasized that the animals are considered endangered under the Endangered Species Act.
The woman was "issued a penalty," according to the CBP news release. The monkeys, meanwhile, were sent back to Mexico.
"While CBP officers and agriculture specialists do encounter agriculture law violations, such as prohibited fruits and vegetables on a routine, daily basis, encounters with live, undeclared animals such as primates occur on an infrequent basis," explained a CBP spokesperson in an email to Newsweek.
Spider monkeys are just some of the countless bizarre items that have been seized by CBP officers.
In July, officers in Memphis, Tennessee, confiscated 489 grams of meth hidden inside individual peanut shells. As a spokesperson from the agency told Newsweek that the case displayed a "highly unusual smuggling method."
Also in July, authorities seized over 6,000 false eyelashes imported illegally from China to New Orleans. The shipment had no documentation identifying the eyelashes' manufacturer or distributor. As such, officers were not able to determine if the product was safe and sanitary for use.
"False eyelashes and eyelash extensions require adhesives to hold them in place," explained a CBP statement on the incident. "Eyelids are delicate, and an allergic reaction, irritation or other injury in the eye area can be particularly troublesome.
One month prior, California CBP officers found nearly $13 million worth of counterfeit erectile dysfunction pills and fake designer goods. Among the 57,607 products seized were fake Nike shoes, Louis Vuitton handbags, and Gucci sunglasses.
Update 1/5/22, 4:16 PM ET: with a comment from a CBP spokesperson to Newsweek.