Woman, Friends Reportedly Refused Service for Not Tipping, Sparking Debate
A TikTok user's now-viral video sparked a conversation about tipping culture after she said that she and her friends were refused service at a restaurant.
Posted by @buelistic, the video has been viewed more than 750,000 times since it was shared as a "stitch" to another video in which @africanbarb said customers are not obligated to leave a tip for employees.
According to Consumer Reports, restaurant patrons are encouraged to leave between 15 and 20 percent of the pretax total of the bill as a tip.
"Don't dip below 15 percent unless the service has been abysmal—and never skip a tip," the article published by the organization read. "If a server has been rude or offensive, speak to the manager."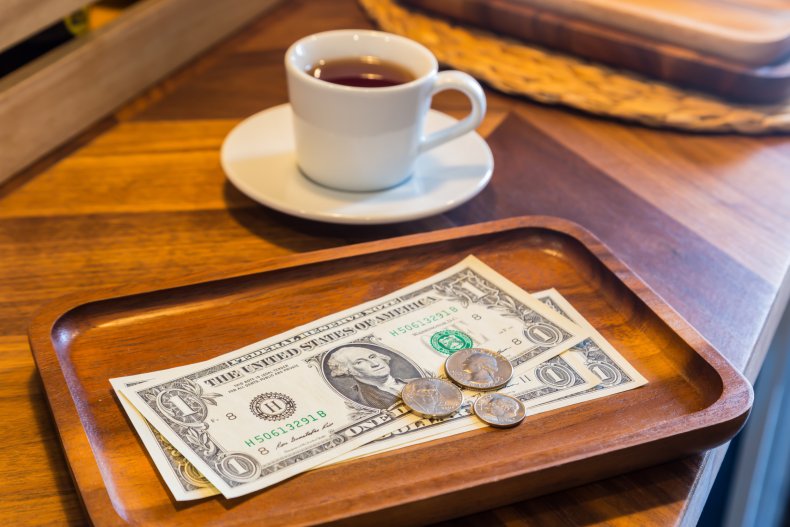 Other types of employees that may expect a tip include valet parking attendants, furniture movers, and hotel housekeepers.
A tattoo artist herself, @buelistic encouraged clients to leave a tip for their artists, but said tips are not a "requirement" as she agreed with @africanbarb's message.
"If I do get just my price, then I should be fine with that as well," she said, adding that not everyone shares the same thought.
TikTok user @buelistic said that she and her friends went to a restaurant, but upon sitting down, none of the servers came to their table to take their orders.
"One of the managers came by, and they told us that they would not like to serve us anymore," @buelistic said. "We asked them why, and they told us tipping was a big reason."
She said while she leaves tips, not all of her peers "may not always do that or have the finances to do so."
"Do you feel like this is a good enough reason to deny service to someone for the rest of their life if it is based off of tips and the service isn't always up to par?" @buelistic asked viewers at the end of her video.
Newsweek reached out to @buelistic for further comment.
TikTokers React
The video left viewers divided, some saying that there should not be an expectation for customers to leave a tip.
"I tip based SOLELY on service," a viewer wrote. "I don't tip just because I'm 'supposed to.'"
"It's not on us as the customers to get dogged out because their employers don't pay them a proper wage," another viewer commented.
"Tipping is not [an] obligation, that is my choice to tip or not based on service that I was provided," one viewer wrote.
Others, however, pushed back.
"I think they did the most by denying y'all service," a viewer commented. "But I do think NOT tipping when it comes to wait staff is tacky. If you don't have [money] to tip stay [home]."
"I mean if the people went there enough that the servers KNOW they don't tip...I wouldn't wanna take the table either," one viewer wrote.
"Bad service is a different story," another TikTok user wrote. "But you should not go to a restaurant if [you're] planning on not tipping."
The Discussion of Tipping Continues
Tipping culture has long been a topic of conversation on the internet.
A woman posted a video on TikTok earlier this year discussing how she believed tipping culture is "out of control" after she was asked to tip in the drive-thru.
One restaurant faced backlash last week for how it presented the different tipping options to customers.
Meanwhile, another woman posted a video earlier this month, and said several DoorDash drivers refused to pick up her order because of the $1.50 tip she left.