Woman Gives Her Boyfriend Long Acrylics Then Sets Him Hilarious Tasks
A woman hilariously gave her boyfriend a full set of acrylic nails, then set him a number of household tasks to complete in comical scenes.
Caitlin Barlow shared a clip to her TikTok page @Saucedrippaaaaa in September, explaining how her other half, Chris Heyes, ended up with false talons after claiming wearing them wasn't a challenge.
"My boyfriend said that having nails couldn't be that hard," she said in the on-screen caption: "So I gave him a trashy full set he had to keep on for 24 hours."
Speaking to Newsweek, Barlow said: "The challenge was super fun. He's been incredibly supportive throughout this entire process of me trying to go to school and open my own business. The nails in the first video aren't really that long, compared to most who get their nails done. I'd say about 1/2" long. The second video, I made them about 1.5" long."
Barlow, who's planning on a part three, revealed: "Chris said the hardest task between the two videos was buttoning his shirt. He's not used to using the side of his fingers as opposed to the tips."
Barlow tagged her other half in the clip, adding he "thinks he's slick." But Heyes ran into trouble fairly quickly, using his nose to type before she'd even applied the polish.
"You can't use your phone," she said in the background, in hysterics.
She finished the manicure and Heyes showed off the final result: a full set of purple and yellow nails, complete with patterns.
Next came the challenges, as he tried to pump gas, but could barely insert—or remove—his card from the machine, and picking up the handle also proved tricky.
"Step two: pick up coins," the caption said, and Barlow yelled: "Hey babe, will you pick up the quarters before the dog eats them in the hallway."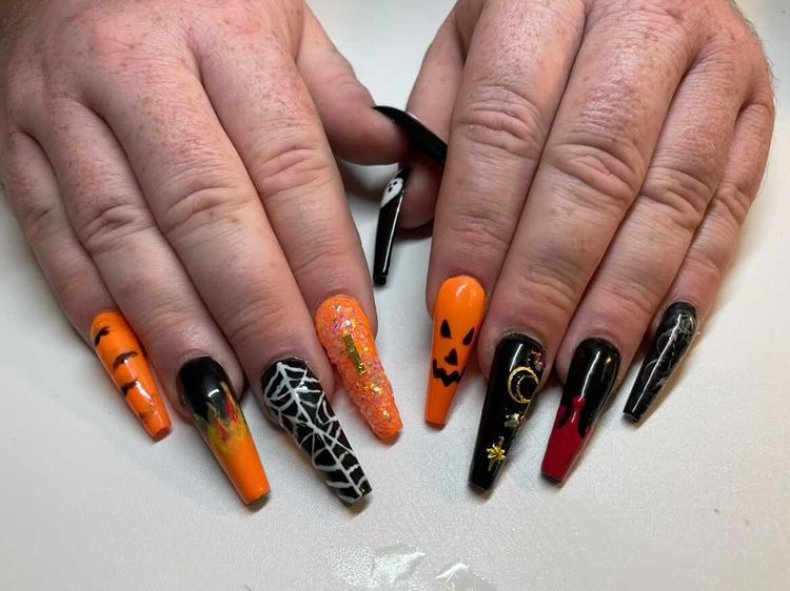 She looked on in laughter as he had to use two hands to gingerly collect the money from their home, in North Carolina.
After the clip, shared at the end of September, went viral, with 11.9 million views, Barlow uploaded a second part, this time with even longer nails, revealing Heyes: "Wanted a REAL challenge."
In keeping with the season Barlow gave him a Halloween-themed design—at his request—which are long and tapered.
It seemed to have done the trick, as TikTok added a warning over the footage, which can be seen here, which reads: "The action in this video could result in serious injury."
Barlow decided to really make things tough for her boyfriend, as she said to the camera: "So I hid all of his T-shirts and I only left him with one button-up shirt."
Heyes visibly struggled, saying: "My grandpa could do this after having a stroke I should be able to do it with nails."
"Step two: open a can," said the caption, as he desperately tried to get into a soda, which looked pretty painful, before he gave up and used his teeth.
Next they ordered a Pumpkin Spice Latte from Starbucks, as the caption said: "Oh, now he's feeling himself." And he even showed off his talons to the barista.
But he could barely get out of the car, as he couldn't access the button to undo his seatbelt. After eventually freeing himself from the vehicle, disaster struck when he was tasked with picking a credit card up off the sidewalk.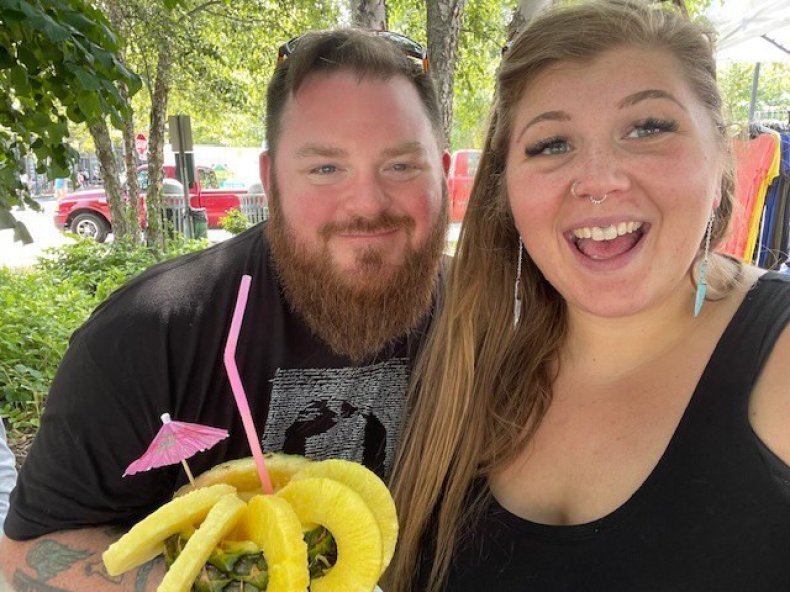 As Heyes bent down to grab the plastic, his autumnal drink spilled out of arms, and he also dropped his phone in the process.
The clip simply ended with Heyes on the sidewalk, as Barlow laughed hysterically in the background.
The follow-up video, which can be seen here, amassed more than 320,000 views, as people admitted they cracked up at both clips.
Meagan suggested: "I wanna see him clasp a necklace."
"Put contacts in and take them out," Tessa Marie thought.
Chelsea Mo commented: "Oh my goodness! What about pulling up the zipper on his jeans? I remember when I first got a set of nails that was my biggest challenge."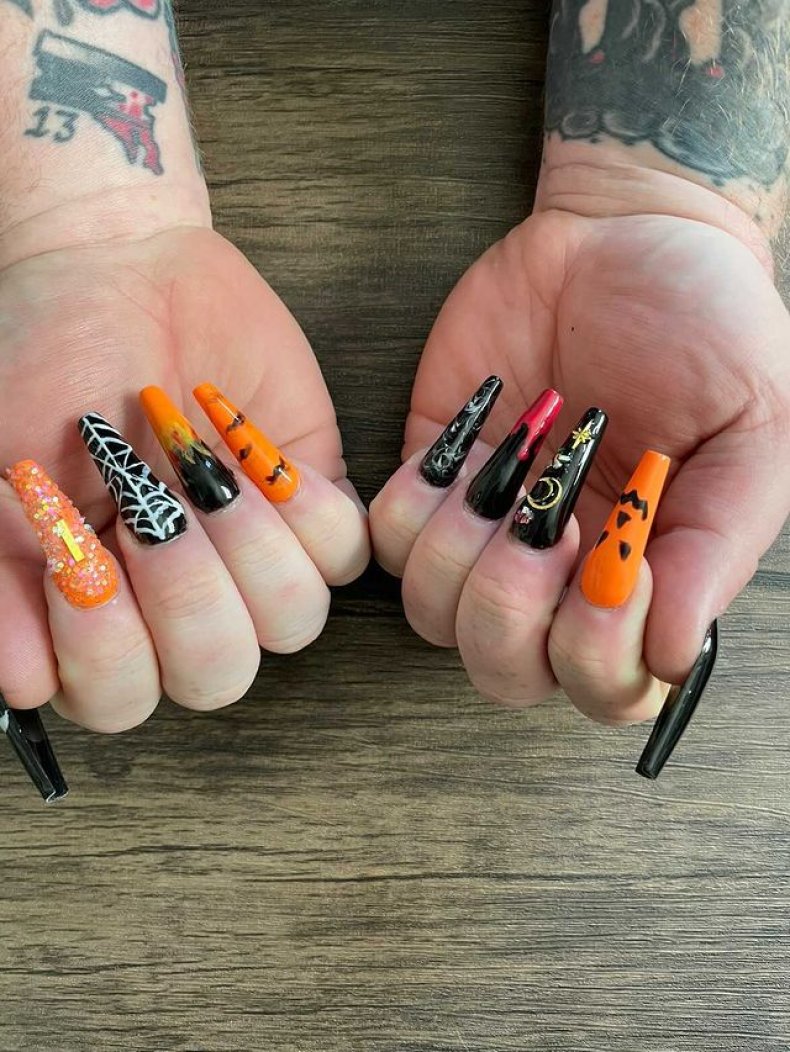 Update 10/5/21, 10:20 a.m. ET: This article was updated with comment, photos and video from Barlow.