Woman Hikes Snowy Hill in Short-Sleeved Dress in Dining Mishap
A now-viral video that shows a woman hiking a snowy hill in a short-sleeved dress as a result of a dining mishap has bewildered the internet.
"Probably the stupidest I've ever felt in my life but at least I have a story to tell," the caption over the video read. The video was posted to TikTok on April 1 by KV (@kirayagaml). The post has since amassed more than 5 million views and thousands of comments from viewers who were stunned the woman wasn't injured during the icy trek.
In the video, KV—in a calf-length denim blue dress with elbow-length sleeves and white Converse hightops—journeyed up a ski hill amid a snowstorm. Smiling while the wind whipped her dress and long dark hair around her, she turned to wave at a group of appropriately-dressed skiers and snowboarders.
"When you didn't realize the restaurant you were going to is literally at the top of a ski resort and didn't bring any extra layers but the reservation was made 5 months in advance and a little snow isn't going to stop you," read the video's text overlay.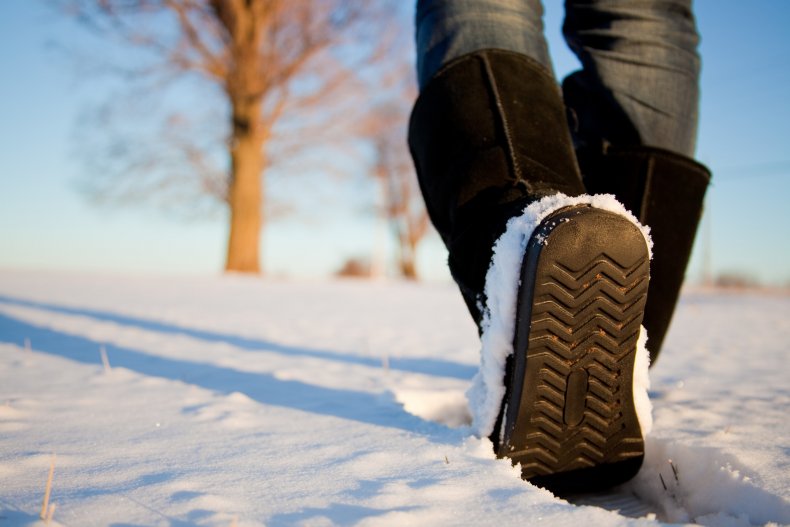 Of course, the video raised various concerns.
"How are [you] not freezing?!" asked one TikToker.
"This is how you lose several fingers and potentially your nose," wrote Unicornpastas.
"Girl, YOU DID WHAT," commented Ali.
"I would've been so cold how are you not frostbitten?" wondered Momo.
Commenters were justified in worrying about KV's exposure to the cold. According to the Cleveland Clinic, those who have "exposed skin in cold temperatures" are at risk of frostbite.
"Single-digit Fahrenheit temperatures are cold enough to cause frostbite. It's important to remember that the colder it is outside, the faster you can get symptoms. In fact, you can get frostbitten in just half an hour or less when the wind chill is -15F or lower," the clinic explained.
Additionally, anyone exposed to "cold, wet or windy conditions" can get hypothermia.
To avoid these injuries, Mount Sinai says individuals should dress in layers, and protect their hands, feet and face by wearing gloves, waterproof shoes and scarves.
One TikToker wasn't satisfied with KV's explanation of events and asked to know more about her journey.
"Is there any more explanation?? What restaurant is this??" they wrote.
In a follow-up post, KV said that the video was filmed in the Dolomites, Italy.
"This was the first time we've ever been to the Dolomites and we fully thought we could drive up [to the restaurant]," she explained, adding that the snow didn't start until after she and her travel companion had left for the restaurant.
"The place we were staying at in the Dolomites was around 60 degrees—it was really nice," she said. "But we were driving to the restaurant and it was getting real dangerous and snowy so we took [a] cable car [to the top of the mountain]."
KV was, thankfully, wearing fleece-lined tights, which she said kept her warm on the eight-minute walk from where the cable car dropped her off to the restaurant.
"See now that makes sense," responded one commenter.
Newsweek has reached out to KV for comment.
In other snow-related news, a woman entering labor in January was forced to walk through the woods to get to the hospital due to road blockages caused by snow.
A few weeks later, a couple decided to tie the knot in the middle of a "historic" blizzard. Also in January, a woman went viral for sharing a video that shows her attempting to dig her car out of a pile of snow so she can get to work.