Woman Hit in Head by Metal Piece Flung Loose From Roller Coaster at Popular Amusement Park
A woman suffered "severe head injuries" on Sunday afternoon after she was struck by a piece of metal that flew off a roller coaster at a popular amusement park, Fox 46 reported.
The incident occurred while the woman, whose identity has not been released, was waiting in line for the Top Thrill Dragster ride at Ohio's Cedar Point.
First responders from the park and the city of Sandusky, Ohio, were called to the scene to treat the woman's injuries before paramedics could arrive. She was later taken to the nearby Fairlands Hospital's trauma center for further treatment. Her current condition is unknown.
Bodycam footage of the aftermath was obtained by the Fremont News Messenger. In it, the woman is described as "screaming in agony for help while rescue personnel attend to her."
"The object came into contact with a female guest waiting in line for the ride. The park's EMS team and Sandusky Fire Department responded immediately, and the guest was transported to the hospital for medical care," Tony Clark, Cedar Point director of communications, said in a statement about the incident to Newsweek. "At this time, our focus is on the guest and her family."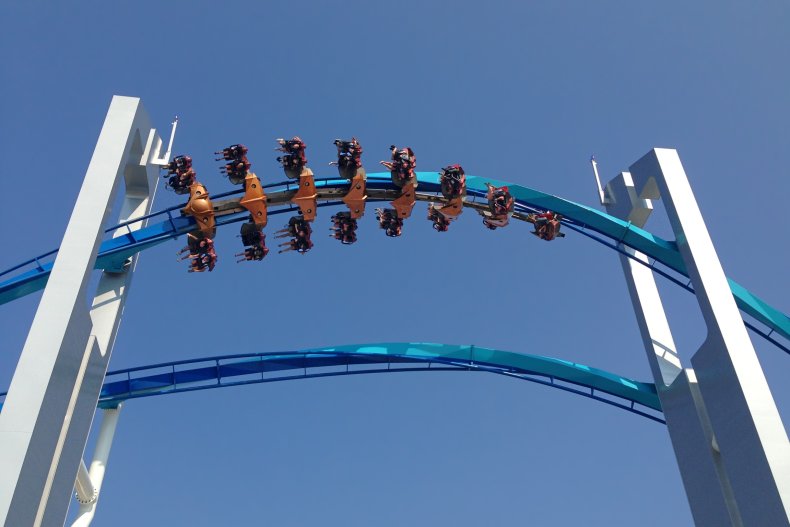 "You need to send someone to Cedar Point," one guest said in a 911 call. "There's someone who's in bad shape...Something flew off of a ride and hit them and they're bleeding from the head."
The piece of metal flew off the ride's passenger train just as it was nearing the end of its run. The Ohio Department of Agriculture confirmed to Fox 46 the Top Thrill Dragster ride had previously passed a safety inspection on May 14 and was scheduled for another next month.
"And we turn around and all we hear is, 'Stop the ride, stop the ride. Someone got hurt,'" described Nolan Haggerty, another guest waiting in line for the ride. "We turn around and we see this lady on the floor injured. I was like 'Why aren't they stopping the ride? Some lady is hurt, she needs help.'"
The Top Thrill Dragster ride first opened at Cedar Point in 2003. Standing at 420 feet at its highest point, the ride goes from zero to 120 mph within 3.8 seconds and lasts for a total of 17 seconds.
Located in Sandusky on the shores of Lake Erie, Cedar Point first opened in 1870, making it one of the oldest amusement parks in the U.S. It remains one of the most popular parks in the American midwest, with a world record-breaking 71 rides in total.
Updated 8/28/21,12:26 PM ET, to reflect a state sent to Newsweek by Cedar Point.