Woman Who Left Wedding To Get McDonald's After the Bride 'Lied' Is Praised
A wedding guest was left horrified after she was asked to pay for her own food at a reception, all while the bride refused to let her leave to buy something cheaper.
After attending a colleague's wedding reception and being asked to pay extortionate prices for the food, Reddit user u/Historical-Warning31 said she had asked in advance if there were "any guest fees," to which the bride said there wasn't.
Unfortunately for the 25-year-old, when it was time for dinner, a menu was placed in front of her at the reception with prices on it. This came as a horrible shock since she'd confirmed no costs were involved beforehand, and typically, wedding guests don't pay for food at the reception.
While there's no doubt that weddings are expensive for couples, they can be costly for guests too. Wedding website The Knot carried out a survey of 1,000 guests who attended at least one wedding in 2021, and they found that the average cost of being a wedding guest was $460.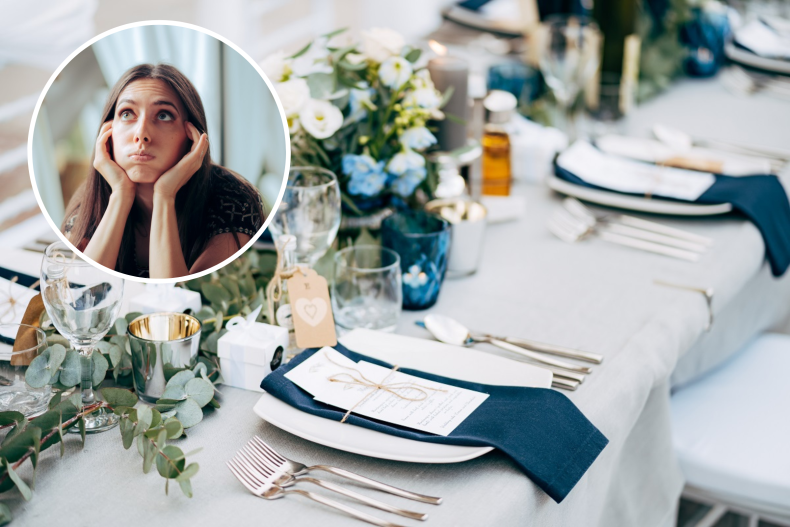 For the lucky guests who don't have to travel out of town for a wedding, they spent around $270 to attend, but those who had to drive further afield spent $660 on average.
Guests often have to pay for accommodation, a new outfit, travel costs, and not to mention, a wedding present for the couple. A gift for the couple can set you back $160 on average, so it's not a cheap affair for guests.
If attendees are also expected to pay for food on the day, then there's little surprise that this Reddit poster was left outraged.
The poster explained: "On the day itself, everything went well until the reception. To my shock, I was presented with a wedding menu that had prices on it. (For example: Steak - $50). Everything was ridiculously expensive, including the vegetarian options.
"At first, I wanted to question her because well, she lied to me that I didn't have to pay for anything. But it was her wedding and I didn't want to spoil her day by embarrassing her in front of everyone."
The poster recalled seeing a McDonald's nearby so she "tactfully" asked the bride if she could "make a quick stop" since she didn't have enough money to cover the prices of food at the reception. She assured her friend that it wouldn't take long and that she'd be back in time for the cake-cutting ceremony.
"I thought she'd agree, but to my horror, she got really upset. She said that she put in so much effort to get this Michelin-star restaurant service, yet I still wasn't happy, [and] that I was trying to bring her down by saying I'd rather eat McDonald's."
The bride's anger continued to exude as she lashed out at the poster, accusing her of being "cheaper than I thought" for assuming she wouldn't have to pay for food.
"With a glare, she asked me to leave her wedding. I did, struck dumb and rather hurt," the post added. But she didn't return home without a quick stop at McDonald's to grab dinner as she'd skipped lunch too.
New York-based wedding celebrant Christopher Shelley was equally shocked by the bride's decision to charge guests for food, especially since it wasn't made clear in advance.
Shelley told Newsweek: "I have never before heard of couples charging guests for meals at weddings. (Author) Emily Post must be rolling in her etiquette-perfect grave.
"On the other hand, I feel the notion of charging guests for wedding meals could be looked at from two different sides, depending on where the financial capability is. If the couple is wealthy and the guests are less so, then this would not fly.
"In this case, the guests should have been informed ahead of time, and even notified about local food options, should they not be able to afford Michelin-star food."
Shelley said that wedding guests should be told whether there is an open bar, if they have to pay for food, and what payment methods are accepted, to ensure they're fully aware of every detail.
If the couple getting married aren't wealthy, then Shelley is understanding of wanting to reduce costs. However, it's all about clarity and making guests aware of what they're forking out.
Since the Reddit post was shared on March 3, it has already received over 11,000 votes. Fellow users were incensed by the idea of guests paying for food and they haven't shied away from making their thoughts clear.
One person commented: "It's not being cheap. When you invite people to a wedding they expect a paid dinner. If the bride and groom can't afford to pay for dinner, have a smaller wedding."
Another horrified person wrote: "This is such an extreme faux pas."
Newsweek reached out to u/Historical-Warning31 for comment. We could not verify the details of the case.
Has a wedding come between your relationship with a friend? Let us know via life@newsweek.com. We can ask experts for advice, and your story could be featured on Newsweek.