Woman Missing Best Friend's Wedding 'Just Because' Divides Internet
A woman has claimed in a now-viral post that she plans on skipping her best friend's wedding "just because."
Writing in Reddit's "Am I The A**hole" (AITA) forum under a throwaway account, the woman said that she is a "hermit" who "doesn't do social gatherings." The post has received more than 8,000 upvotes and over 2,600 comments from Redditors who can't decide if the woman is "selfish" or simply practicing healthy boundaries. The post conveniently falls during mental health awareness month.
At the beginning of her post, the woman explained that she is "extremely introverted."
"I have exactly two friends, and I talk to them and to my family mostly online, meeting them only every now and then. I don't have social anxiety or anything, but people drain me so much I can barely function by the end of a workday," she wrote.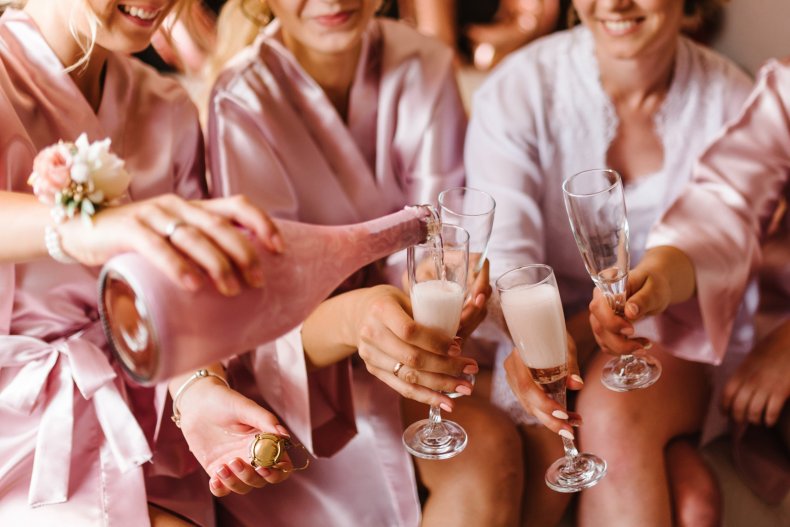 She went on to say that, as a result, she "doesn't do social gatherings," which is why she doesn't plan on attending her best friend's destination wedding.
"I'd like to make this clear: there's just no universe in which I'm flying six hours only to spend a full weekend socializing with [people] I don't even know," she said.
Of course, her best friend was upset to learn that she would not be at the wedding.
"She said she's upset because I'm prioritizing my own comfort over her feelings. I told her she was right, and that I will always put my comfort level above other [people's] feelings, hence the number of friends I have, and that she knew this very well from the start," the woman recalled.
"I do care about her feelings and I did not mean to hurt her, but I also feel like she set us both up for failure with her expectations," she continued. "AITA for skipping my friend's wedding 'just because?'"
When she declined her invitation, the woman claimed she told her friend that she would watch the ceremony online and give her and her fiancé their present upon their return home.
Wedding Etiquette
According to etiquette Myka Meier, this was more or less the polite way to go about declining the invite.
"It's always appropriate to still send a wedding gift, even if you are declining their wedding invitation," Meier told Brides. "The reason we send a wedding gift, no matter if you attend or not, is because you want to not only show support for the couple but also show gratitude for being invited."
Meier added that those close to the couple should also make contact before seeing their written RSVP "with more details as to why [they] are not attending."
What Do Commenters Think?
Some Redditors argued that because the woman has been so open about her introversion, and because she still plans on buying her best friend a wedding gift, she's not wrong for skipping the wedding.
"NAH [not the a**hole]," wrote u/RonaValentine. "You've said you'll follow online so presumably others are being given that same option AND you're still getting them a gift. They're allowed to be disappointed but anyone planning a destination wedding needs to accept that not everyone is going to attend for various reasons."
"No, this isn't a situation where you said, 'Sure I'll be there with bells on!' and then dipped. It's a, 'Sorry I can't make it, here's your gift, I'll tune into the live stream.' Sounds like she doesn't respect your boundaries and isn't being a very good friend," said u/educatedvegetable.
"NTA. It sounds like you have always been very clear about who you are and what your boundaries are. Also, you just sound great, like very honest and direct, I would appreciate those qualities in a friend," added u/yourchevywindow.
Other commenters, however, argued that the woman was being "selfish."
"YTA [you're the a**hole]," u/said km89. "I'm basically a hermit, too. So I get it. But when you prioritize your personal comfort over a huge event in your friend's life, you're clearly communicating what your priorities are. You can't expect that to not hurt peoples' feelings."
"YTA—I get being introverted but expect to lose a friend. You're being selfish," commented u/jrmadagascar.
Redditor u/Jane9812 added: "YTA. It's not unreasonable to expect a friend to come to your wedding if it's your best godd**n friend."
Newsweek has reached out to the original poster for comment.
As it turns out, the woman isn't the first AITA poster to go viral recently. On Friday, a woman who shared she'd made comments about her co-worker's "mistress" went viral, as did a woman who claimed her boyfriend's brother made an ignorant comment about her infertility.
And last week, a woman posting in the forum went viral after sharing that her brother came out as gay during her wedding.