Adora Perez's Murder Charge Over Stillborn Baby Dropped By Prosecutors
A murder charge against a California woman in connection with the death of her stillborn child has been dropped by prosecutors.
Adora Perez gave birth to a full-term, stillborn baby on December 31, 2017, at Adventist Hospital in Hanford.
Perez was then charged under California's murder law, which was amended in 1970 to include the death of a fetus, for allegedly causing the death of a fetus through drug use. She acknowledged using methamphetamine during the pregnancy.
In 2018, she pleaded no contest to voluntary manslaughter and the murder charge was dismissed.
In January, California Attorney General Rob Bonta issued a legal alert that said the fetal murder law was only intended to criminalize violence done to pregnant women that caused fetal death.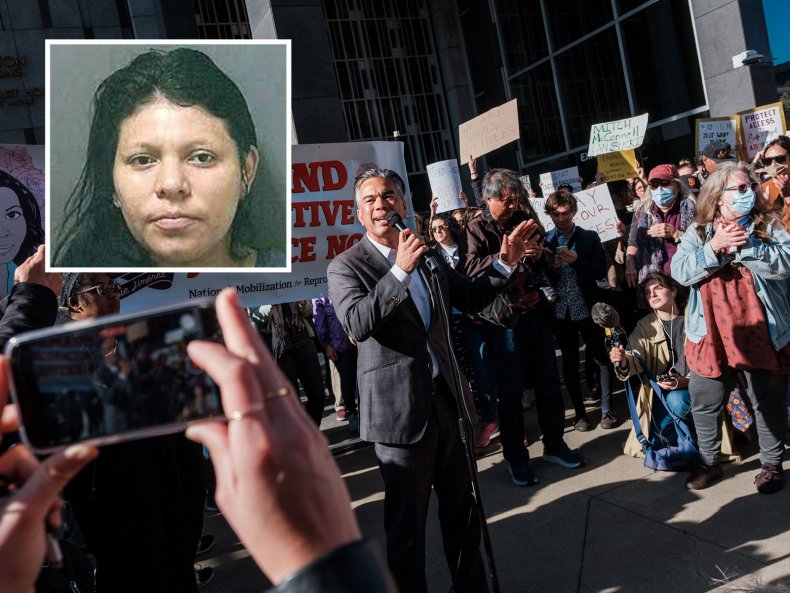 Bonta said cases such as Perez's could lead to pregnant women not seeking medical care for fear of prosecution.
If charges and prosecutions such as those against Ms. Becker and Ms. Perez are repeated, pregnant individuals may avoid medical care out of fear of prosecution.
In March, a judge overturned Perez's conviction and 11-year prison sentence, saying California's voluntary manslaughter law does not apply to the unborn.
The original murder charge was reinstated so Perez—who has spent four years in prison—could argue it in court. But on Monday, the Kings County District Attorney's Office dismissed the charge.
The decision is a "victory for justice and the rule of law," Bonta said in a statement. "Suffering a miscarriage or a stillbirth can be deeply personal and traumatic.
"We owe it to all Californians to ensure the pain of loss is not compounded by violation of privacy and unjust prosecution. California law is clear: We do not criminalize people for the loss of a pregnancy."
Perez's attorneys Mary McNamara and Audrey Barron welcomed the decision, but said their client had "spent over four years of her life in prison as a result of a case that should never have been brought."
In a stateemnt provided to Newsweek, they said: "It was an appalling overreach and a frightening exercise of prosecutorial power. We are relieved for Ms. Perez, who can now work on healing and moving forward with her life."
The voluntary manslaughter charge was for a "nonexistent crime of experiencing a pregnancy loss," according to Perez's attorneys, National Advocates for Pregnant Women (NAPW) and the ACLU of Northern California.
They expressed their support for Assembly Bill 2223, which aims to ensure that people are not investigated, prosecuted or jailed for ending a pregnancy or experiencing a pregnancy loss.
"We are overjoyed for Adora but remain outraged by the system that traumatized her. Every step that led to her imprisonment was an injustice—from the hospital who reported her, to the District Attorney who brought murder charges for a stillbirth," said Jennifer Chou, Staff Attorney at the ACLU of Northern California.
"Existing California law already forbids criminally prosecuting pregnancy loss, which should have been enough. But with reproductive freedom under attack, we must ensure that what happened to Adora doesn't happen again. That is why we are proud to co-sponsor AB 2223."
The NAPW said pregnancy criminalization has more than tripled across the country in recent years, with 1,300 cases from 2006 through 2020.
Lynn Paltrow, the organization's founder and executive director, previously told Newsweek how overturning Roe v. Wade could lead to a bigger rise in prosecutions of women for pregnancy outcomes, including those who suffer miscarriages.
The U.S. Supreme Court is poised to overturn the landmark 1973 decision and end the nationwide right to legal abortion, according to a draft opinion that was published by Politico last week.