Woman's 'Petty' Excuse for Refusing To Help Homeless Sister-in-Law Praised
The internet has backed a woman who refused to help her homeless sister-in-law because she ruined her relationship with her brother.
In a post shared on Reddit in January, under the username u/Small_Cut2439, the woman explained that when her sister-in-law came into her brother's life, she drove him away from her and their family, because she believed they weren't really his family, cutting contact for years.
According to a 2019 survey of Americans' family relationships by Karl Pillemer, professor of gerontology in medicine at Cornell University, over a quarter of the respondents, 27 percent, reported a current estrangement. Most had a rift with an immediate family member, with 30 percent being estranged from siblings.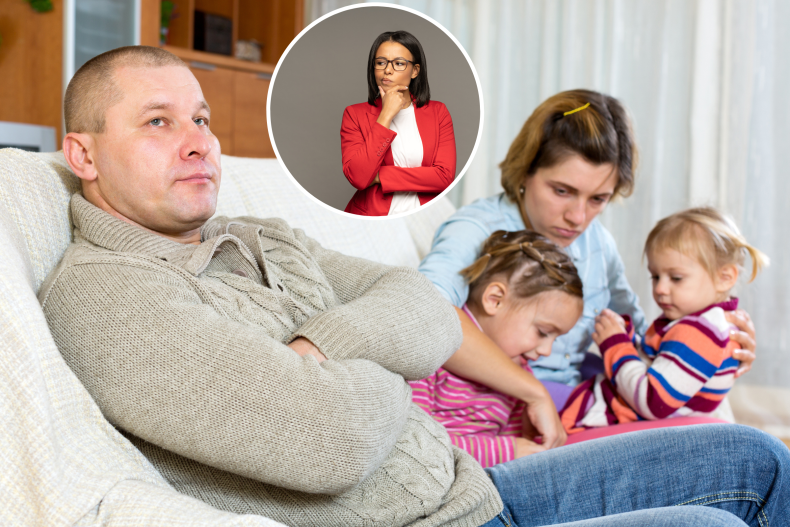 The user revealed that both she and her brother were adopted as children, and while she was orphaned before being adopted, her brother had a very different story and they had no information about his birth family at all.
"He's white and I'm a dark-skinned [Black] woman. Our parents were an interracial couple and our family had some unique challenges over the years but our parents did their very best by us and tried their hardest to get us as much information as possible [about] our birth families," she wrote.
The user's brother and his wife married very young. Before they got married, his then-fiancé took it upon herself to find his birth family and get in contact with them.
The sister wrote: "It was around that time she told me to get lost because he had sisters who were actually related to him and not (you can guess the slur) who always made his life more difficult. She told me I was crazy if I thought I'd be in HER wedding photos. She also said our parents should get used to having only one child."
By then her brother had already started to "pull away" from the family, but because she was "hurt and angry," she never told him what his wife said.
Six years went by and the two had no contact with each other until he reached out and apologized for "letting anything come between [them]," but she still didn't confess to him what his wife had done.
Fast forward to a few days ago, her brother lost his job while his landlord kicked him out, so he, his wife, and his children ended up in a shelter. Since they had no other place to go, they asked the poster to kindly welcome them into her home.
She wrote: "I said I would help him and the kids and they could stay. But his wife is not welcome in my home. He told me he would take that which did surprise me some.
"His wife is PISSED. She came after me about separating her children from her and how unhealthy it will be for them to see her in a s******* while they're safe and comfortable with me. She called me all kinds of names like petty and b**** and an a******. But it was the comment about the kids that got me questioning."
'Fork in the Road'
Soula Hareas, a licensed mental health counselor at McNulty Counseling and Wellness, told Newsweek that there are a few directions the user could take with this problem.
"Some may say do exactly what [she] is saying she's going to do because the wife deserves it. She truly does, doesn't she? After years of this abuse and being kept from her brother, who would not be angry? It all sounds very good and warranted until you involve children in the mix. That's when it gets complicated," she said.
According to Hareas, this scenario often happens with exes who hit a rough patch and seek help from a former spouse.
"Many times, the person will just give them some money for a hotel room or something, so that they feel like they didn't turn their back on them but they also didn't allow themselves to get involved and sucked back into [the] drama.
"This sister could do this if she has the financial ability. If this is not the case, then she has to ask herself a couple of things: 1) does she want to subject herself to more abuse, and 2) is she a more decent human being than her sister-in-law? My suggestion is that the two women sit down and talk. Expectations need to be made clear."
Hareas says that it's not going to be the most pleasant experience, but the greater good in this situation is that the user is helping her brother and his family.
"She should find out what his timeline is and discuss with him the expectations she has for all of them. This could not have been easy for the sister-in-law. I'm sure she wasn't jumping for joy that she had to get help from the person she put down so much."
According to Hareas, in an argument, there is always a "fork in the road" where you could take a left which will escalate things to a higher level of negativity or you can take a right and try to make the situation better; too many people go for that escalation too quickly because of their ego without thinking ahead.
"If this woman doesn't help her brother, then who knows what will happen in the future? Remember Dr. Martin Luther King's words, 'Returning hate for hate only multiplies hate... Hate can not drive out hate, only love can do that.' This family has a lot of healing to do and maybe this is their chance to do that," she added.
Comments
The post, originally shared on the r/AmItheA****** subreddit, where users discuss their actions with strangers, has so far received over 7,400 upvotes and 845 comments.
One user, Nessie51, commented: "[Not The A******]. Nope. Let's call her (the sister-in-law) what she is—a racist. She can't call you names to your face and encourage your brother to cut ties, then want to be looked after because it suits her. I would have told him and would still suggest you tell him now, because if she is bringing up the kids to have the same attitude then nothing gets resolved. You have set a boundary, keep to it!"
And GullibleWineBar said: "[Not The A******], at all. That woman is hideous and I hope this is the first step in your brother divorcing her and taking full custody of the children. If you haven't already, it's time to explain to your brother what she said and why you refuse to let her into your life. Provide a safe and loving home for your brother and his kids. Be a model for a loving and secure family relationship. It may be the first time they see a woman give them consistent loving attention because I doubt their mom is doing it."
FlyGuy1922 added: "[Not The A******]. You don't feel safe having a racist woman in your home, therefore she is not allowed in."
Another user, realstareyes, said: "[Not The A******]. She can't expect you to help her after she treated you like garbage and outed herself as a racist. She brought this 100 percent upon herself and she also sounds like a bad influence [on] the children. She's [the A******], not you."
Newsweek reached out to u/Small_Cut2439 for comment. We could not verify the details of the case.
If you have a similar family dilemma, let us know via life@newsweek.com. We can ask experts for advice, and your story could be featured on Newsweek.