Woman Recounts Gruesome Shark Attack That Took 'Chunk' of Her Flesh
A woman on vacation in Myrtle Beach, South Carolina experienced a shark attack last month that sent her to the hospital and that was witnessed by her young grandson.
Karren Sites, 55, of Crafton, Pennsylvania, first told her story to the Pittsburgh Tribune-Review, noting that her wound was "gruesome" and that shark took a "chunk" of flesh out of her arm.
In an interview with Newsweek on Thursday, Sites recounted the attack.
"I felt a sharp pain on my arm and my first thought was is this a jellyfish sting. I looked down and I saw the shark still on my arm," Sites said, noting she then "batted" the shark away.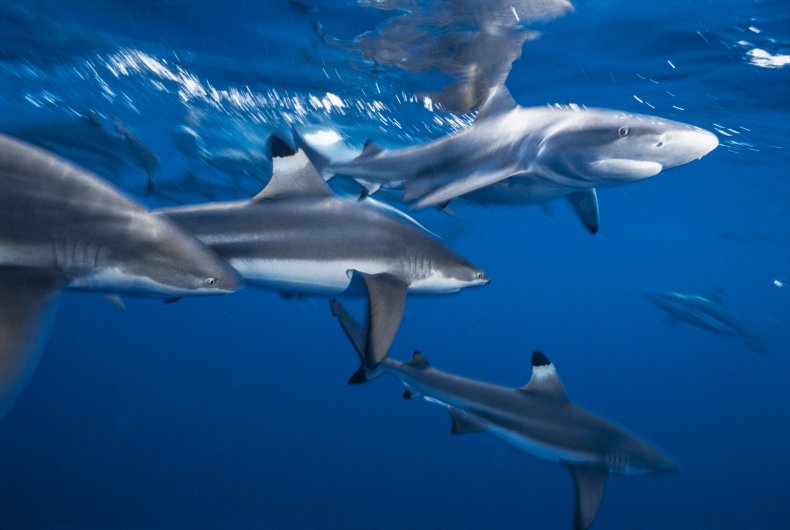 Before first responders arrived, Sites said she received care from an ER who just happened to be on the beach at the time. "I owe her a world of thanks and gratitude," she said.
Sites, who was taken to the hospital, suffered injuries to her forearm and hand and received hand and arm surgery last week.
While she was in the water, Sites said that her 8-year-old grandson witnessed the attack. Her family believes the species that attacked her was a blacktip shark. Her grandson said that the animal jumped out of the water and had a black tip.
"Research shows blacktip sharks seem to swim in more shallow water and they're also one of the few sharks to jump up out of the water to feed or latch on to something," Sites said.
Sites said that before the attack, her grandchildren had spoken to her about their concerns about sharks, which was a "little ironic"
"I kept saying to them do not be afraid of sharks, the chances of ever getting bit by a shark are so slim," Sites said.
The shark attack that Sites experienced was one of two that occurred near Myrtle Beach on August 15. At the time police spoke to the media about the incident, they hadn't released information about the swimmers who were attacked. However, Master Corporal Kevin Larke of the Myrtle Beach Police Department said at the time that one of the swimmers suffered a "bad bite" to the forearm following the incident.
In a separate incident in Australia last month, a great white shark attacked a teenager who was fishing.
"It took one turn, had a look at me, took another turn, and on that last turn it just came straight for me and bit me on the legs," the 17-year-old, Luke Pascoe, told 9News.
On September 7, a bull shark killed a woman from Pennsylvania who was on a cruise ship heading for the Bahamas. The woman's family members saw the attack, and she was taken to the hospital where she died after sustaining injuries to her upper body, according to a local police chief.